Jan. 13, 2022 under clear skies, light wind, and temps in low 20's; sunset time 4:31PM
Another warm and gracious welcome from locals, all active birders, all with Christmas Bird Count experience, and all seasoned observers of the local winter Crow roost. The most recent 2022 CBC count for Granby, Quebec showed almost 30,000 Crows for the count tally. They have had counts this high many times in the past. For more than a year, we've been in communications with the CBC compilers, Claude Nadeau and Ginette Boyer. Claude had been generous is making contributions to our recent Crow counting guide. For this outing, they had included two close birding friends, Rachael and Jacques Pepin, the new circle compilers. Granby is a town in southwestern Quebec, located east of Montreal with a population of 69,025. Granby is the county seat, has a vibrant entrepreneurial spirit, and is most famous for the Granby Zoo! Below is a nice photo of Rachel and Jacques near the end of our tour together.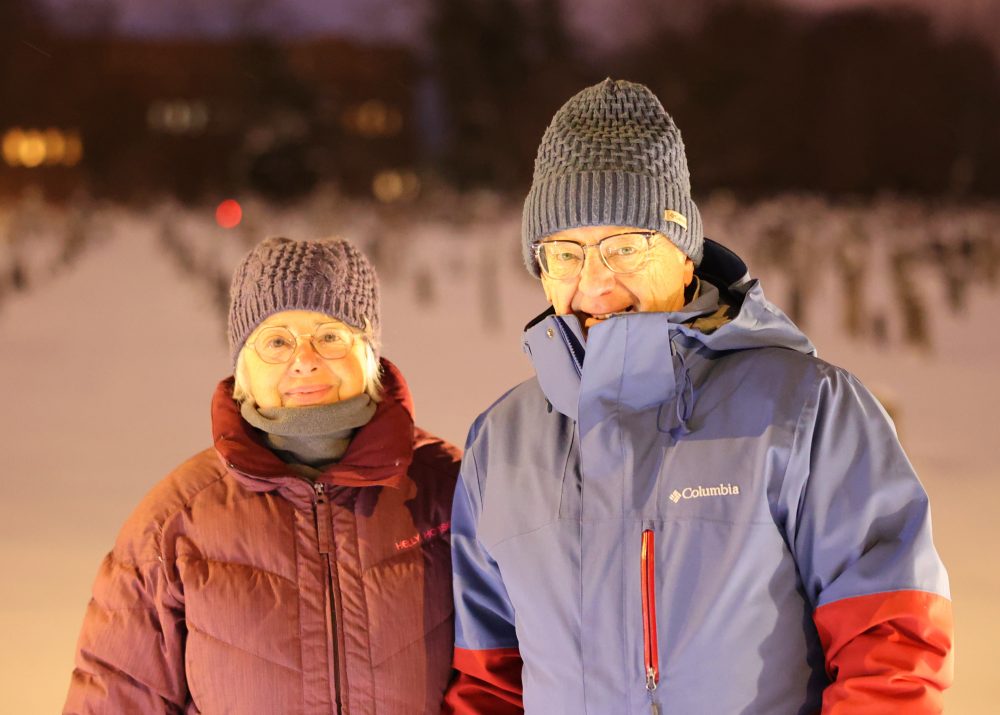 We meet about an hour before sunset on the SW corner outside of town overlooking lightly covered farm fields. Granby is a flat region located ESE of Montreal; historically a land covered by forests and prairies, it has transformed into an urbanized core surrounded by fields and suburban neighborhoods. Following Claude's lead, we moved up to an area on the east side of the Miner Golf course with Crows flying overhead. Claude and Ginette discovered large numbers of staging Crows in tall deciduous trees in neighborhood backyards on the east side of nearby King Street. They had arrived from all directions, were actively vocalizing and we had no way of knowing just how many were assembling, but the noise levels were impressive! Just before we prepared to move out, about 28 minutes after sunset time, a substantial flight stream was unleashed and an endless number of Crows lifted off and headed towards town in a NW direction.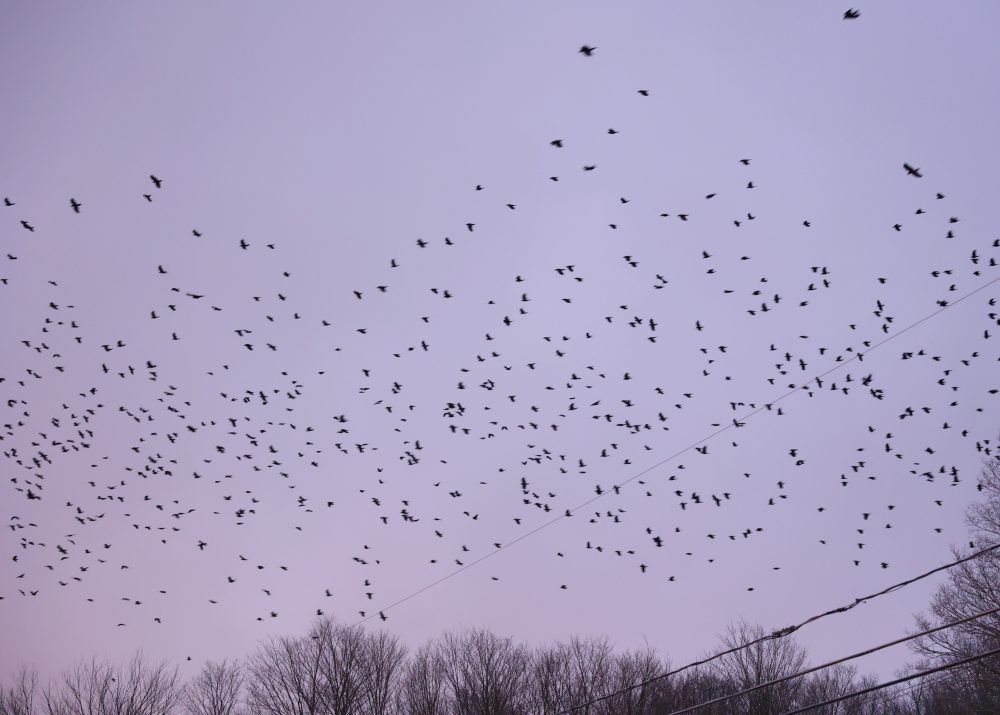 Rachel and Jacques were in the lead car, and checked out the area around Dorchester Street, and we discovered a number of number of Crows perched in trees and loudly vocalizing. We then proceeded past a number of old mill buildings to the north side of the the Yamaska River along Cowie Street. We pulled into the old Roman Catholic cemetery of Granby. It is still active but there is also a modern cemetery in the town. Adjacent to Notre Dame Cemetery is the Cowie United Church Cemetery to the east. The Crows were packed atop tall deciduous trees along the hillside banks on the north side of the Yamaska River, and in trees at the back of the Cowie Cemetery. This image about 40 minutes post sunset time.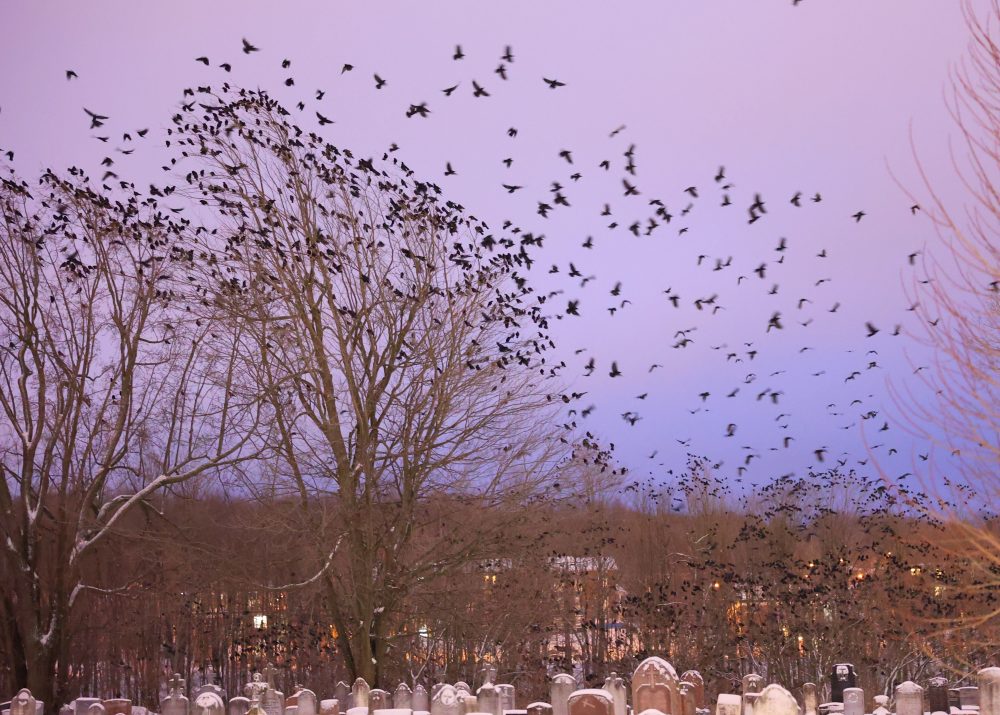 A male dog walker appeared out of nowhere, moving west to east along the back end of Notre Dame Cemetery at a slow pace; the barking dog on a leash, created quite an uproar with the Crows in the roost, resulting in major flight bursts up and down the river. It was a staggering sight to see so many Crows rise up in flight all at once. This image about 32 minutes post sunset time.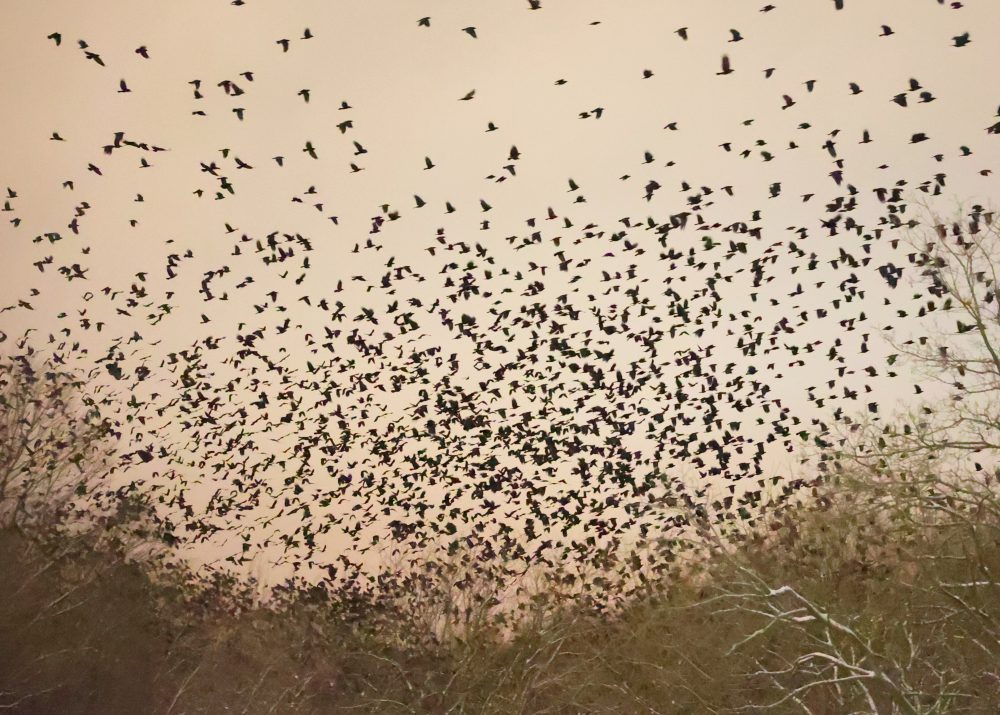 Moments later, the Crows were seen streaming downriver in flight toward the well lit light industrial complex along St. Charles Street. This image below captured a minute after image above.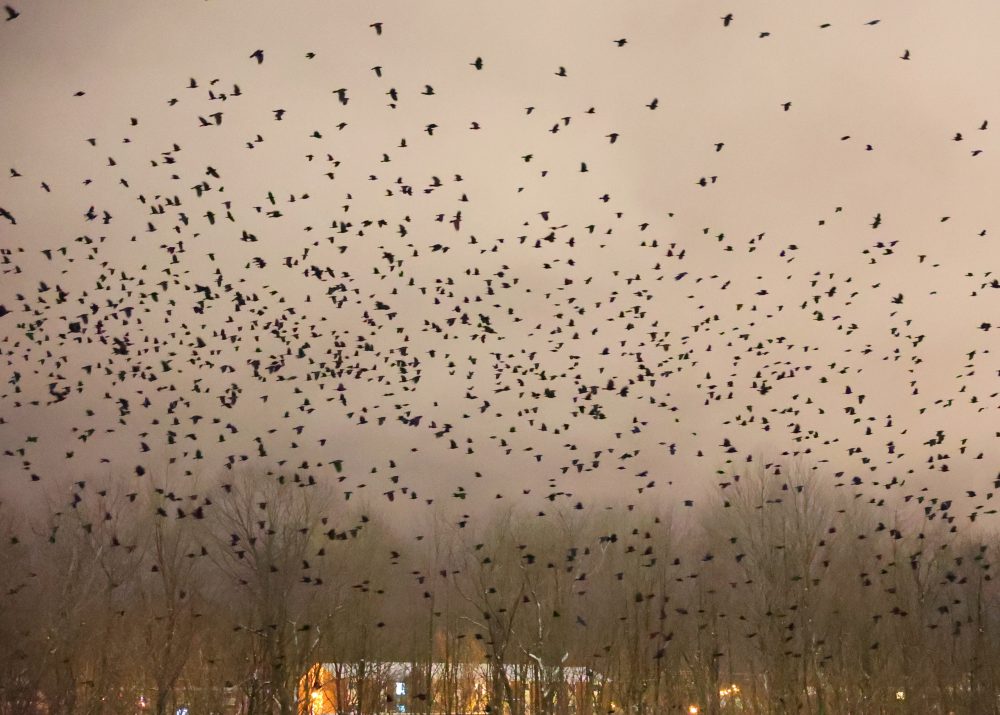 For the 2022 Audubon Christmas Bird Count (CBC) for the Andover Circle, this separate Crow Count was 13,750 Crows. In 2021, the CBC Andover Circle Crow Count was 12,250. Many thanks to Donna Cooper who coordinates and compiles the Andover Circle each year!
Note on counts/estimates: we are now using improved methods for counting the large number of Crows while streaming, staging, and in the roost. For all images, we use both a modified open source counting software program, as well as a hand count approach, while outside next to the roost, to carefully document our observations and to significantly increase reliability and accuracy of the presented numbers. Please refer to our new roost counting guide on main page.
Remember to check out the latest Crow Patrol Podcast with John Macone (Merrimack River Watershed Council): wintercrowroost.com/podcast/
Photo gear used for most outings:
Canon EOS 80D with Canon EF-S 18-135mm f/3.5-5.6 IS 
Canon EOS 80D with Canon EF-S 18-135mm f/3.5-5.6 IS (Infrared)     
Canon EOS R6 Mirrorless with Canon RF 28-70 f/2 L IS USM 
Canon EOS R6 Mirrorless with Canon RF 50 f/1.2 L USM 
Sony AX700 4K HDR Camcorder
Follow us on Instagram: wintercrowroost
Follow us on YouTube: wintercrowroost
Blog post and photos by Craig Gibson, 2023 Crow Patrol