Oct. 27, 2023: clear skies, wind SW 6MPH, temp 73F; sunset time 5:44PM
Out on Crow Patrol with initial scouting visits all along Merrimack Street up to, and behind Helfrich Boiler Works at 39 Merrimack St with Crows staging on the ground and in trees in rear dirt lot. Was able to share a open large bag of in-shell peanuts out in the dirt lot and the offering attracted an immediate horde of hungry Crows; it was quite a sight!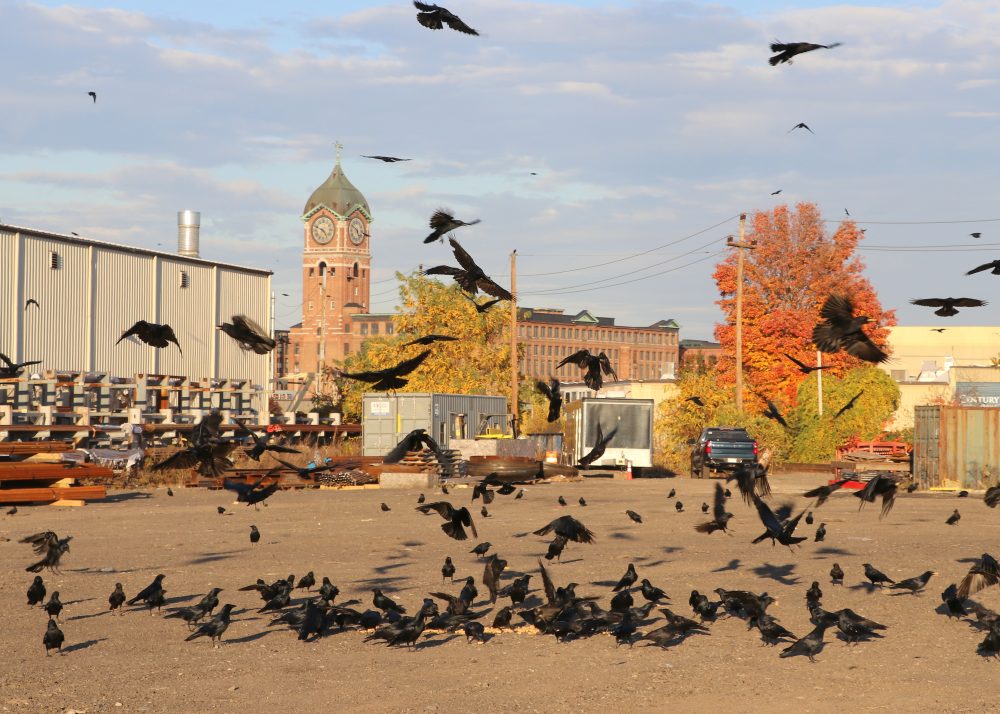 Moved to the truck depot on Merrimack Street next to the CubeSmart building for terrific all around views. Crows were seen streaming in from all directions and landing on roof tops, utility wires, and on the ground in final staging action. In this image, captured just a few minutes after sunset time, the Crows were leapfrogging in flight from the roof atop the B&D Advanced Warehousing building towards the National Grid substation area.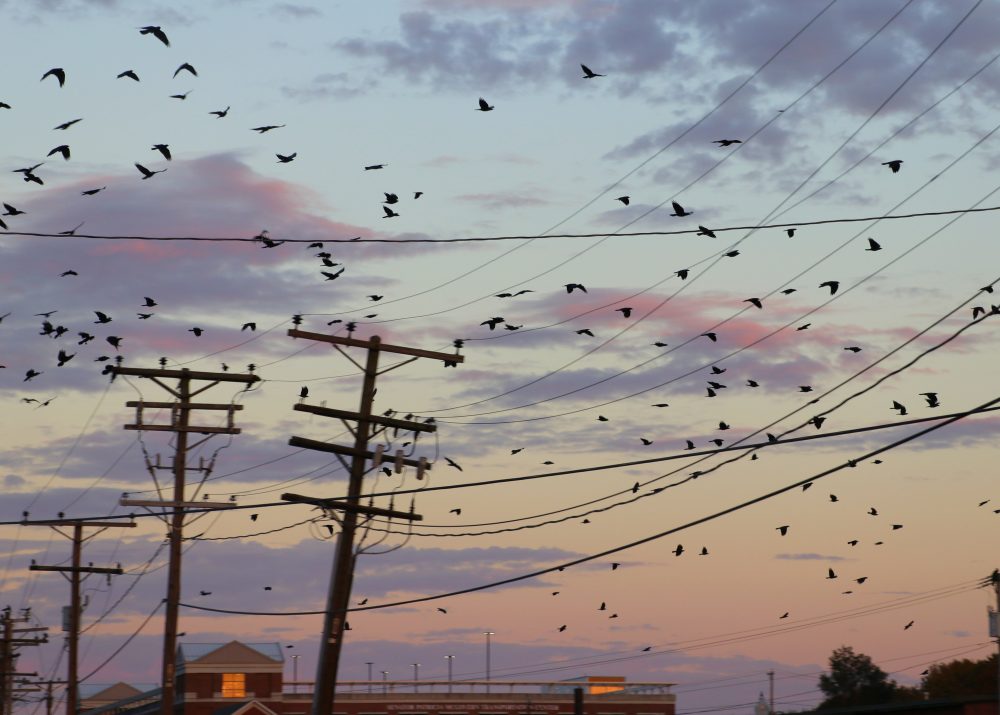 With aerial imaging capability, we had great looks at the buildup of Crows on all of the nearby rooftop areas. As the Crows leapfrog towards the National Grid substation, they tend to gather on the roof of the substation brick building, on the ground, and in the trees at the back and along the Merrimack River. Here's a nice look at the gravel covered roof and nearby trees along the Merrimack River with this image captured about 12 minutes after sunset time.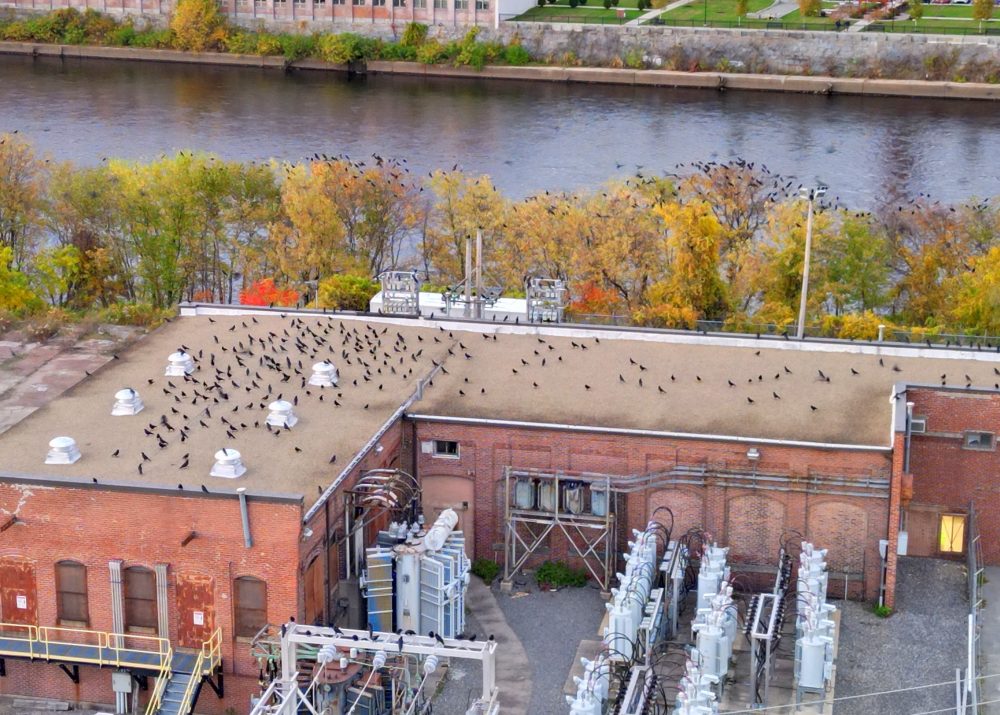 A few minutes later, while looking to the east and down Merrimack Street, an almost full moon was slowly rising above the distant horizon. This particular full Moon is commonly referred to as the full Hunter's Moon. It is believed that this name originates from the fact that it was a signal for hunters to prepare for the upcoming cold winter by going hunting. This is because animals were beginning to fatten up in preparation for the winter season. Moreover, since fields had recently been cleared out under the Harvest Moon, hunters could easily spot deer and other animals that had come out to search for remaining scraps.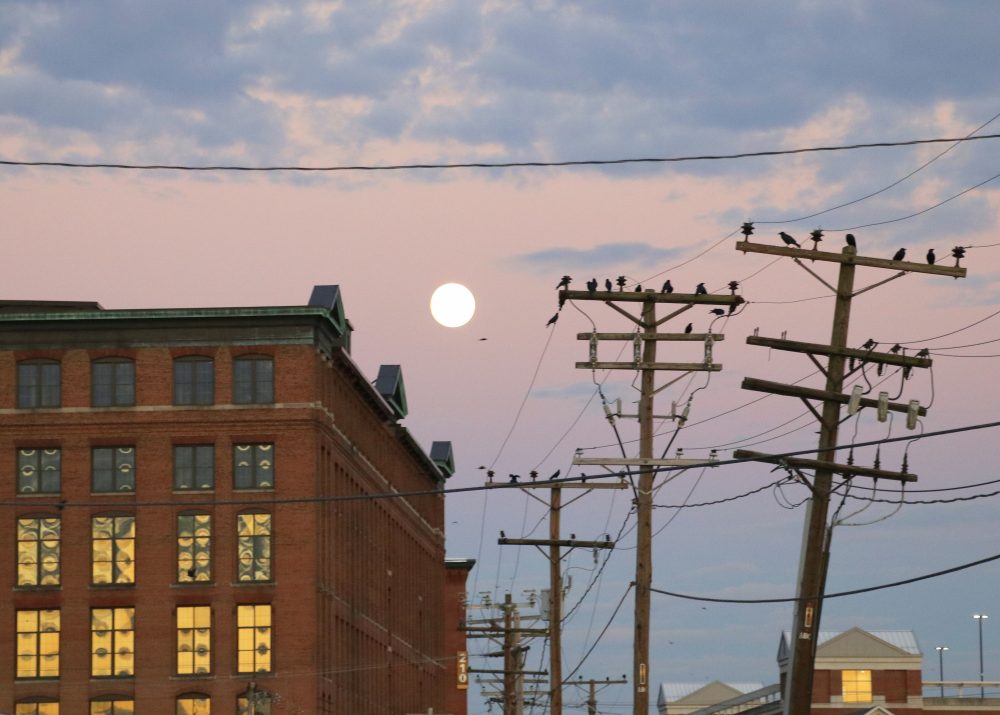 With clear and warm conditions, the largest number of Crows were delayed in converging into the overnight communal roost trees on the north side of the New Balance building. This image below shows the remaining group of just over 2,000 Crows lingering just a while longer on the rooftop of the main B&D building.  Overall, another night, still early in the fall season, with spectacular action with lots of vocalizing!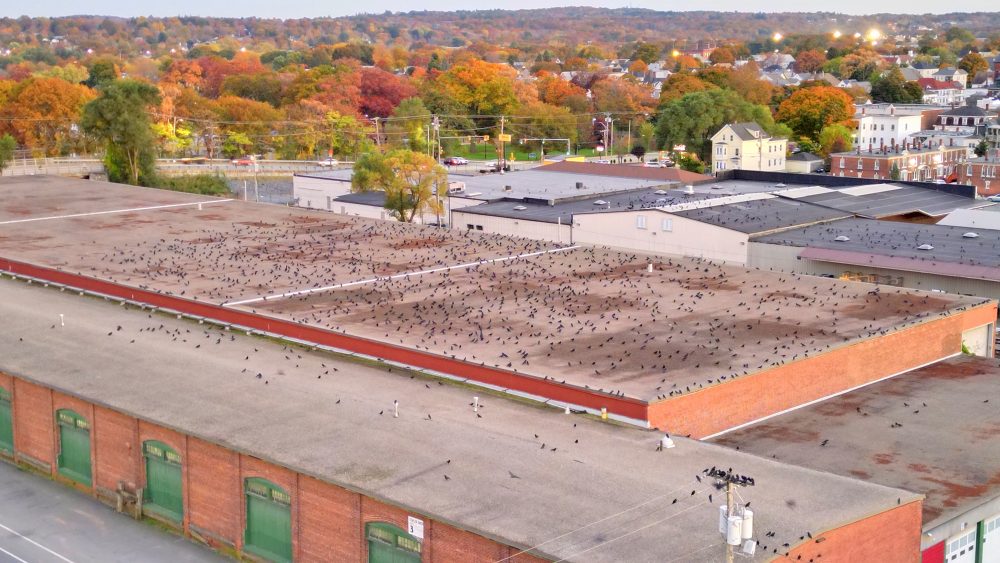 Note on counts/estimates: we are now using improved methods for counting the large number of Crows while streaming, staging, and in the roost. For all images, we use both a modified open source counting software program, as well as a hand count approach, while outside next to the roost, to carefully document our observations and to significantly increase reliability and accuracy of the presented numbers. Please refer to our new roost counting guide on main page
For all aerial documentary films with migratory and/or wintering birds or other wildlife, advance project planning and aerial imaging flight mission protocols are subject to rigorous review for "no disturbance" to any flight and perch behaviors, use of high resolution/optical zoom optics, overly cautious altitude/buffer zone levels, and low noise signature levels; all to avoid even the smallest disturbance on these migratory and/or wintering birds.
Remember to check out the latest Crow Patrol Podcast with John Macone (Merrimack River Watershed Council): wintercrowroost.com/podcast/
Photo gear used for most outings:
Canon EOS 80D with Canon EF-S 18-135mm f/3.5-5.6 IS 
Canon EOS 80D with Canon EF-S 18-135mm f/3.5-5.6 IS (Infrared)     
Canon EOS R6 Mirrorless with Canon RF 28-70 f/2 L IS USM 
Canon EOS R6 II Mirrorless with Canon RF 50 f/1.2 L USM 
Sony AX700 4K HDR Camcorder
Follow us on Instagram: wintercrowroost
Follow us on YouTube: wintercrowroost