Conditions: partly cloudy, wind S at 6MPH, temp at 36F; sunset time 4:54PM
Had a wonderful visit to the renowned winter crow roost in Lancaster, PA this past Saturday late afternoon. Like so many other winter roosts, this one has been around for decades, and in this location, has experienced, at times, over 100,000 crows in winters past. This roost has fostered both deep concerns and aggressive deterrent action, as well as a groundswell of community support for alternative, non-lethal handling of the crows.
We had a college weekend visit with our daughter at Villanova University, NW of Philadelphia. After exchanging emails earlier in the week with Barbara Hunsberger, president of the Lancaster County Bird Club, was happy to accept her invitation to visit Lancaster and learn more about the local crows. Brought five students on a road trip to Lancaster. We stopped by to visit and talk with Barbara at Woodcrest Villas near the Park City Center.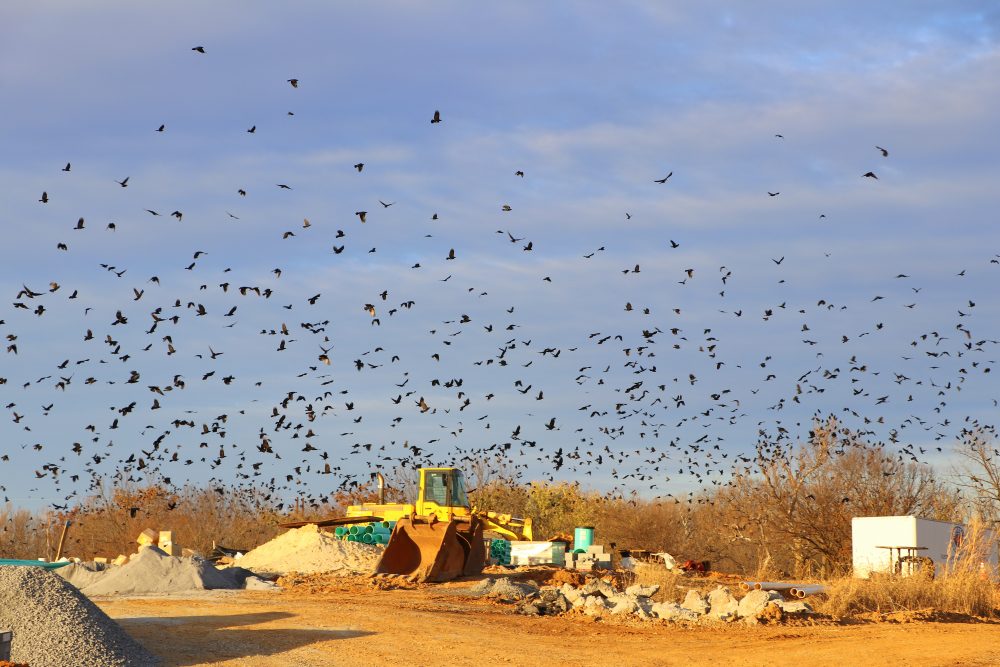 Construction zone betweeen Woodcrest Villas and Park City Center; 40 minutes before sunset
From multiple online sources, Park City Center is a shopping mall located in Lancaster, PA. The mall has over 160 stores and resembles a snowflake, with its stores occupying 8 corridors extending from the center. The roof in the center of the mall is a large white tent, and encloses the octagonal Center Court. The mall is a major shopping destination for shoppers in the south-central Pennsylvania area. The mall is located approximately 85 miles west of Philadelphia.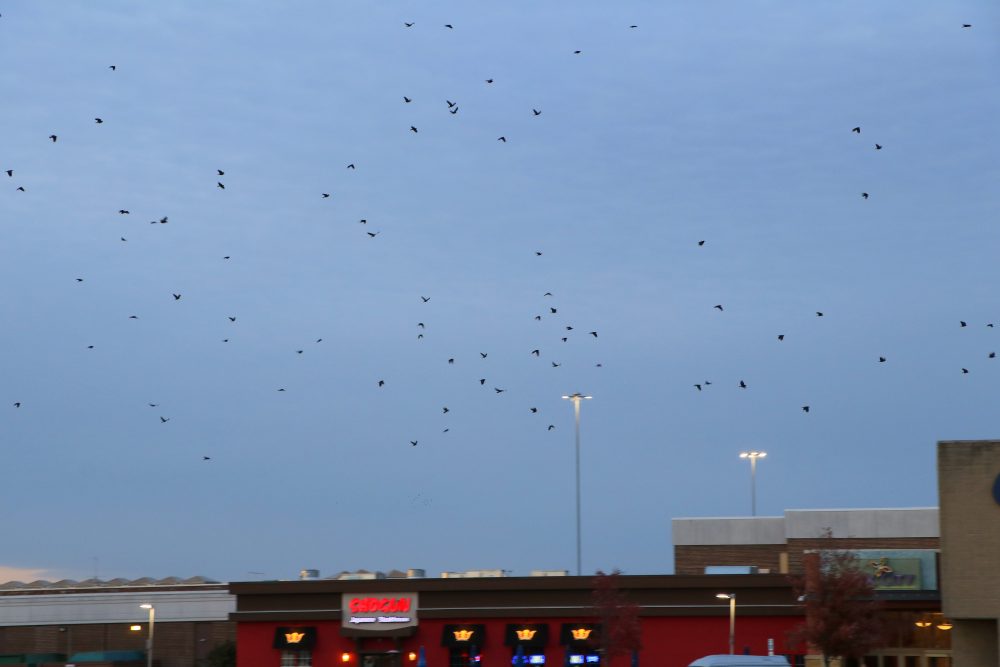 Crows lifting off mall roof and heading NE towards Long's Park at sunset time
The Lancaster roost was featured in an article published in Audubon Magazine in Feb. 2016:
"Crows have migrated to Lancaster for generations, flying south from Canada and New England each year to escape the frigid winter weather. In 2005, their stay was met by a growing mob of angry residents and officials, who argued that the birds were devastating farms, rooftops, and overall town aesthetics. Pretty soon, a mass poisoning campaign was under way to beat back the swarms.  
With no sign of a truce in sight, a small group of crow enthusiasts decided to band together and find an alternative to the poison. Spearheaded by Laurie Ulrich, a town resident and ardent bird lover, the Lancaster County Crow Coalition began testing out pyrotechnics on the birds—starter pistols, screamers, and even the occasional dead crow effigy. Between these terrifying sounds, the group was able to get the flocks to move into greener, more bird-friendly patches on the outskirts of town. It worked—the following year Lancaster city officials announced an end to the extermination.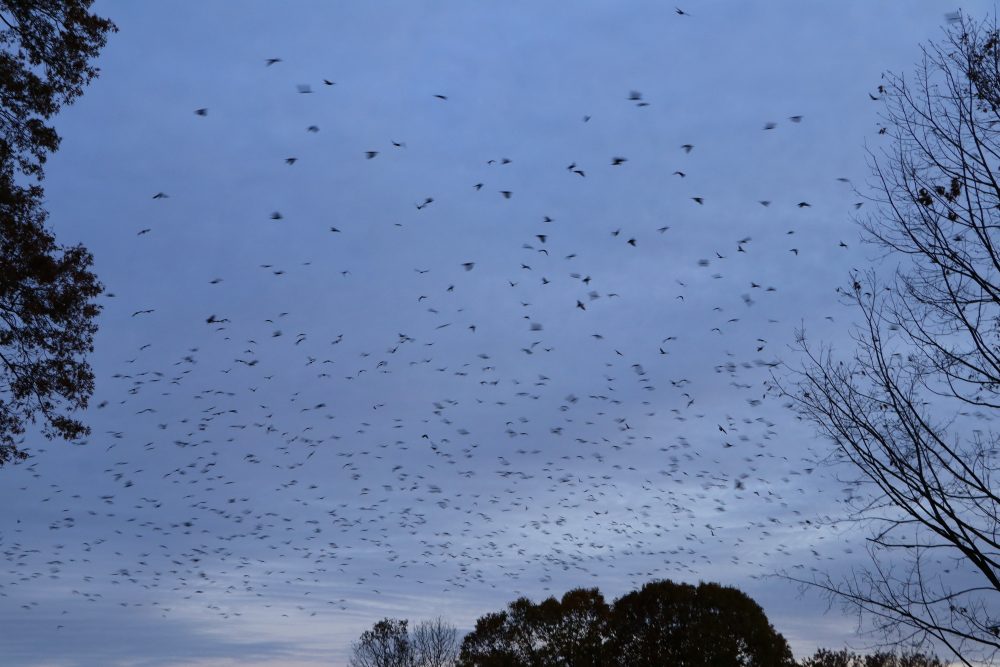 From west side of Long's Park looking towards the east with Crows overhead about 10 minutes after sunset!
In the decade since, things have really changed in Lancaster: The town now plays host to a massive months-long crow-themed party, aptly named Something to Crow About. Now in its second year, the festival features a lineup of events that stretch between the months of January and February. From crow-themed art shows to a "Blackbird Ball and Masquerade" (free entry into the nightclub if you wear a crow mask), locals are cawing a different tune as crows settle in for the winter. Even restaurants have started to join in the festivities by showcasing creative crow-inspired dishes—everything from blackbird crepes to crazy crow gyros to crow-quettes."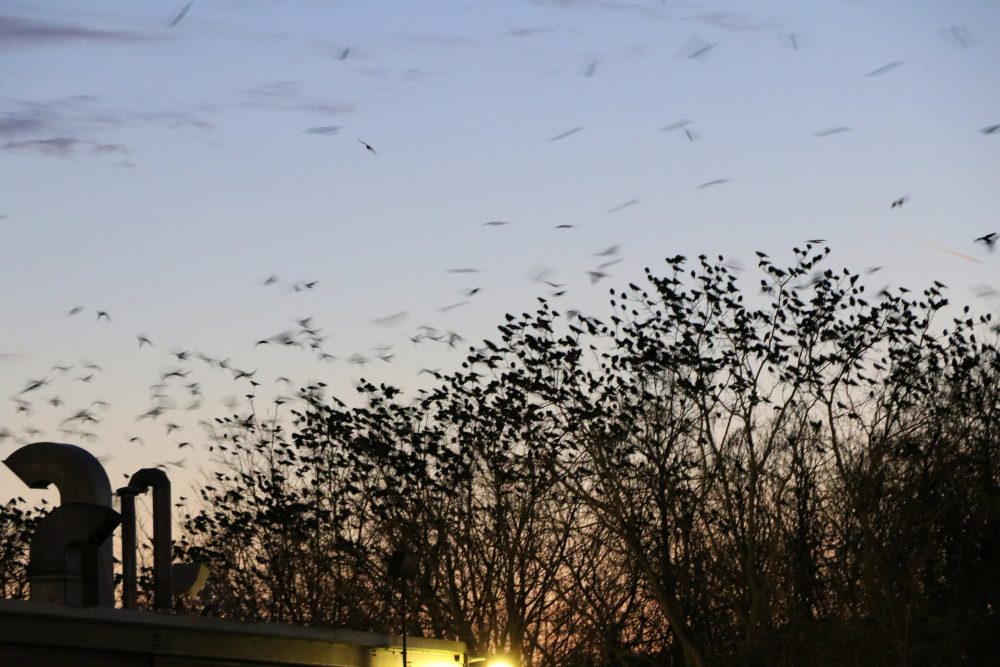 From Loop Road looking west at Crows perched in trees near the railroad tracks about 40 minutes after sunset
The Crows gathered in large numbers around the west and north perimeter of Long's Park just after sunset.  At times they rose in a large bloom and then settled back down, as more Crows came streaming in from the mall area.  Then they headed off yet again in large numbers to a wooded area between the railroad tracks and Loop Road by Manheim Turnpike…..an amazing show!
Although the local crow festival and related activities have been discontinued, the winter crow roost is ever present! The crows were out in full force during our visit with the wide-eyed seniors from Villanova. They were in total awe as we watched not only the crows, but also large murmurations of starlings in the thousands, as well as geese flying by in orderly v-shaped formations.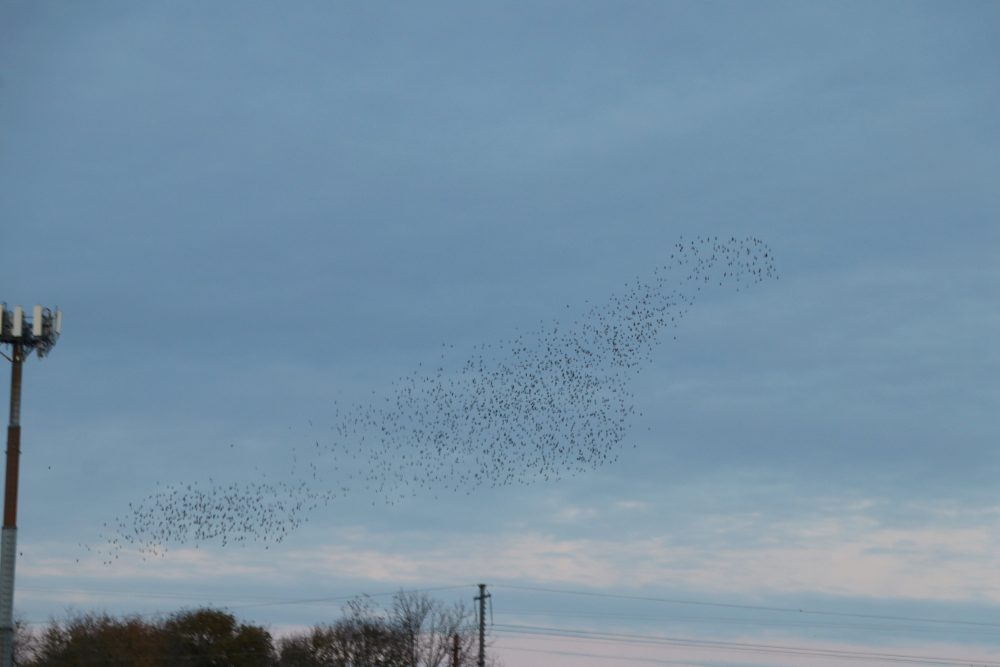 Looking north from east side of the mall at murmurations of Starlings in the distance
Welcome Back Crows – Sunday Nov. 17 starting at 2:30PM at Spicket River Brewery!
List of photo equipment used for this outing:
Canon EOS 80D; Lens: EF-S 18-135mm f/3.5-5.6 IS   
ATN BinoX 4K 4-16x Day and Night Smart HD Binoculars
Blog post and photos by Craig Gibson, 2019 Crow Patrol, Lawrence, MA