Conditions: overcast skies, wind W 6MPH, temp at 37F; sunset time 4:41PM
Out on Crow Patrol with initial scouting for staging activities, mostly south of overnight roost area. Observed staging Crows, streaming in by flight, perched in trees, and vocalizing loudly. Next stop was the top of the McGovern parking garage with excellent views to S/SW/W/NW. Large numbers were seen around the old Lawrence Pumps building, minutes before sunset time, on Market Street south of the railroad tracks.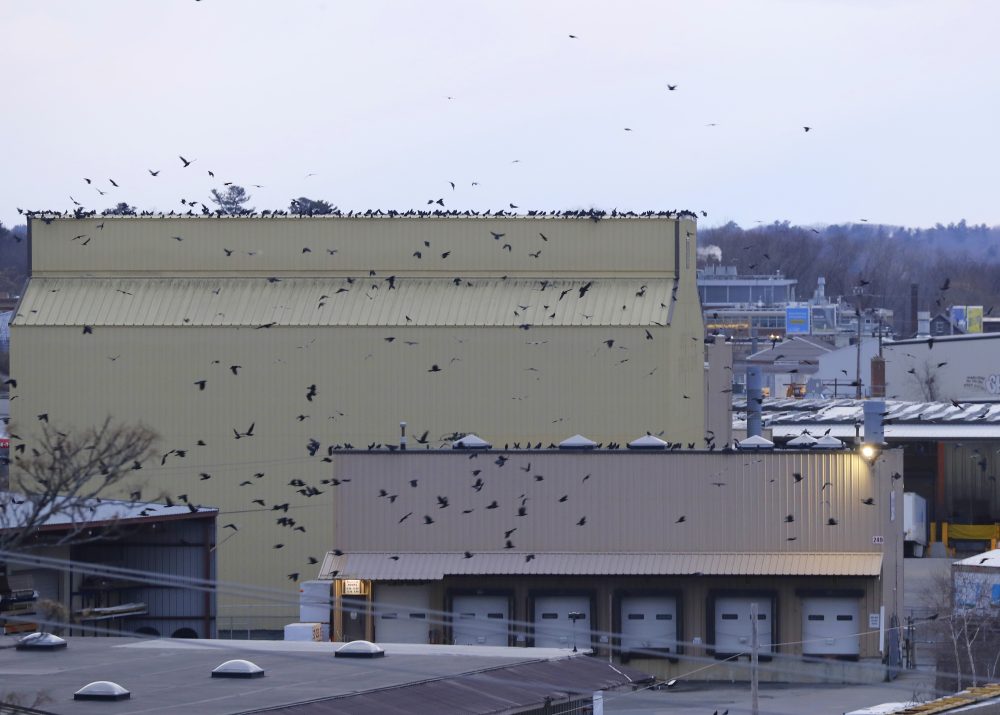 Large numbers were also seen streaming in from the west and at higher elevations. The Crows started to assemble on the far end roof area on the B&D warehouse building. This is always a thrilling sight as these flying monkeys return back tot he roost each night! This image was captured about 9 minutes before sunset time.
They rose up regularly in massive flight swarms, circled a bit, and then settled back down onto the extended roof area. This image about 5 minutes before sunset time.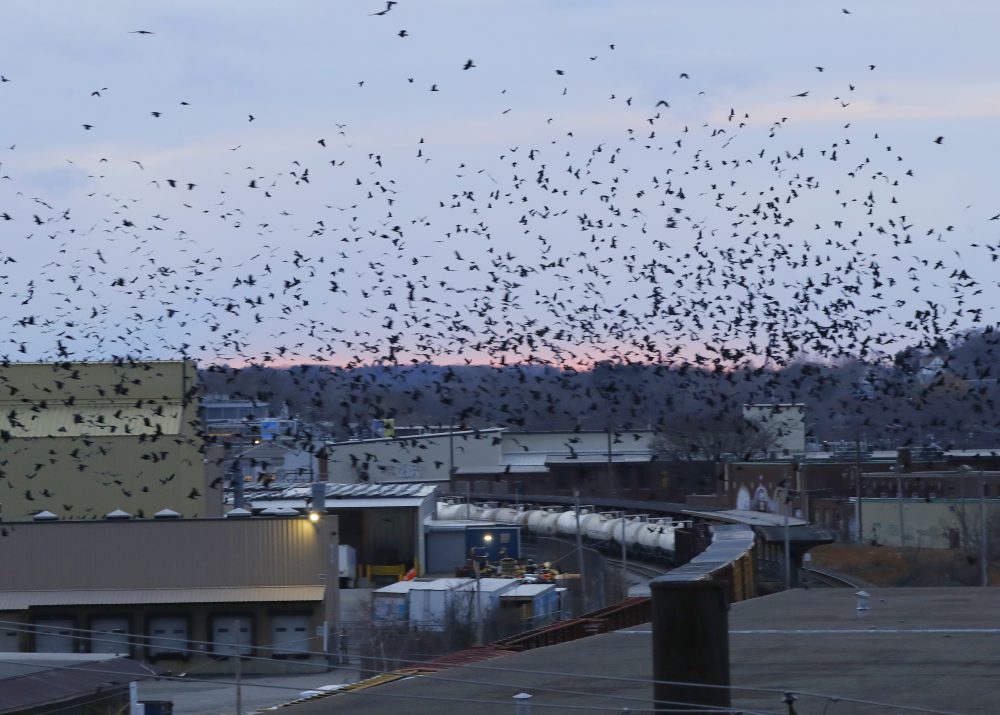 The numbers continued to expand on the far roof top until after dark. The Crows started to depart for the roost about 35 minutes after sunset time and as darkness rolled in.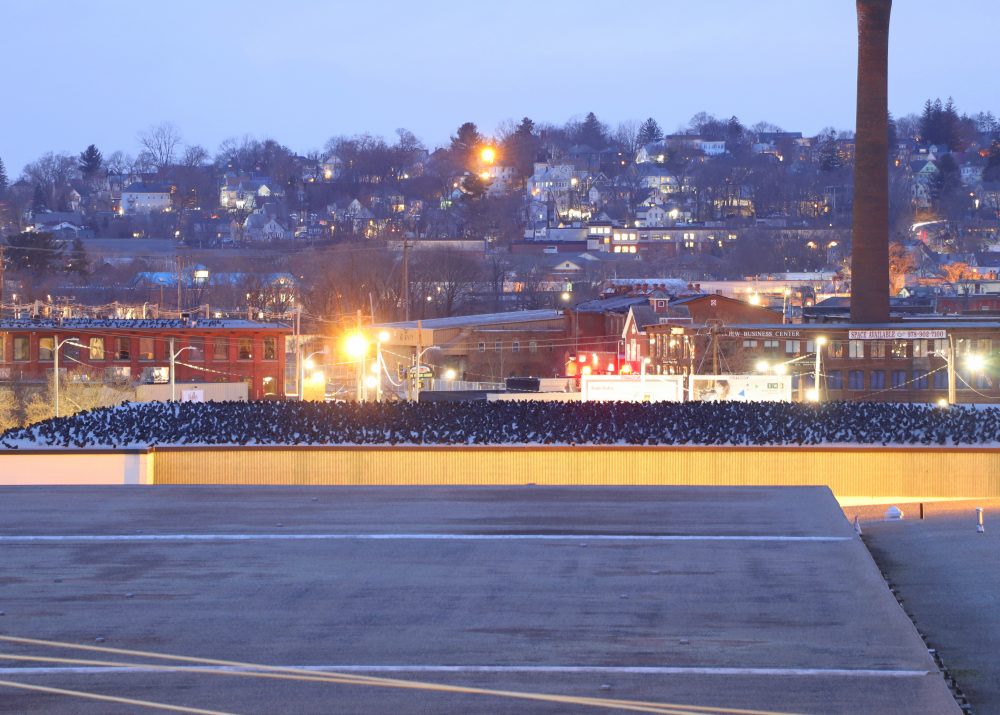 Final stop was over at Mill240 park. Again, the overnight roost shifted overall location to the west, from back side of the National Grid substation all the way up to the Casey Bridge with continued vocalizations before they settled down for the night. This image, was captured with long exposure techniques, with manual focus and manual exposure settings. Amazing action!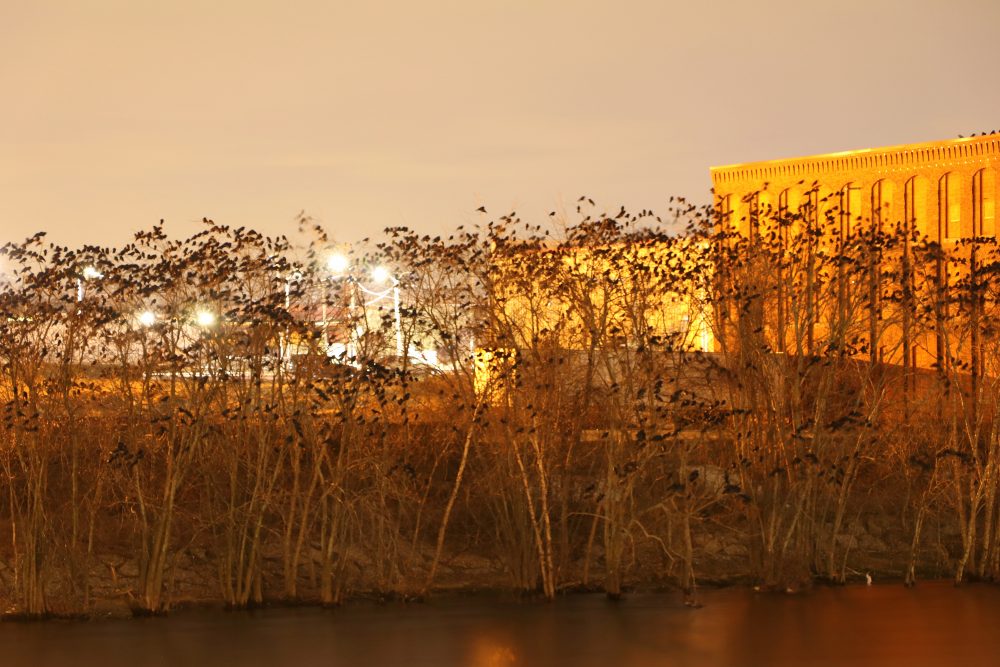 Check out the newly launched Crow Patrol Podcast: wintercrowroost.com/podcast/
Photo gear used for this outing:
Canon EOS 80D with Canon EF-S 18-135mm f/3.5-5.6 IS 
Canon EOS 80D with Canon EF-S 18-135mm f/3.5-5.6 IS (Infrared)
Canon 1DX MK II with Canon EF Telephoto Zoom 100-400mm f/4.5-5.6L IS II USM
ATN BinoX 4K 4-16x Day and Night Smart HD Binoculars with photo/video
SiOnyx Aurora Pro Digital Color Night Vision Optics
Follow us on Instagram: wintercrowroost
Follow us on YouTube: birdsoftheair1
Blog post and photos by Craig Gibson, 2020 Crow Patrol, Lawrence, MA