Terrific video that shows the Crows waking up and vocalizing loudly before morning dispersal!
Conditions: clear skies before dawn, wind S at 3MPH, 51F; sunrise 6:26AM
Observations: arrived at the Duck Bridge about 60 minutes before sunrise time. The roost was full with the heaviest and densest concentration of Crows in the trees along the river's edge closer to the west end of the New Balance building. The vocalizations increased over the first thirty minutes and then slowly tapered off towards sunrise time. The mage was taken with the infrared camera about an hour before sunrise and provides a crisp view of the Crows in the roost.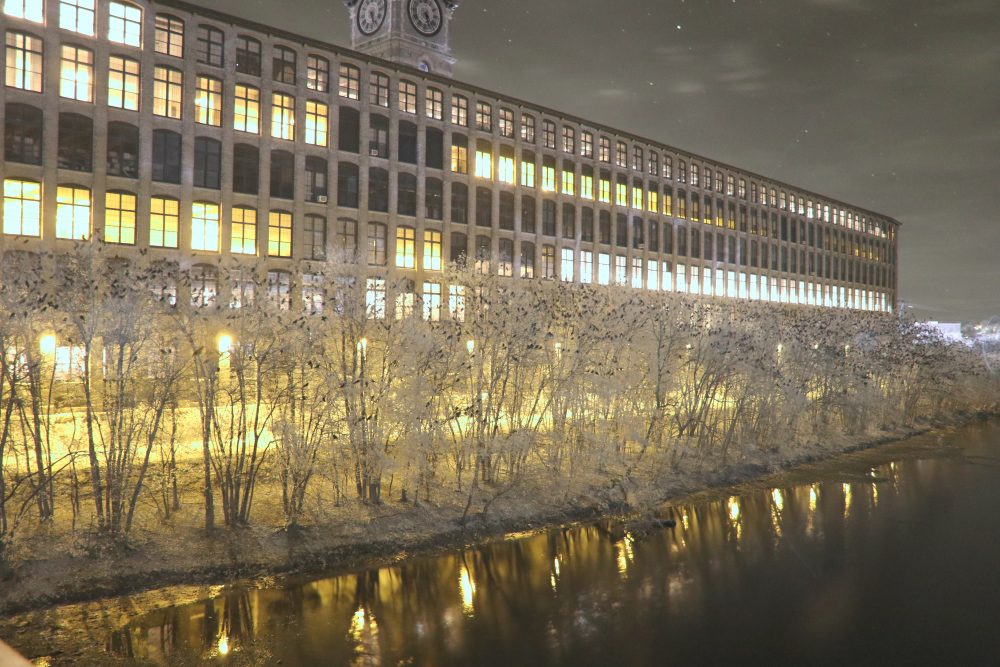 A short time later, made an effort to zero in on the area where the Crows were perched in the densest concentration among the Silver Maples and River Birch trees. On prior pre-dawn outings, the Crows have often times shifted locations within the roost during the overnight hours. In the past, there have been dense groupinsg close to the Duck Bridge or out just a ways. On this outing, the densest concentration was farther out with many more Crows in trees all the way down to the Casey Bridge. This image provides a very realistic sense of how tightly these Crows perch close to one another. It was taken with the infrared camera about 47 minutes before sunrise time.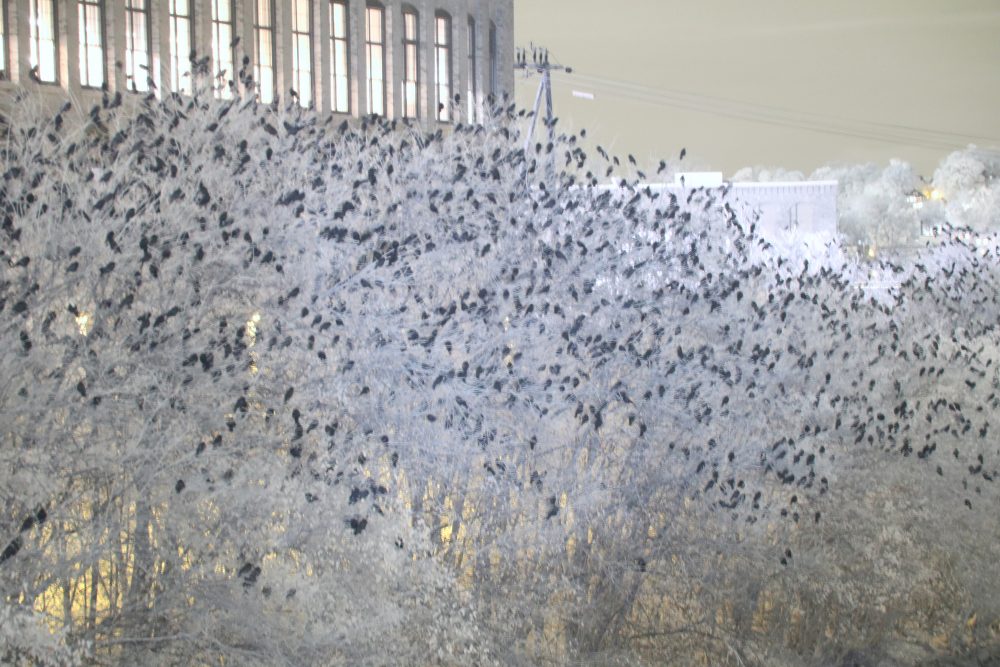 Here is another tighter close-up of the roosting Crows in an image captured with night vision optics and while using an infrared illuminator. The reflection of the infrared illuminator makes the Crows eyes look white in color. Again, this image provides a sense of how tightly packed in they are within the roost. This image was captured about 46 minutes before sunrise time.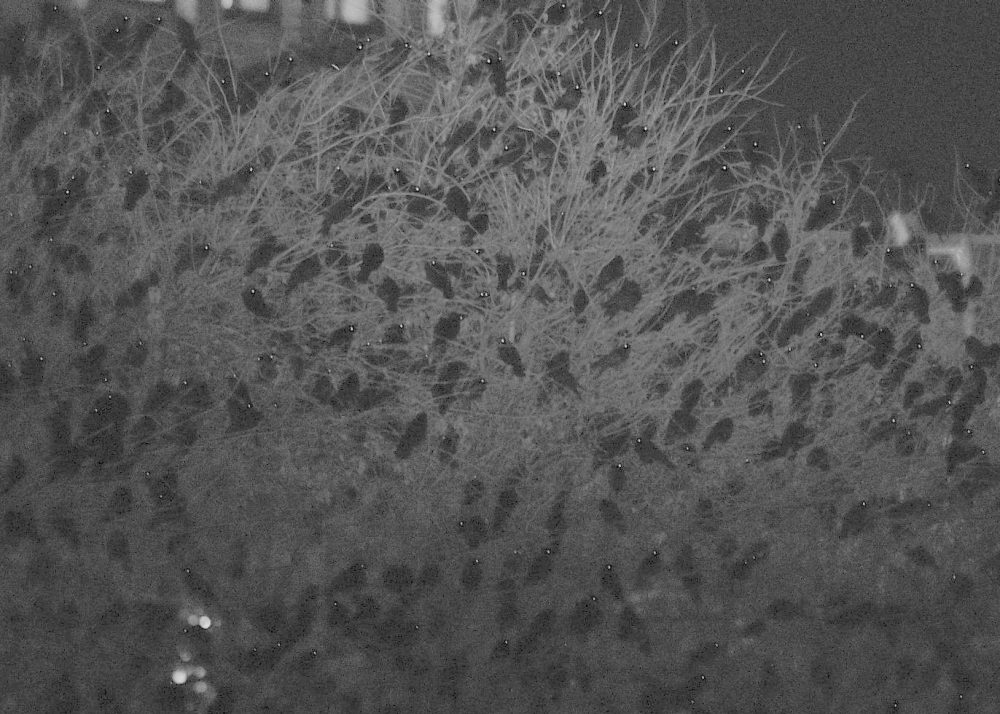 Another look down the line of trees along the river's edge with more and more Crows spreading out towards Casey Bridge. The overall morning dispersal from the roost was very orderly with a very steady stream of departing Crows, many heading off upriver and to the west. This image, looking out along and to the far end of the extended roost area was captured, again with infrared camera about 43 minutes before sunrise time.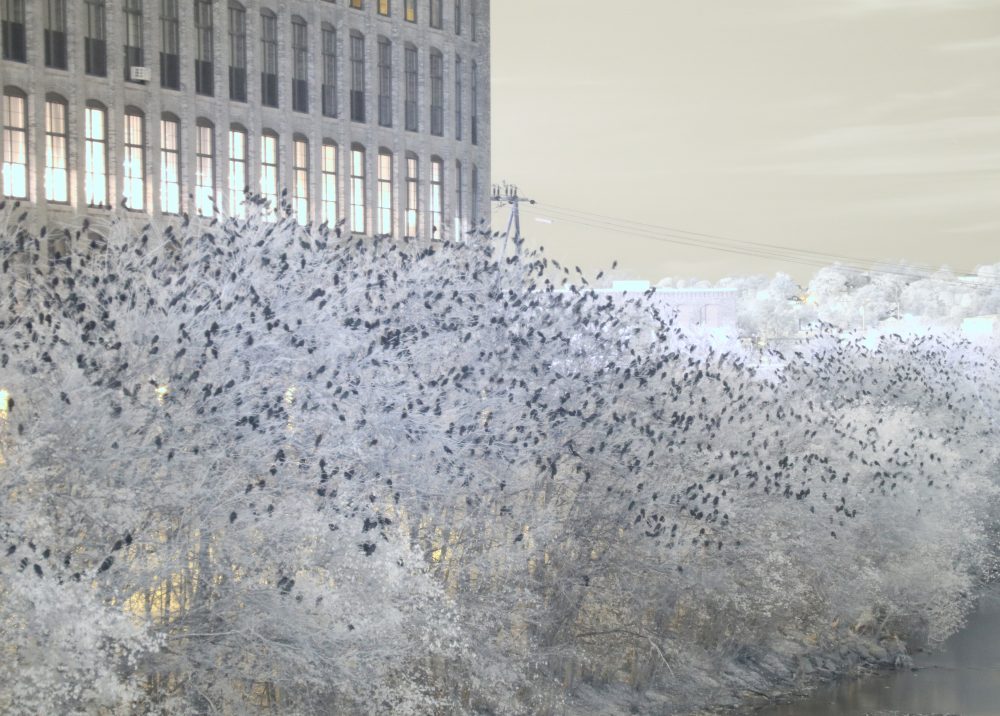 Photo gear used for this outing:
Canon EOS 80D with Canon EF-S 18-135mm f/3.5-5.6 IS 
Canon EOS 80D with Canon EF-S 18-135mm f/3.5-5.6 IS (Infrared)
Canon 1DX MK II with Canon EF Telephoto Zoom 100-400mm f/4.5-5.6L IS II USM
ATN BinoX 4K 4-16x Day and Night Smart HD Binoculars with photo/video
SiOnyx Aurora Pro Digital Color Night Vision Optics
Follow us on Instagram: wintercrowroost
Follow us on YouTube: birdsoftheair1
Blog post and photos by Craig Gibson, 2020 Crow Patrol, Lawrence, MA