This a 14 second time lapse video recorded over a 90 minute period of time prior to the moment of sunrise time at 7:13AM. Based on prior observations at this roost location, the Crows typically "wake up" and start to vocalize around 90 minutes before sunrise time. As the skies slowly start to lighten, the Crows begin the dispersal process and depart for day time foraging grounds. It is fascinating to observe how the tree branches flex back to full extension with each group of departing Crows in the morning. This opens up a new sense of understanding about the patterns and activities around an overnight communal roost!
Conditions: heavy overcast skies, calm, temp at 31F; sunrise time 7:13AM
Out on solo Crow Patrol early this morning to observe Crows waking up, vocalizing, and dispersing for the day. Initial stop along the east side of the Rt. 495 Bridge towards the north end to capture an overview image of the roost. This worked out well, after a brief stop in the break down lane. The timing of this image was just under an hour before sunrise. The image below shows the Crows perched, at all levels, in the trees below. Although lighting was quite a challenge, was able to adjust settings to pick up sufficient ambient lighting from highway lights, bridge lights, and even SUV headlights!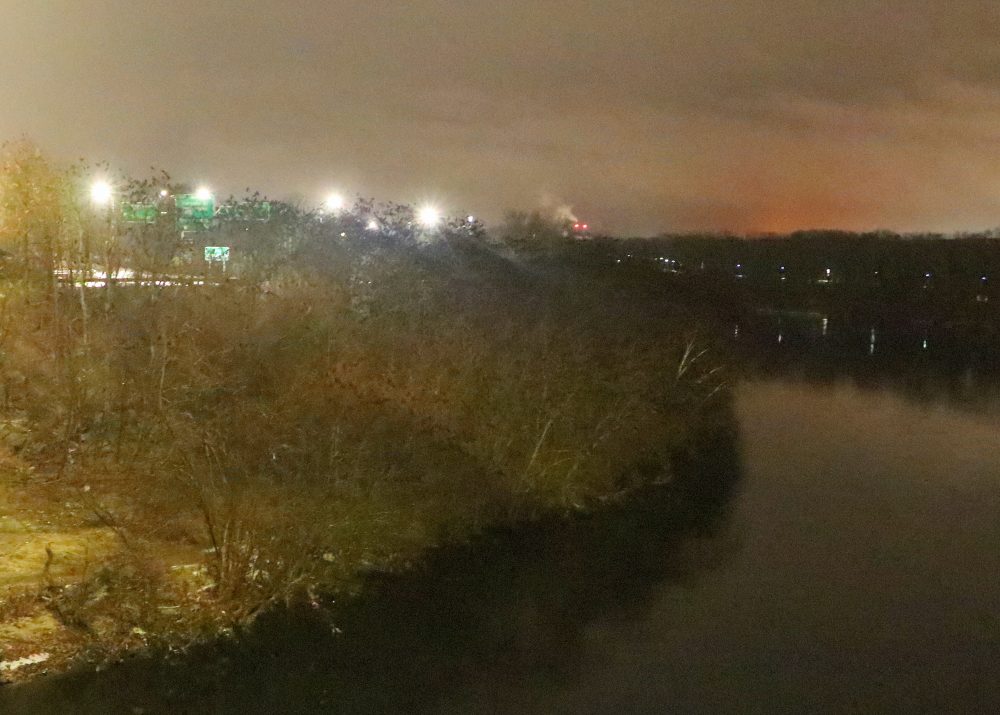 Shortly afterwards, moved next to watch the crows from the south side of the Merrimack River along the shore line on the downriver/east side of the bridge. The vocalizations were significant with an intensity that ebbed and flowed. While scanning the trees through the night vision optics, fascinating to observe how tightly packed together the Crows were in the roost trees. The night vision gear really makes a big difference, especially 30-90 minutes before sunrise time. This image was captured about 40 minutes before sunrise time.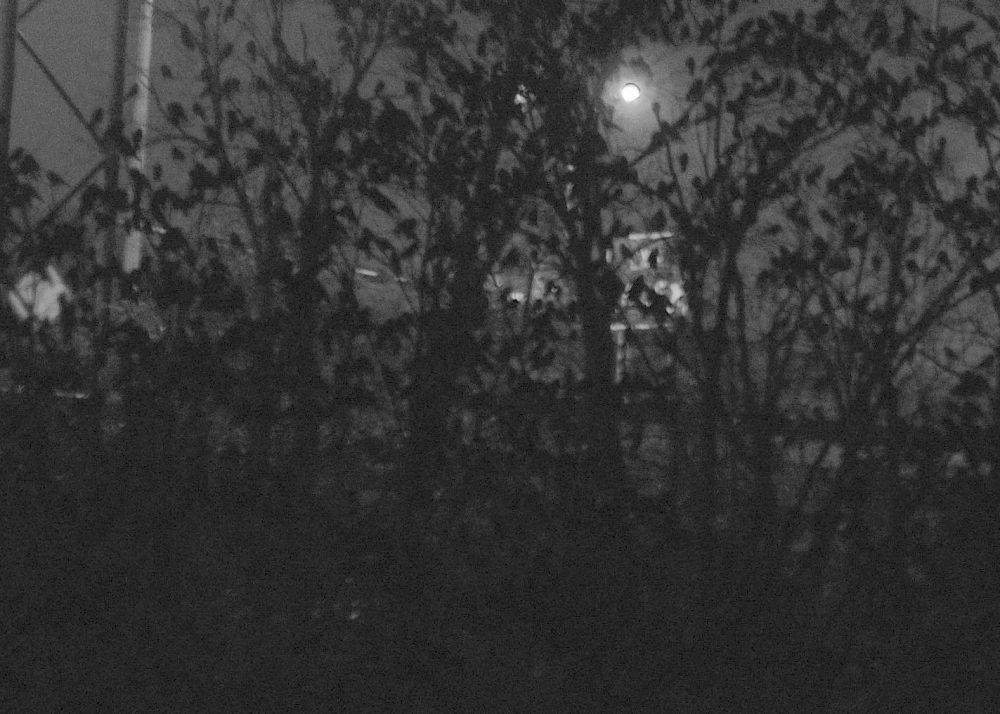 Returned to east side of bridge for flight images during a round of group burst takeoffs from the roost around 15 minutes before sunrise time, just before 7AM. It is always beyond fascinating to watch the mad swirl of flight action as part of the morning dispersal process.  The Crows almost never fly out in straight lines. They burst into clouds and plumes of flight groupings, and often circle the roost or nearby area, a number of times prior to heading off to day time foraging grounds! This image below shows Crows lifting off and up from the roost, on the north side of the Merrimack River, with many Crows still perched in trees below!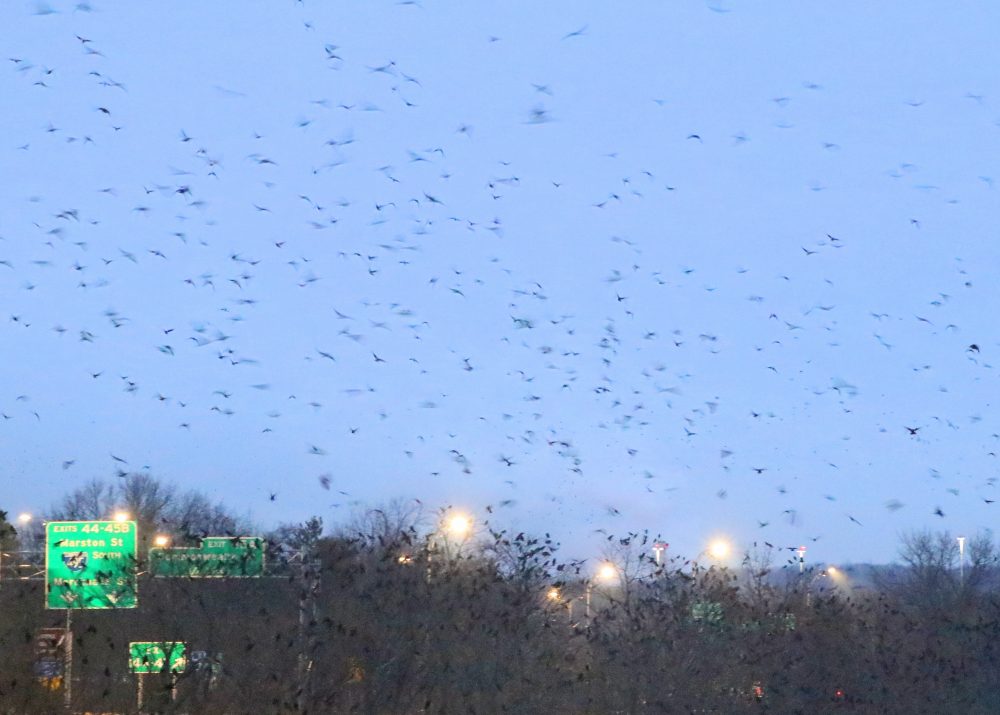 This next image shows the Crows, moment later, in flight out over the Merrimack River.  This group then headed off in a south bound direction towards Andover. For over a minute the sky was filled with huge numbers of Crows, and it was yet another "take your breath away" moment in nature, always exhilarating!!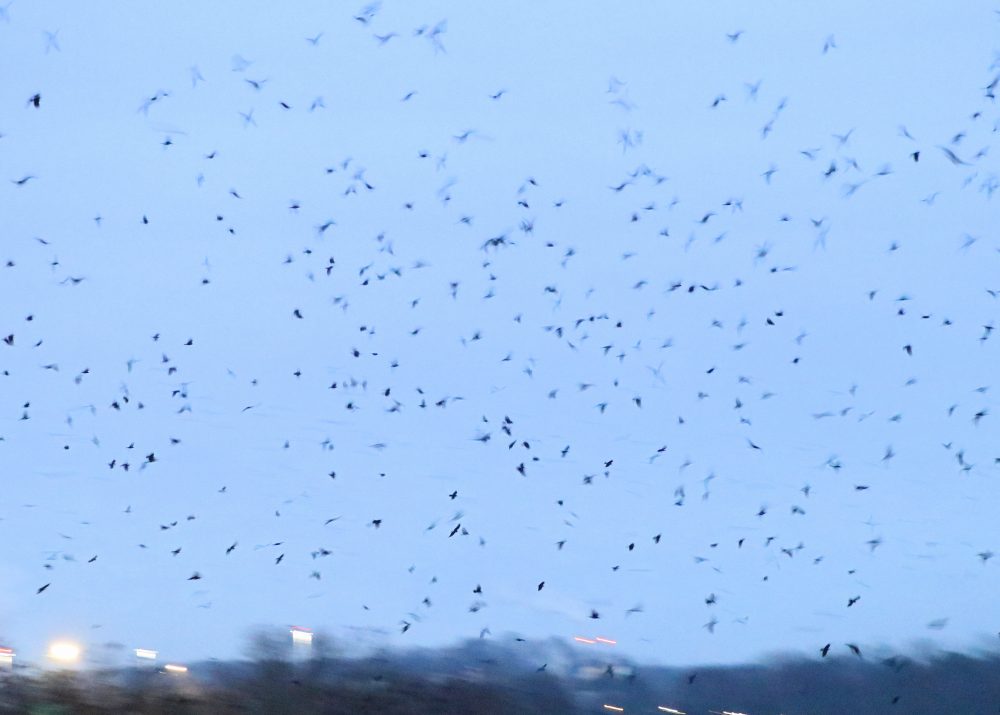 Photo gear used for this outing:
Canon EOS 80D; Lens: EF-S 18-135mm f/3.5-5.6 IS   
ATN BinoX 4K 4-16x Day and Night Smart HD Binoculars with photo and video
Blog post and photos by Craig Gibson, 2019 Crow Patrol, Lawrence, MA