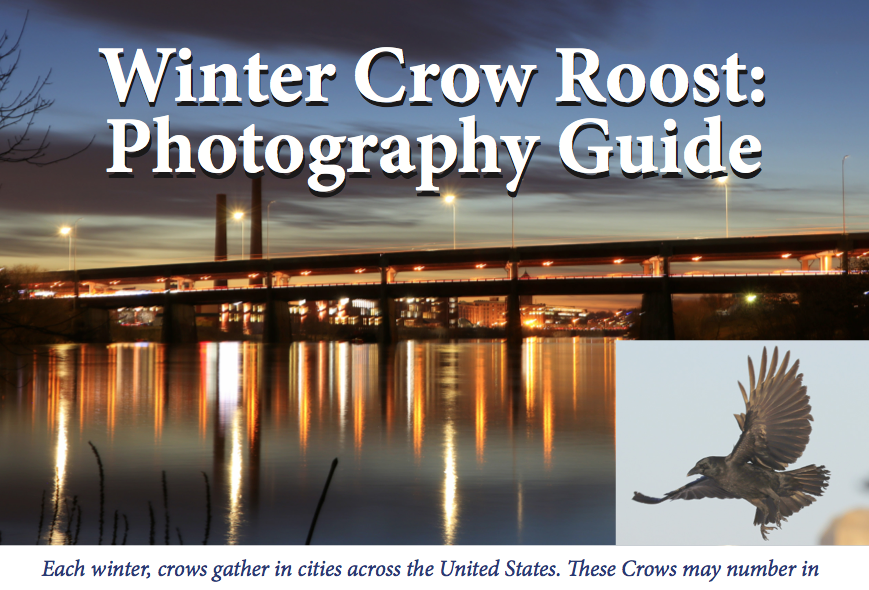 The Crow Patrol is pleased to announce that we have just published and released the new "Winter Crow Roost: Photography Guide". The exciting new 3 page PDF guide is meant to help photographers at all skill levels in their efforts to capture pleasing images of the Winter Crow Roost phenomenon while out in the field.
After endless group tours last winter with conservation, environmental, birding, and local community group, along with smaller informal group outings, as well as with attendees at the Crow are shows, we kept receiving requests to possibly create some type of a photo guide to cover the basics. The requests grew stronger after front page articles in the Eagle Tribune and the Boston Globe, and after interviews on WBZ Radio and Ray Brown's Talkin's Birds show. For so many, it is a big challenge to capture pleasing images around dusk and as the light diminishes after sunset. Here is an excerpt from the cover page of the new guide:
Each winter, crows gather by the thousands in cities across the United States. These Crows may number in the tens of thousands as they assemble in pre-roost staging areas and then converge in flight into the overnight, communal roost, typically just after sunset. This amazing avian spectacle provides an opportunity for stunning images by photographers at all levels.
Getting the best images will often depend on lighting and location options in the local setting. It is possible to take terrific images of large groupings of staging and roosting birds as well as birds in flight. Camera gear will be important, but great images can be captured at all skill and equipment levels. This brief guide will help you make the most of local possibilities.
This practical and easy to use new guide is available from a link on the landing page of this blog for downloading and printing on your own!
Enjoy,
Craig Gibson