Conditions: clear skies, wind Sw 7MPH, 58F, sunset 5:27PM — Week 14 in this roost location!
Out on Crow Patrol with first stop at Incinerator Road to meet up with Green Team members along with leaders Yevette and Matt. Lots of Crows seen staging in trees across the Merrimack River, due east and about 375 meters in distance. As planes took off the crows would rise up in flight and settle back down. The Green Team departed for a closer look along Charles St. The image below shows the Crows stirred up and in flight in trees along Charles St. while a plane is taking off and the white Green Team van is driving by.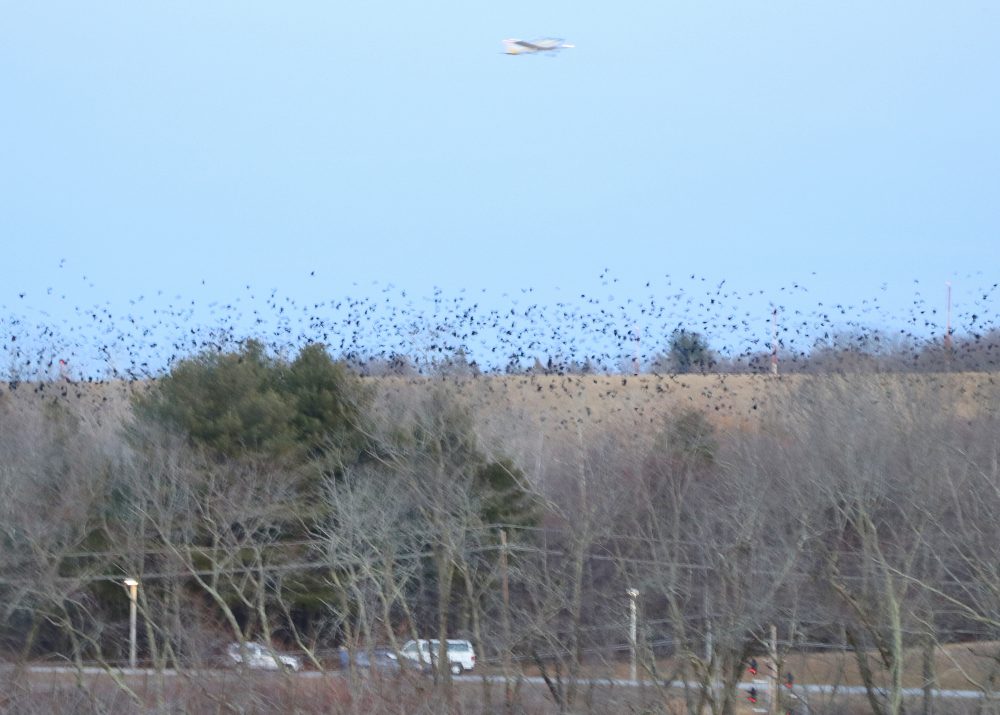 Next stop was along south side of Merrimack River at regular vantage point near end of North Main St. Met up with a friend and joined 3 others. Crows were gathering again along the south side of the river about 250-400 meters downriver. The flight movement towards and into the roost got underway close to 25 minutes after sunset time. The image below shows the first small trickle of Crows heading towards the roost.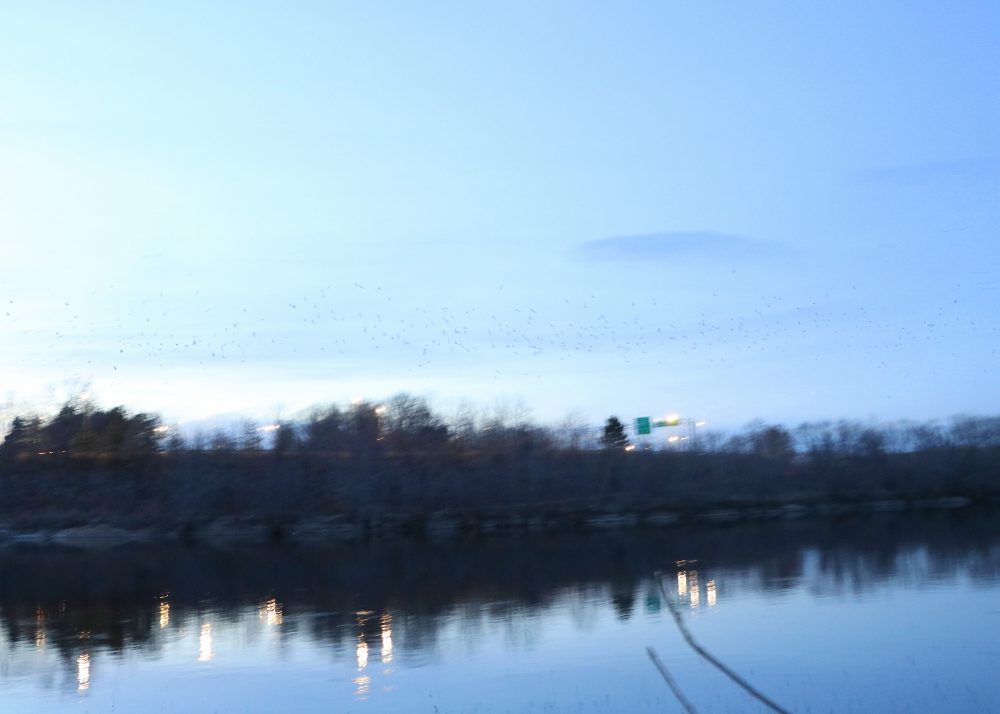 Just a few minutes later, it was a massive blizzard of Crows converging loudly into the overnight roost. The flight patterns were wild with crazy gyrations and loud vocalizing. It seems to be total chaos and yet it all works out in a mysterious way that is not easy to understand. The image below was taken 27 minutes after sunset time.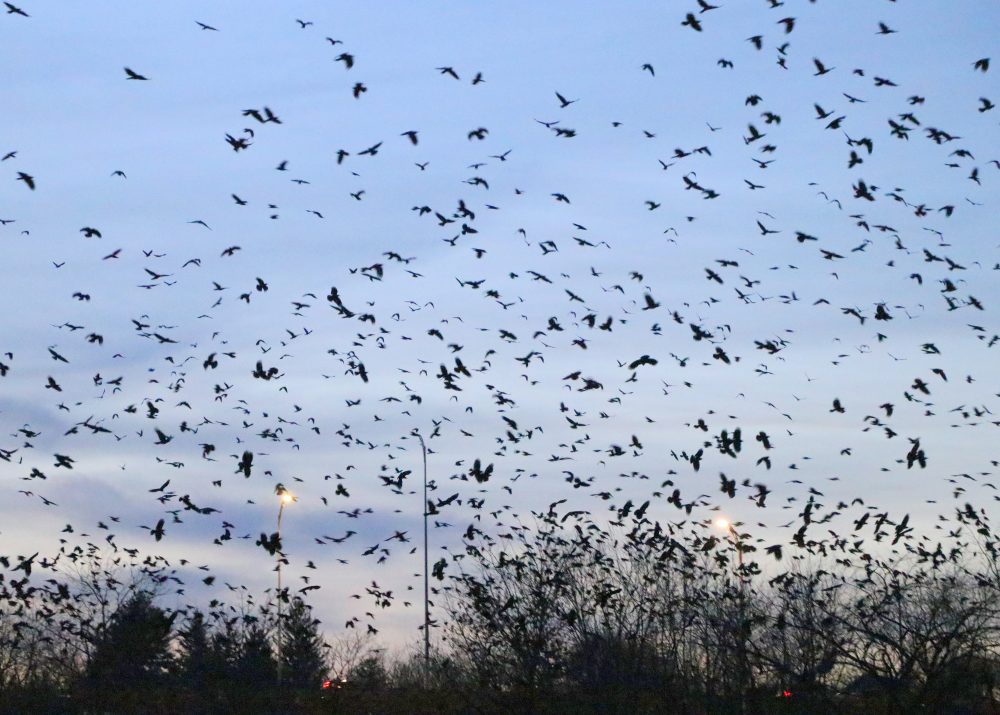 Overall the flight stream was orderly as the Crows crossed the river in a NE direction and settled into the roost.  The settling part was wild and crazy, as is normally the case. Within 10-12 minutes things had calmed down and the loud vocalizations tapered off. We are now starting week 14 in this overnight roost location. The image below shows the overall roost mostly filled in and calmed down in terms of additional incoming flight action at 32 minutes after sunset time.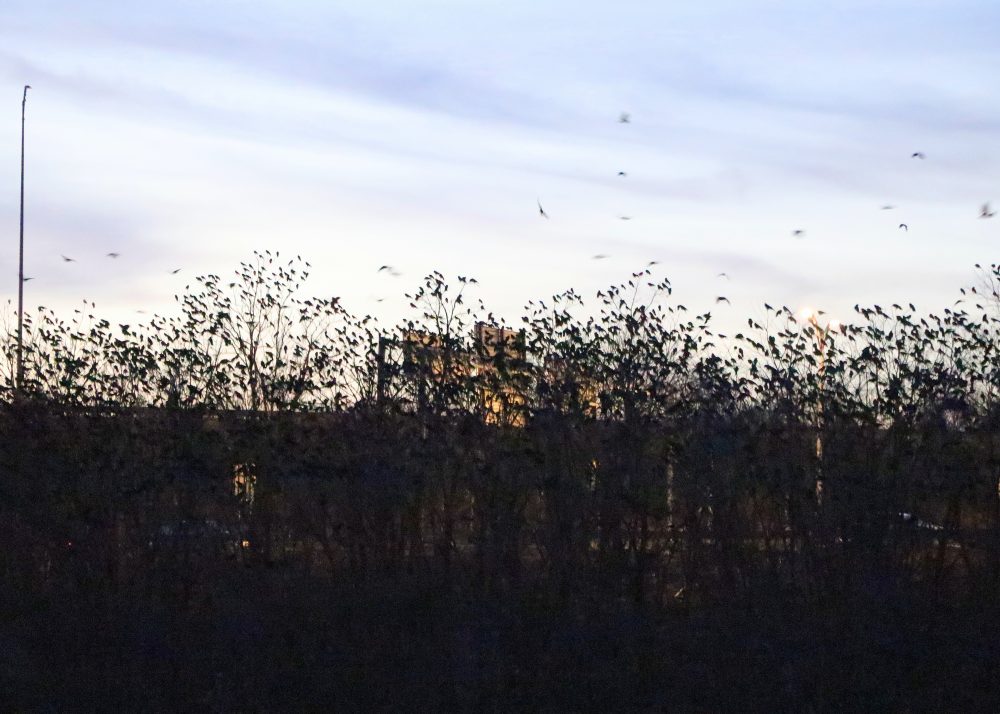 While heading out and over the Rt. 495 Bridge, had yet again, a quick moment to capture an image while passing by the roost from an elevated vantage point. This image was captured close to the north end of the bridge, looking east, and out over the nearby tree tops of the overnight roost. This image was taken about 46 minutes after sunset time with just whispers of fading light!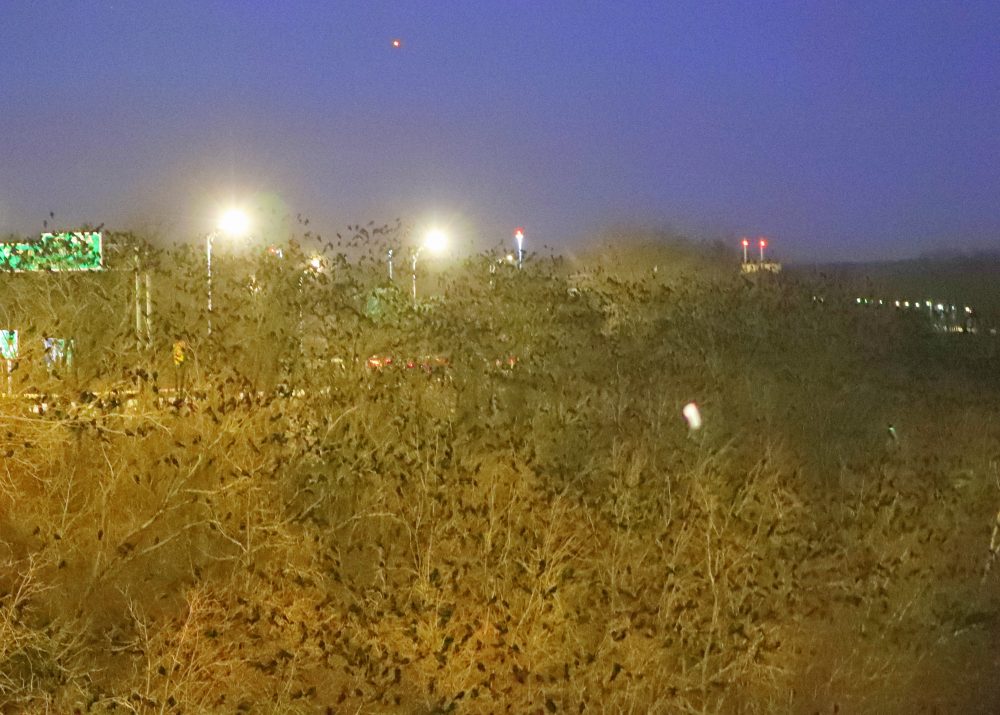 Photo gear used for this outing:
Canon EOS 80D; Lens: Canon EF-S 18-135mm f/3.5-5.6 IS   
Canon 1DX MK II; Lens: Canon EF Telephoto Zoom 100-400mm f/4.5-5.6L IS II USM
ATN BinoX 4K 4-16x Day and Night Smart HD Binoculars with photo and video
Follow us on Instagram: wintercrowroost
Follow us on YouTube: birdsoftheair1
Blog post and photos by Craig Gibson, 2020 Crow Patrol, Lawrence, MA