Conditions: overcast skies, wind from E at 6MPH, temp at 41F: sunset time 4:50PM
Out on Crow Patrol scanning for early incoming flight streams of Crows into possible staging areas. From "Shadows on the Hudson" parking lot, observed small numbers of Crows streaming ESE. After more searching, discovered initial group of staging in trees, rooftops, and on the ground Crows in area around So. Hamilton and Livingston Streets, with growing vocalizations. This image captured minutes before sunset time.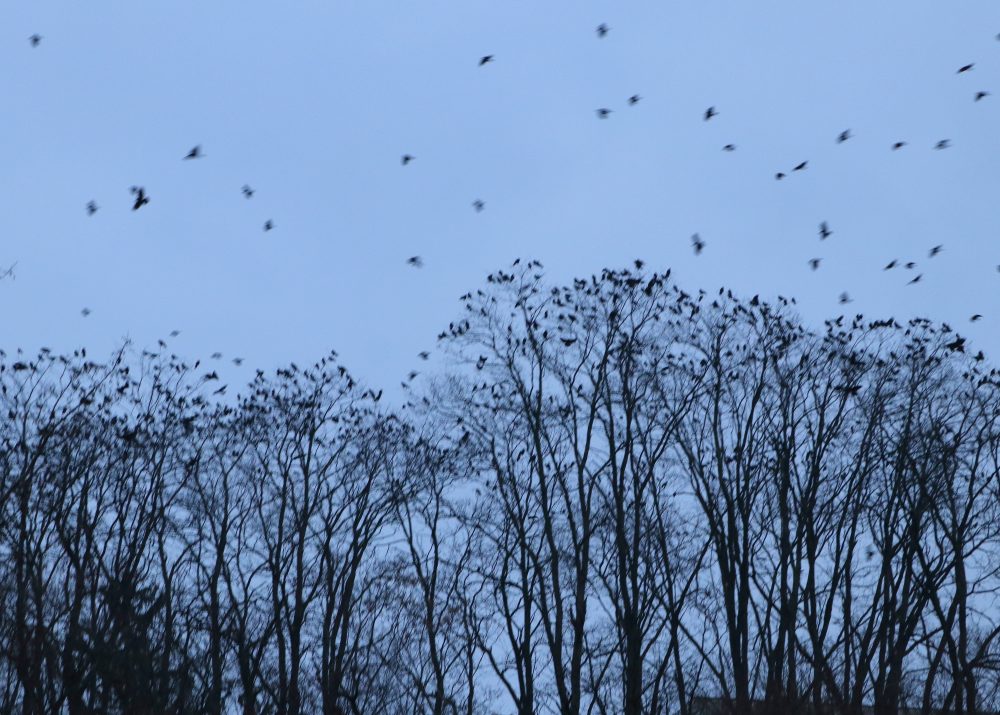 Growing group of staging Crows moved in NW direction with short stops at senior housing complex between South and Academy Sts., then the crows moved in growing numbers to trees located along west of Lincoln Park. It was dramatic to observe the endless flight streams coming into Lincoln Park, with many stopping to perch and other continuing onward. This image was captured about 15 minutes after sunset time.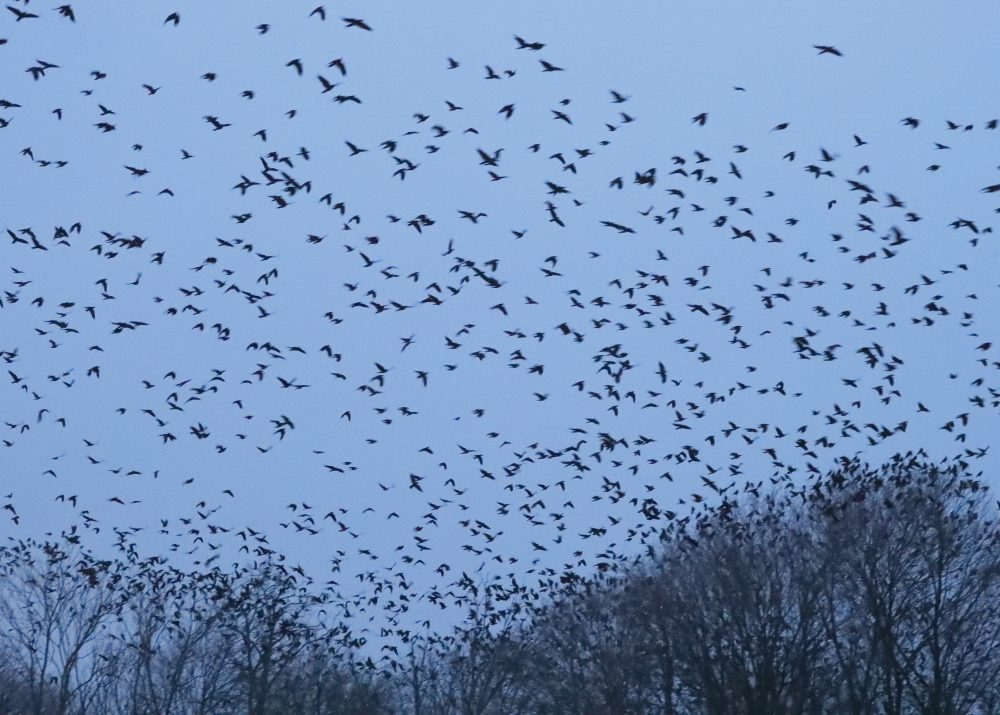 Larger numbers continued to stream in, and then they made a series of leapfrog movements with big numbers in trees along the hillside section on the west side of Pine Street. The vocalizing continues with regular shifting movements by the Crows to different trees. This image was captured from the CareMount Medical building parking lot looking in NW direction at Crows in tree tops, about 45 minutes after sunset time.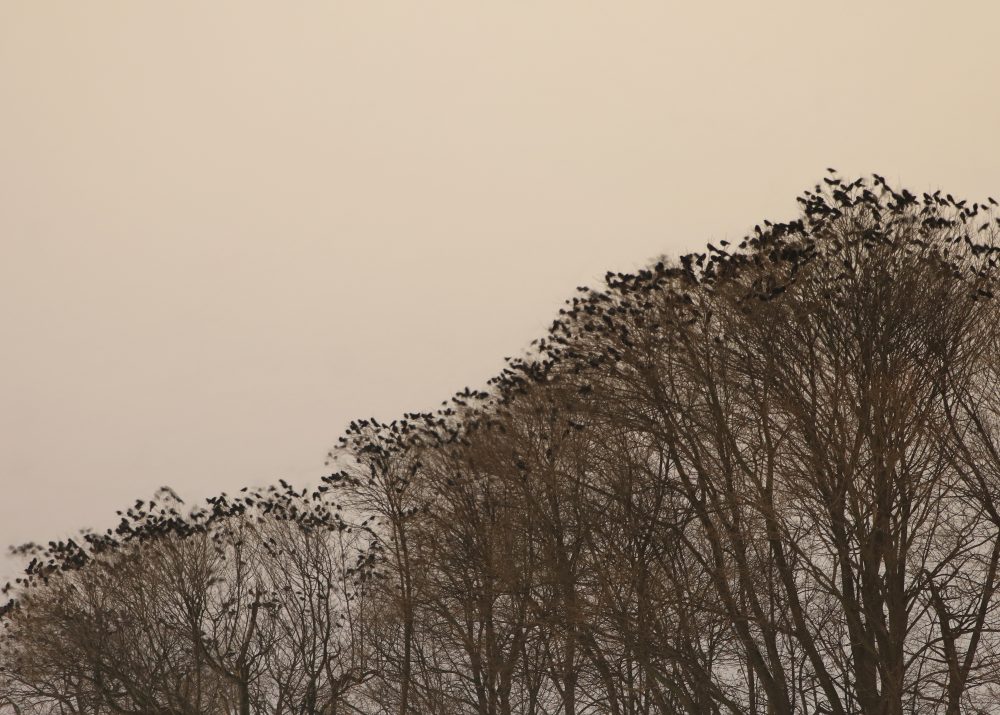 The Crows finally settled into the overnight roost in trees located on both sides of Rt. 9 behind, and on the east side of the Water Club apartment complex. This view was seen from the north end of the complex looking in SE direction at Crows perched on the treetops. Quite an impressive Crow show!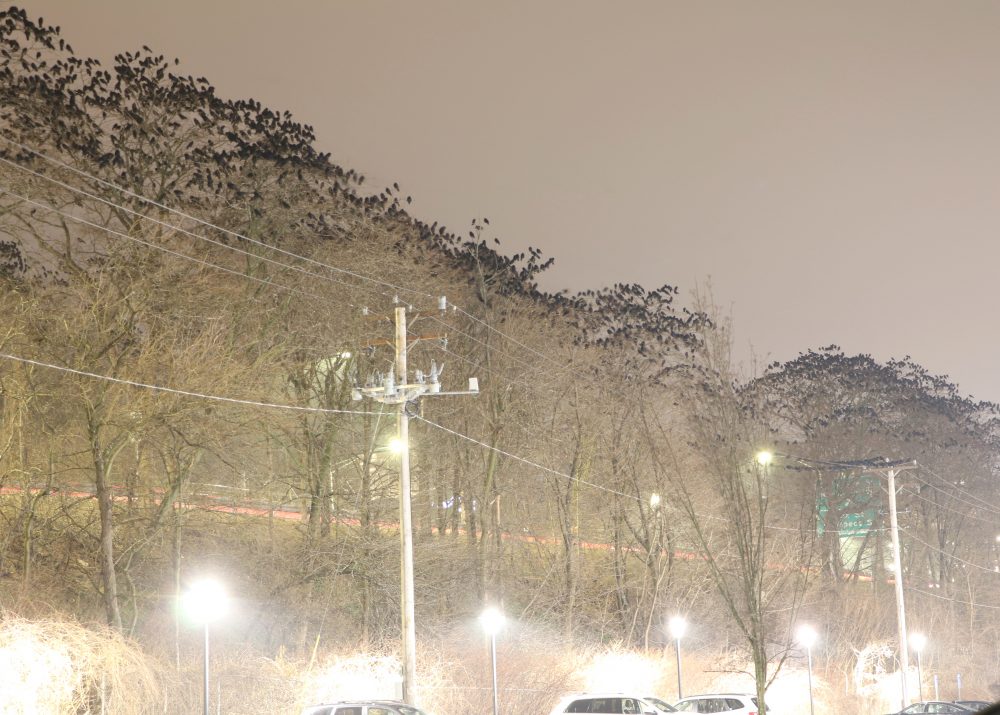 Check out the newly launched Crow Patrol Podcast: wintercrowroost.com/podcast/
Photo gear used for this outing:
Canon EOS 80D with Canon EF-S 18-135mm f/3.5-5.6 IS 
Canon EOS 80D with Canon EF-S 18-135mm f/3.5-5.6 IS (Infrared)
Canon 1DX MK II with Canon EF Telephoto Zoom 100-400mm f/4.5-5.6L IS II USM
ATN BinoX 4K 4-16x Day and Night Smart HD Binoculars with photo/video
SiOnyx Aurora Pro Digital Color Night Vision Optics
Follow us on Instagram: wintercrowroost
Follow us on YouTube: birdsoftheair1
Blog post and photos by Craig Gibson, 2020 Crow Patrol, Lawrence, MA