Fascinating video of Crows waking up an hour before sunset!
Conditions: clear skies at dawn, wind N at 5MPH, 42F; sunrise time 6:29AM
Observations: arrived at west side of Duck Bridge about 70 minutes before sunrise time to a growing chorus of Crows preparing for the day ahead. Overall, the numbers continue to expand. The Crows settle into the roost in fairly tight clusters with somewhat equidistant individual spacing. The usually start the waking up process about 90 minutes before sunrise with initial soft and intermittent vocalizations and little movement in the roost area. This image below was captured with night vision gear about 60 minutes before sunrise time.
The Crows were well settled into the roost area on the north side of the New Balance building. This view is looking SW from farther out on the Duck Bridge with ability to see a long stretch of the roosting trees along the north side of the New Balance building with ample ambient lighting. It looks like a tighter concentration of Crows farther out. This image was captured about 50 minutes before sunrise time with an infrared camera and provide an excellent contrast.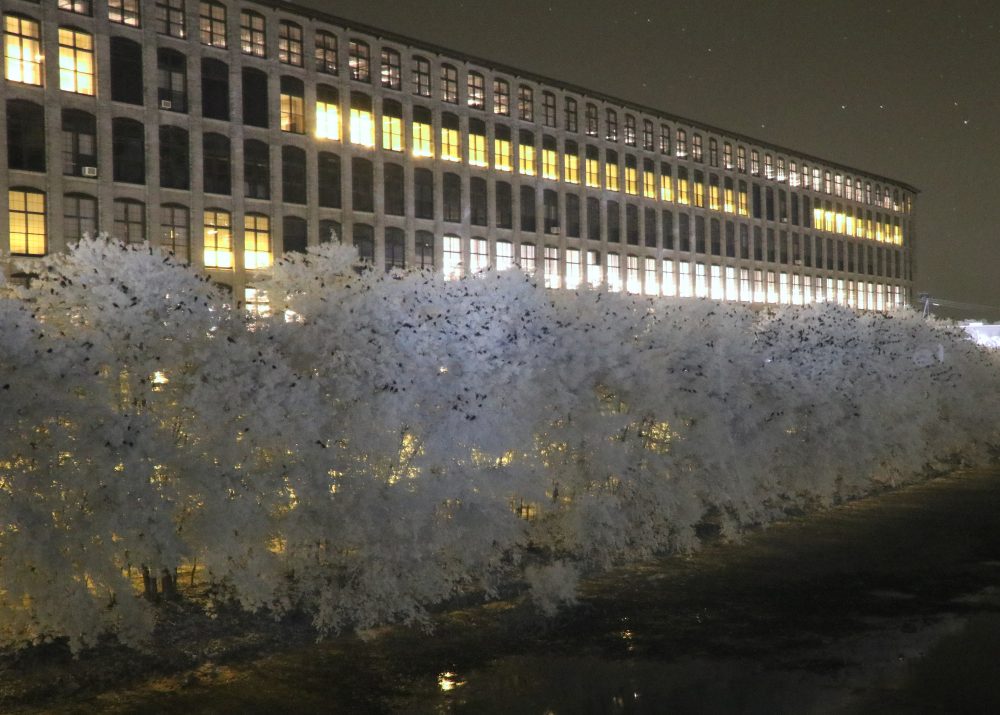 The image below, captured about the same time provides a close-up view of the Crows in the roost well before sunrise.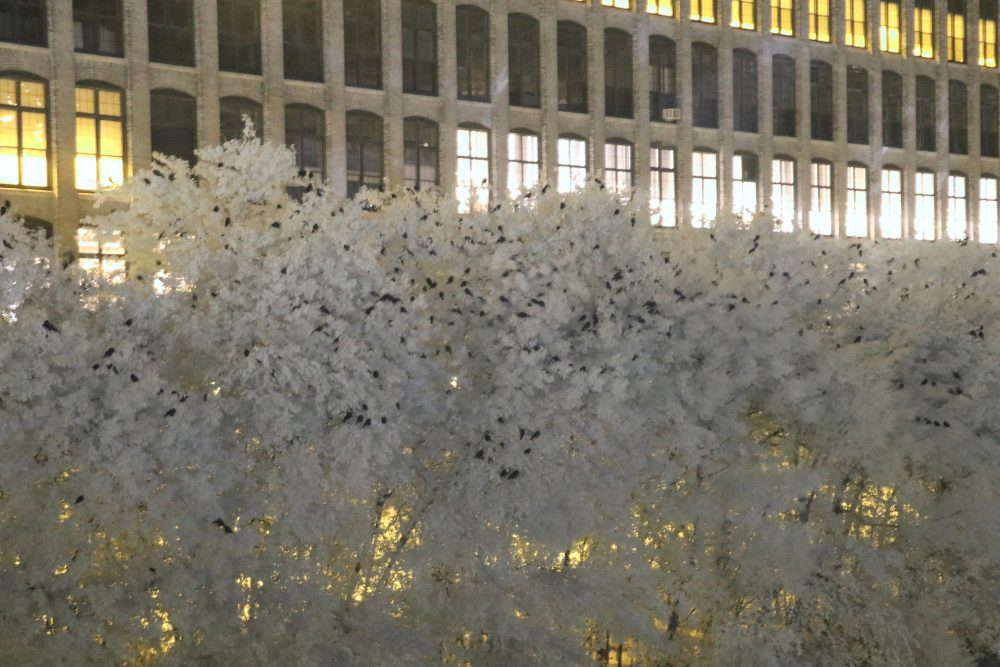 The vocalizations become louder and slowly, and as the light levels started to increase, the Crows began dispersing in all directions, heading off to day time foraging grounds. Terrific to watch and listen! This shows a further look from the Duck Bridge about 20 minutes before sunrise time with many of the Crows still in the roost trees.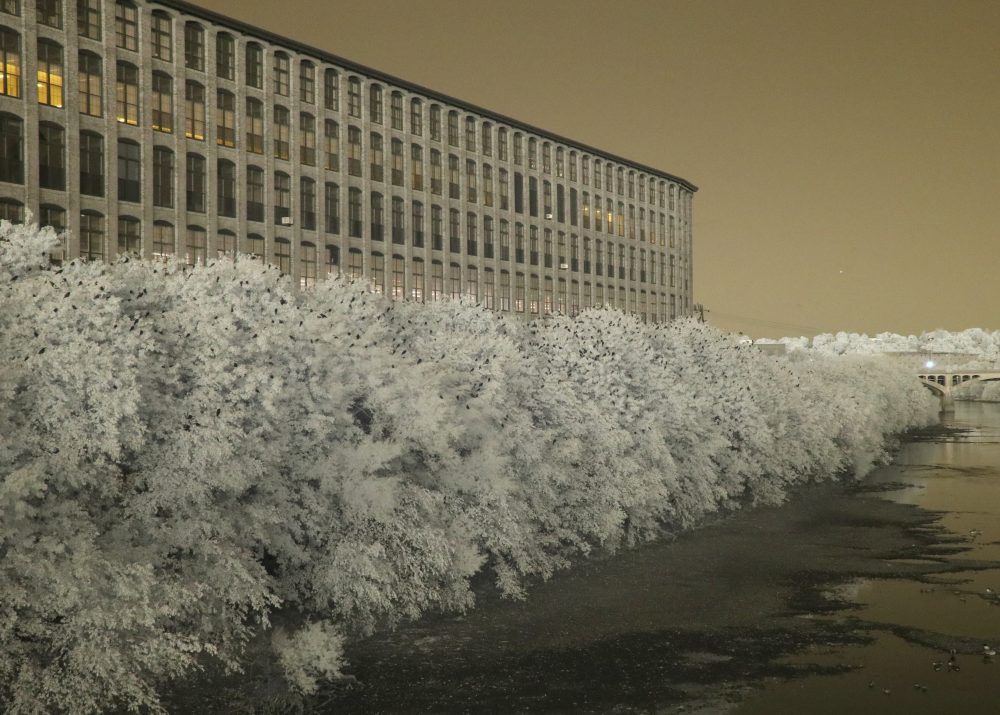 It is always a treat to watch the Crows liftoff in waves of flight leading up to sunrise time. They head out in all directions and prior research suggests that the Crows initially get going away from the roost in loose groupings and then fall into established flight lanes a bit farther out from the roost. These lanes are used most days for travel to foraging grounds. This image was captured at sunrise time!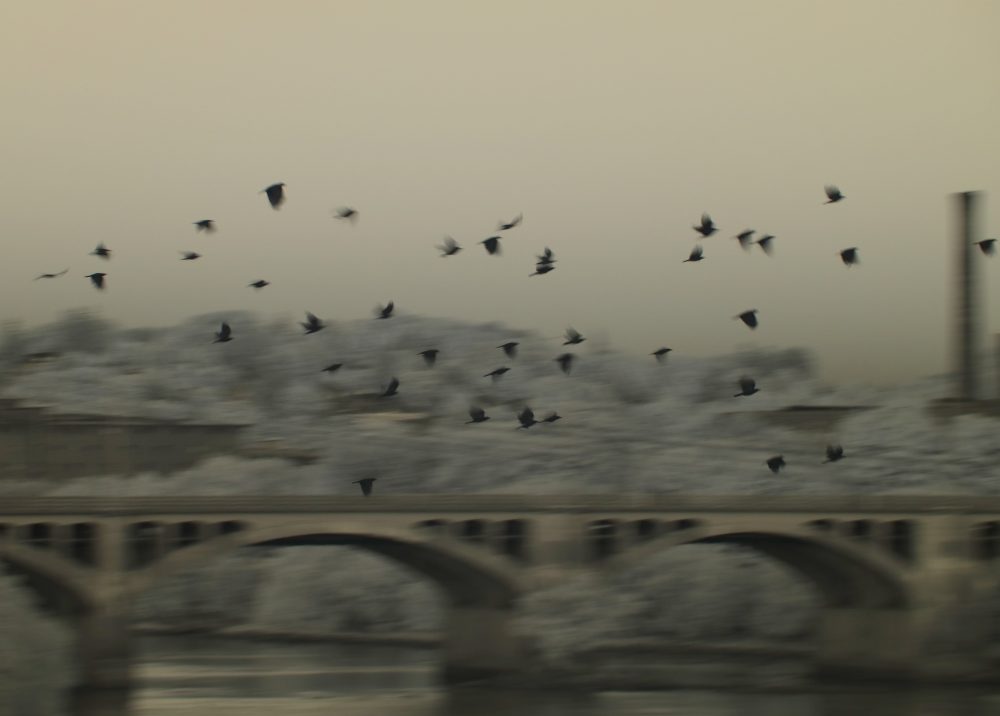 Photo gear used for this outing:
Canon EOS 80D with Canon EF-S 18-135mm f/3.5-5.6 IS 
Canon EOS 80D with Canon EF-S 18-135mm f/3.5-5.6 IS (Infrared)
Canon 1DX MK II with Canon EF Telephoto Zoom 100-400mm f/4.5-5.6L IS II USM
ATN BinoX 4K 4-16x Day and Night Smart HD Binoculars with photo/video
Follow us on Instagram: wintercrowroost
Follow us on YouTube: birdsoftheair1
Blog post and photos by Craig Gibson, 2020 Crow Patrol, Lawrence, MA