This video shows the Crows lifting off in waves towards the overnight roost!
Conditions: clear skies at dusk. wind W at 15MPH, gusts to 20MPH, temp at 35F with 25F wind chill; sunset time 4:35PM
Initial observations from roof top of McGovern Parking garage with growing numbers of Crows already on the extended B&D roof top. The late day sun was setting and this image was captured about 9 minutes before sunset time. Even from a distance the vocalizing was active and becoming more intense!
Many more Crows landed on nearby roof tops, the rooftops that are part of the the Jackson Lumber complex and other nearby staging locations over next 30 minutes. The image below shows Crows gathering on a slanted roof over loading dock doors and in the lee of the west wind. This image about 5 minutes before sunset time.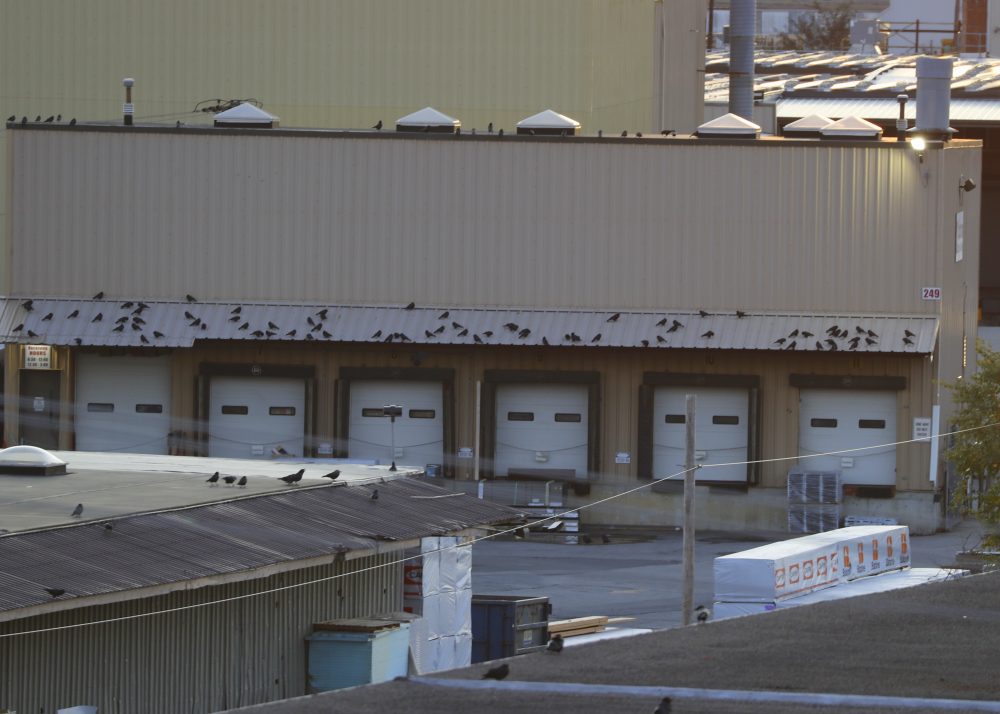 While still viewing from the McGovern garage, there was dramatic takeoff action that got under way about 14 minutes after sunset time. However, many Crows remained longer in nearby staging locations as the light slowly faded on the horizon. The takeoffs from staging locations happens in waves with no clear order on what happens and why, all part of the mystery of these movements.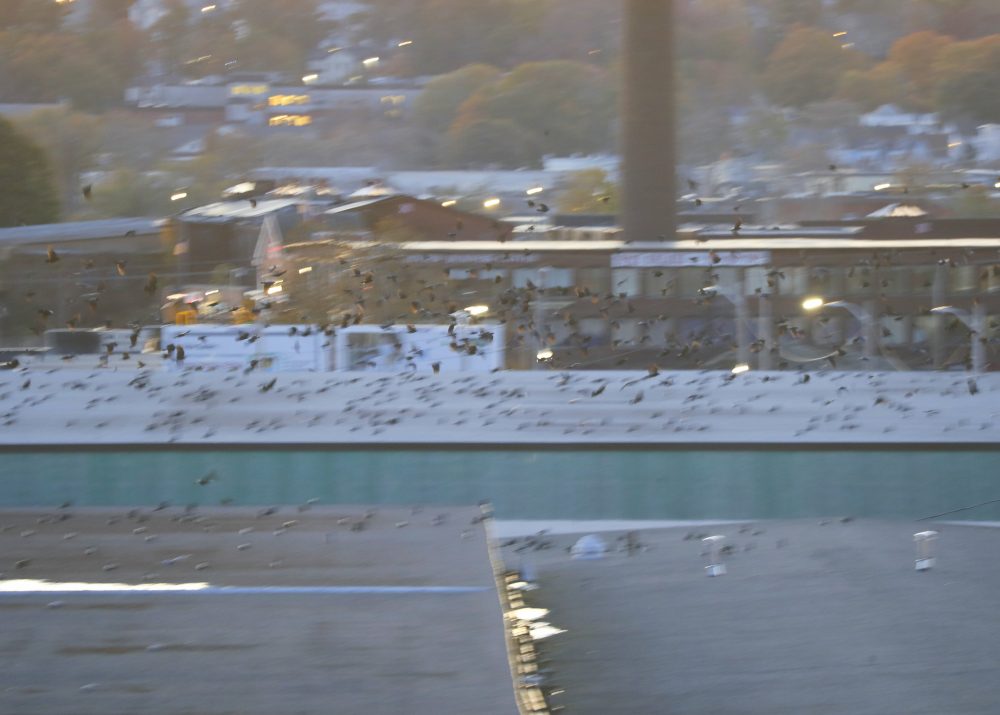 Before departing the garage rooftop, made a quick scan along South Canal Street and discovered hundreds of crows mulling around the ground, perched in trees along the Merrimack River and nearby utility wires, and grazing atop the Cubesmart building, all with continued vocalizing. This image about 15 minutes after sunset time.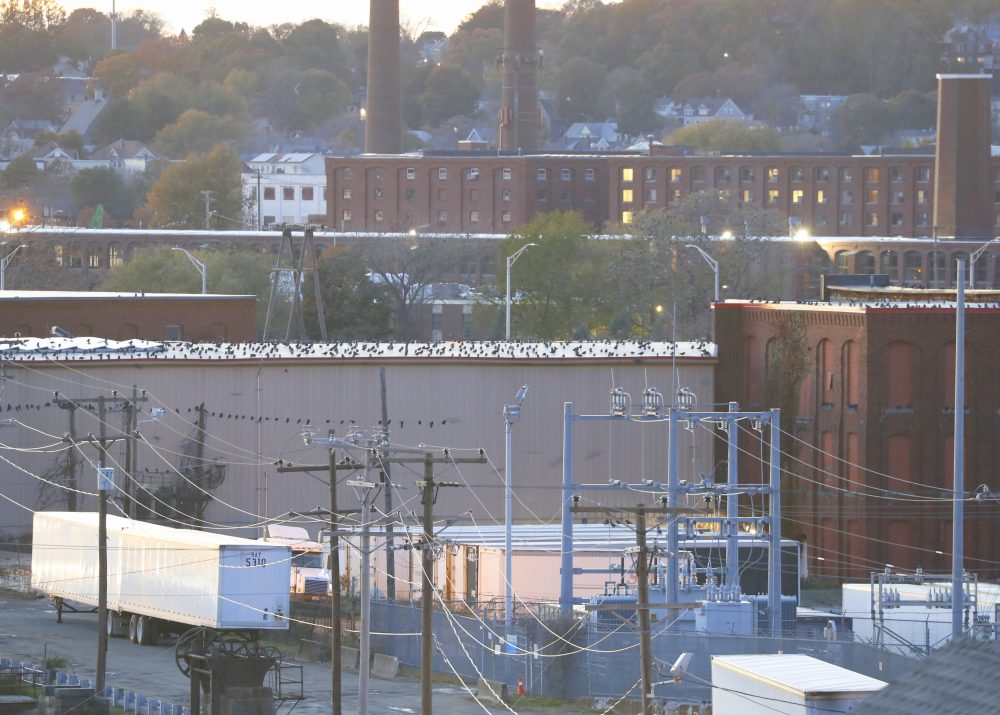 Remained a bit longer to further observe the trailing action from along South Canal Street as the balance of the Crows slowly worked their way into the overnight roost. Started to see numbers gathering on the ground and in trees along the back of the truck depot. Although a bit fuzzy, this image below, captured with night vision gear and an infrared illunimator, shows the Crows on the ground, in the dark about 55 minutes after sunset time…. another terrific Crow Show!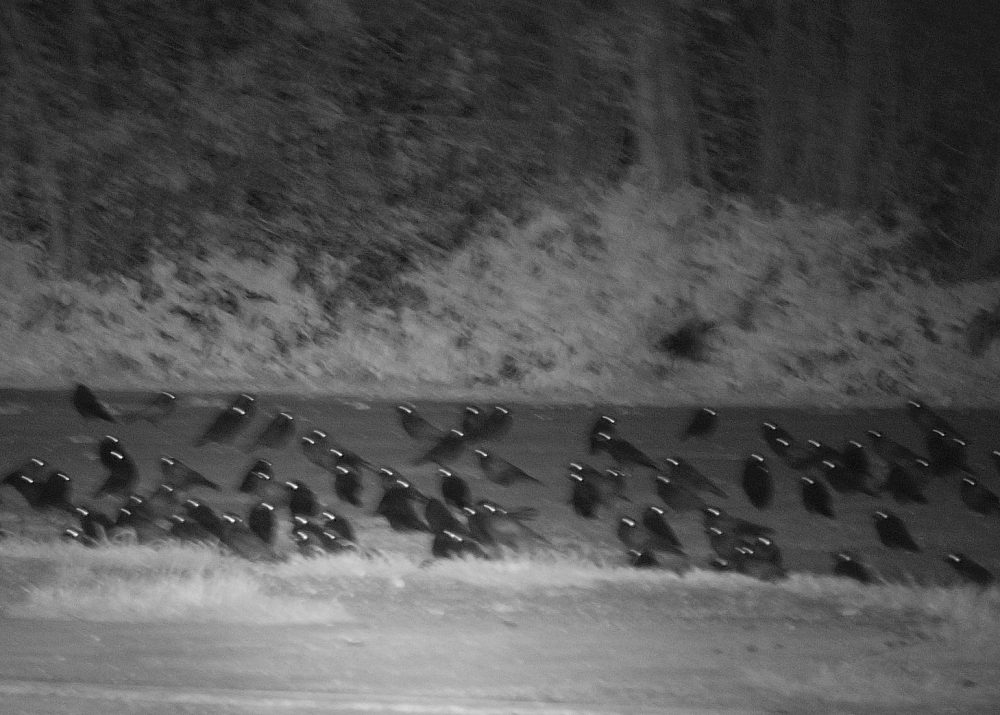 Photo gear used for this outing:
Canon EOS 80D with Canon EF-S 18-135mm f/3.5-5.6 IS 
Canon EOS 80D with Canon EF-S 18-135mm f/3.5-5.6 IS (Infrared)
Canon 1DX MK II with Canon EF Telephoto Zoom 100-400mm f/4.5-5.6L IS II USM
ATN BinoX 4K 4-16x Day and Night Smart HD Binoculars with photo/video
Follow us on Instagram: wintercrowroost
Follow us on YouTube: birdsoftheair1
Blog post and photos by Craig Gibson, 2020 Crow Patrol, Lawrence, MA