Conditions: overcast skies, wind NW 6MPH, temp at 38F; sunset time 4:33PM
Out on Crow Patrol and scouting out staging locations with heaviest action around extended Shawsheen Park area located to the east side of Osgood Street. Heavy incoming flight streams into the area with loud vocalizations. Moved to top of McGovern parking garage to observe final staging activities. It was a very impressive show with Crows streaming in from all directions and starting to land in successive waves on the roof of the B&D complex about 10 minutes after sunset time.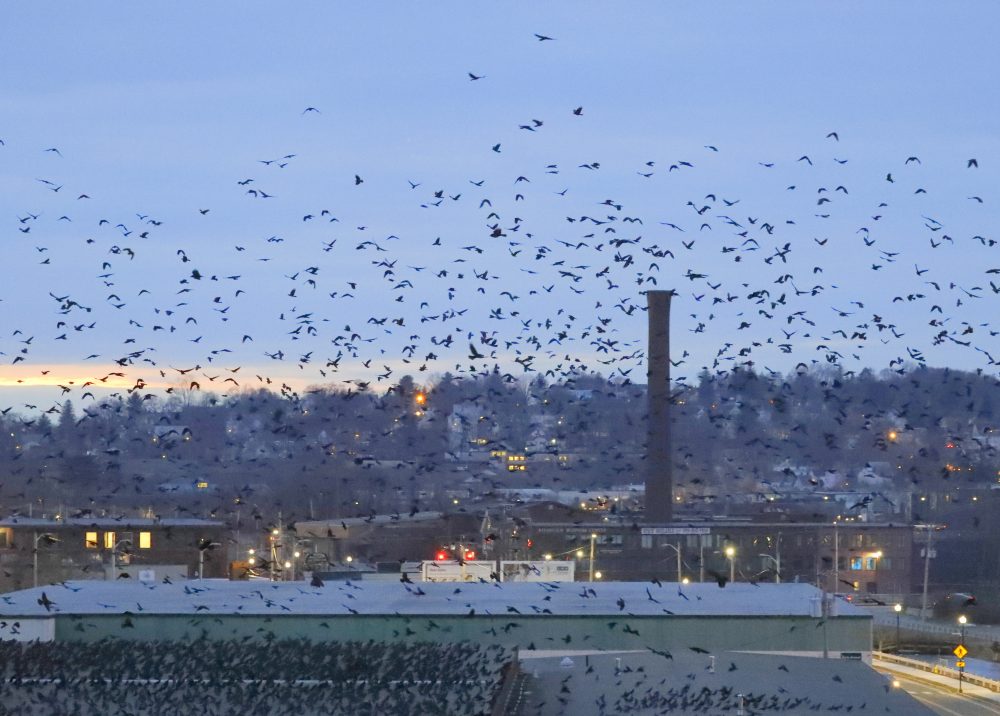 The volume of the incoming flight streams increased dramatically as did the numbers on the roof. Crows were also seen perching on other surrounding rooftop edges.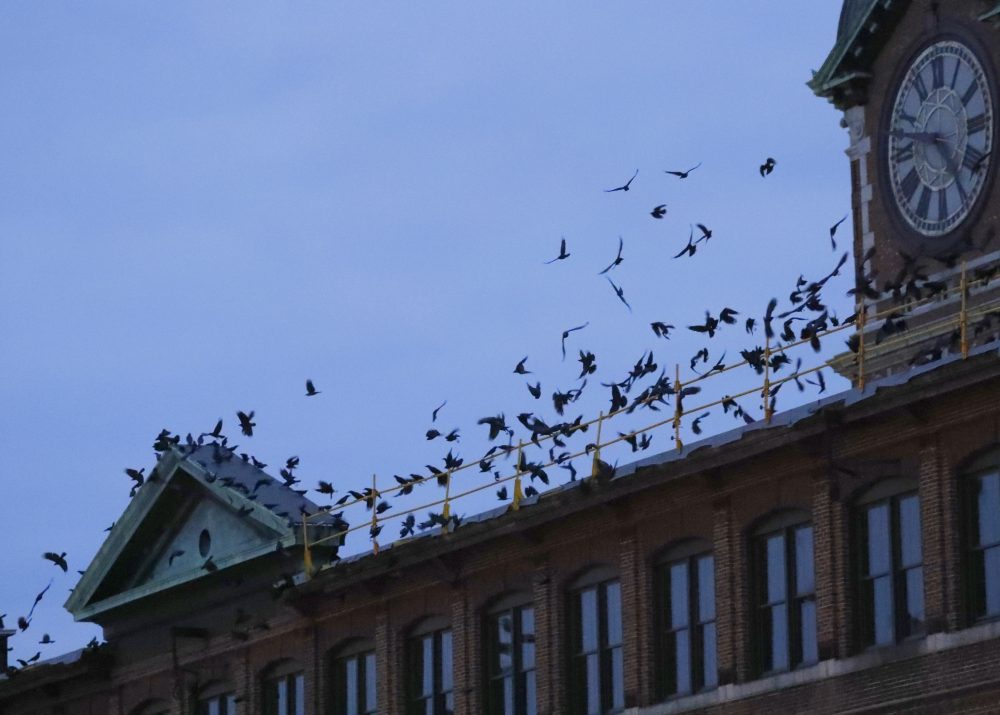 There were may liftoffs and major flight swirls from the B&D roof top until dark with ongoing vocalizations. The flight movement to the overnight roost area got underway about 30 minutes after sunset time. This image was captured about 27 minutes after sunset time.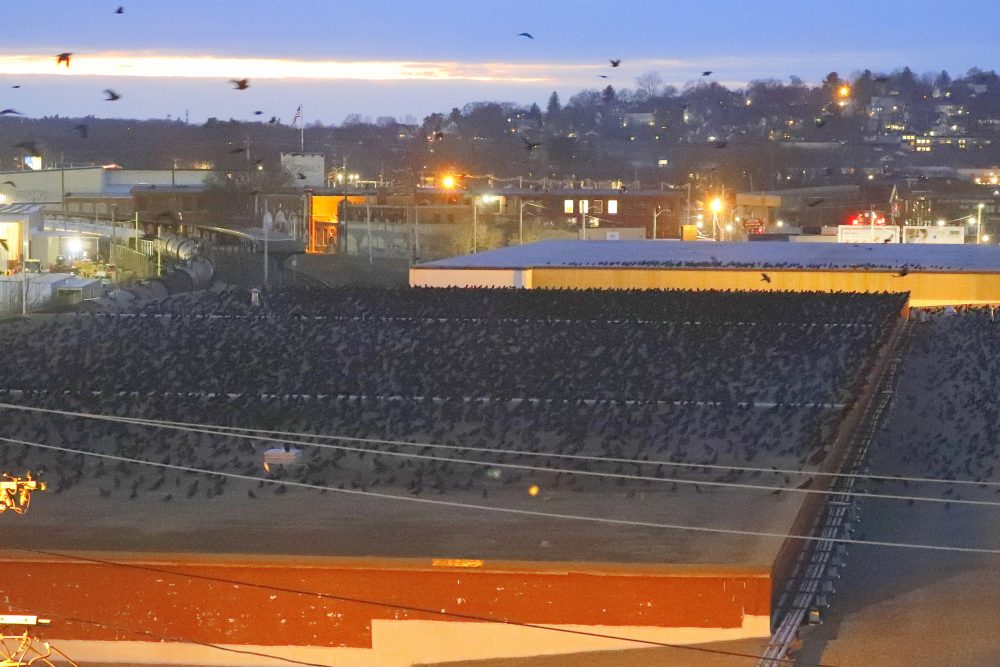 The overall roost shifted a bit to the west with low numbers near the Duck Bridge and many more Crows filling in the trees along the Merrimack River closer to the Casey Bridge. The image below was captured just an hour after sunset time showing the roost trees behind the National Grid substation. The image was created with manual exposure settings and manual focus settings. Another spectacular outing!!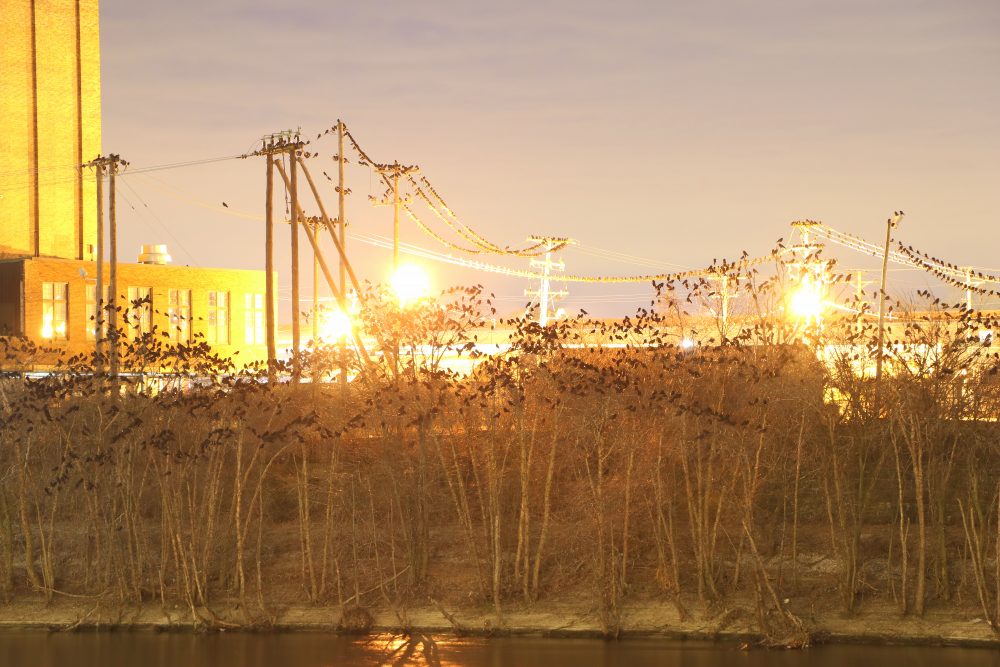 Check out the newly launched Crow Patrol Podcast: wintercrowroost.com/podcast/
Photo gear used for this outing:
Canon EOS 80D with Canon EF-S 18-135mm f/3.5-5.6 IS 
Canon EOS 80D with Canon EF-S 18-135mm f/3.5-5.6 IS (Infrared)
Canon 1DX MK II with Canon EF Telephoto Zoom 100-400mm f/4.5-5.6L IS II USM
ATN BinoX 4K 4-16x Day and Night Smart HD Binoculars with photo/video
SiOnyx Aurora Pro Digital Color Night Vision Optics
Follow us on Instagram: wintercrowroost
Follow us on YouTube: birdsoftheair1
Blog post and photos by Craig Gibson, 2020 Crow Patrol, Lawrence, MA