Conditions: overcast skies, wind W at 14MPH with gusts 21MPH, temp at 41F and wind chill 33F; sunset time 4:39PM
Out on Crow Patrol with Will just before 4PM. As part of community science effort, we continue to move around locations and vantage points to broader the overall observation experiences and develop new insights on Crow behaviors. Crows started arriving around the rooftop area, with many circling in flight, and then heading off to a staging area west of Casey Bridge about 15 minutes after sunset time.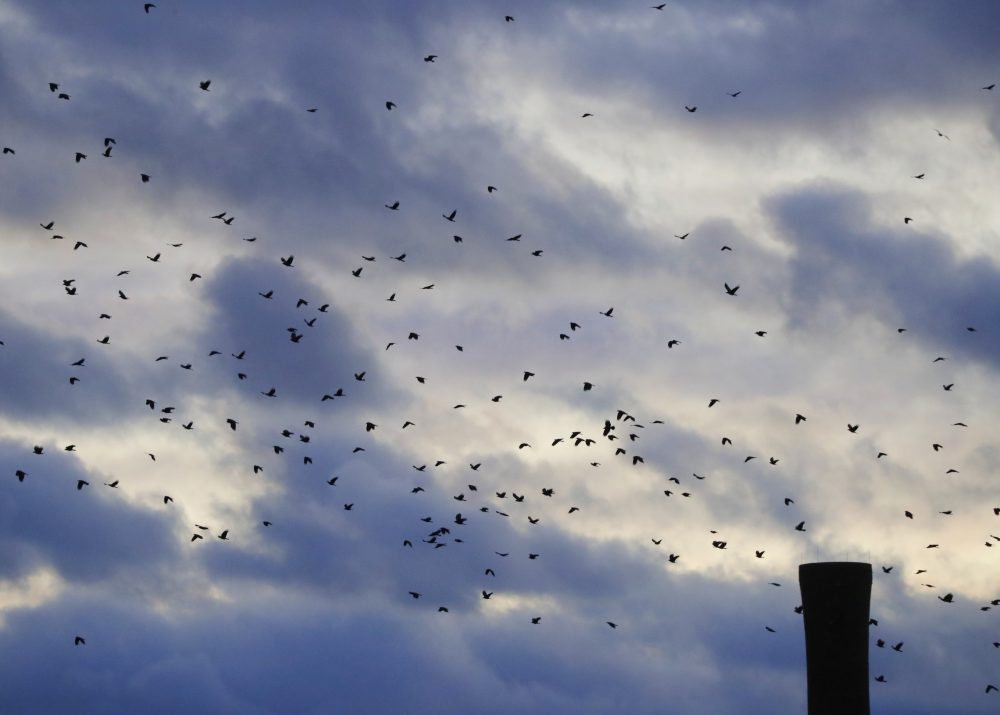 Like many prior nights, we observed major incoming flight streams over, and then landings onto the extended B&D complex rooftop areas. Like years gone by, the Crows are staging later, and entering the overnight roost at a longer time interval after sunset time. This image below captured about 16 minutes after sunset time.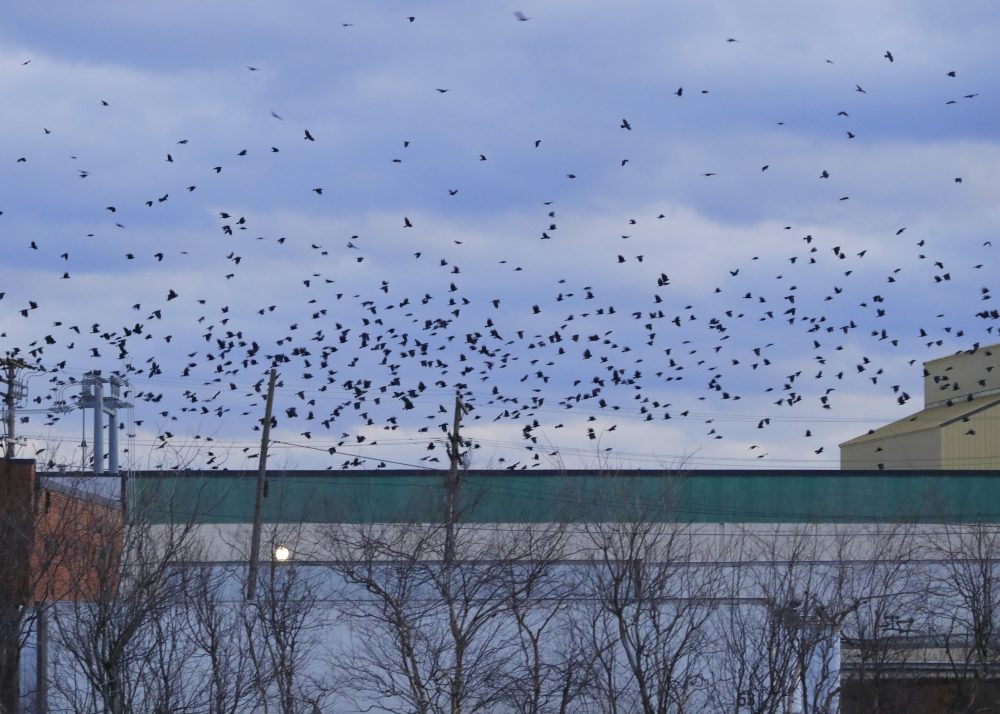 Tonight was a big shift in that the Crows anchored the roost, not in the trees by the New Balance building, but in the trees behind the truck depot and farther to the west. With the help of highly specialized infrared cameras, and an infrared illuminator, we are able to detail the roost activity almost an hour after dark with minimal ambient lighting. This image shows the Crows perched in trees along the Merrimack River behind the truck depot about 55 minutes after sunset time.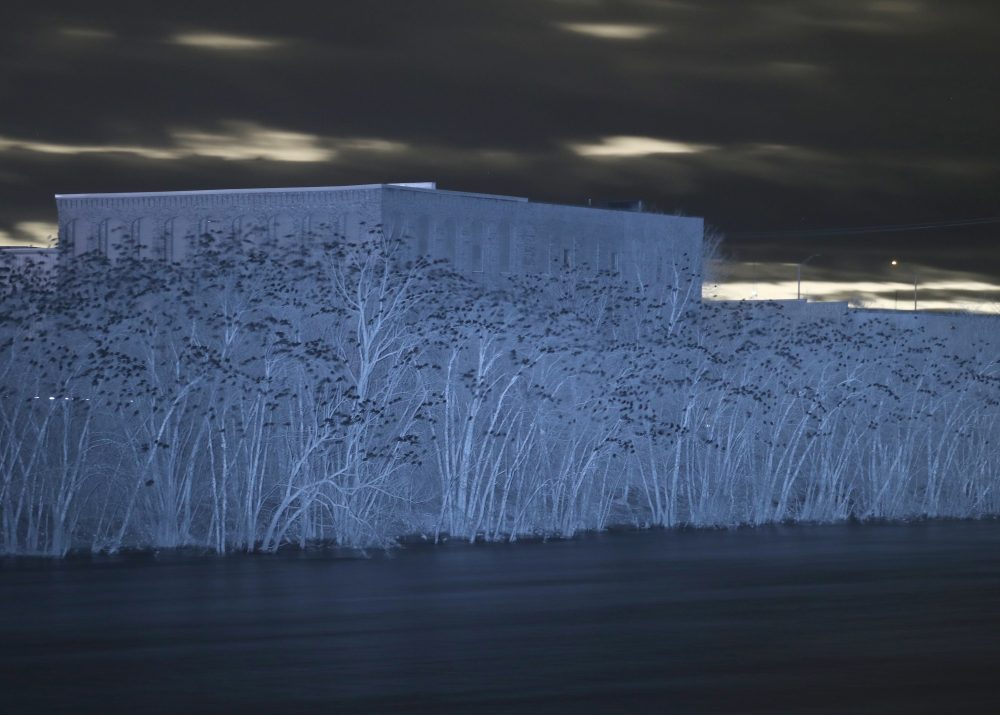 Once the initial group landed, other kept piling on in nearby trees and spreading out in both directions, down to the back of the National Grid sub station, and stretched out to the west almost up to the Casey Bridge. Yet another shift in roost locations. Another spectacular night out!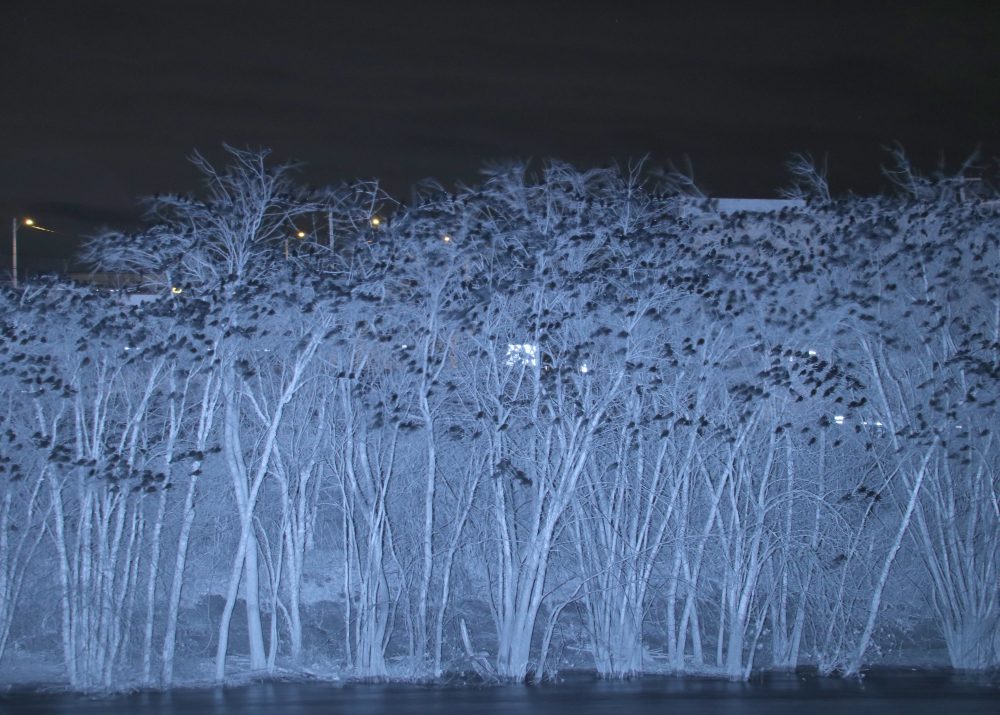 Check out the newly launched Crow Patrol Podcast: wintercrowroost.com/podcast/
Photo gear used for this outing:
Canon EOS 80D with Canon EF-S 18-135mm f/3.5-5.6 IS 
Canon EOS 80D with Canon EF-S 18-135mm f/3.5-5.6 IS (Infrared)
Canon 1DX MK II with Canon EF Telephoto Zoom 100-400mm f/4.5-5.6L IS II USM
ATN BinoX 4K 4-16x Day and Night Smart HD Binoculars with photo/video
SiOnyx Aurora Pro Digital Color Night Vision Optics
Follow us on Instagram: wintercrowroost
Follow us on YouTube: birdsoftheair1
Blog post and photos by Craig Gibson, 2020 Crow Patrol, Lawrence, MA