Conditions: clear skies, setting sun, wind from N at 8MPH, temp at 54F; sunset time 7:05PM
Out on Crow Patrol after being away for last two weeks due to COVID-19 pandemic. Have received many reports from others who have been able to stop by and observe the roost action late in the season. Unlike last year, we are still seeing very good numbers with over 4000 Crows streaming into the roost.  These numbers will likely diminish sharply over next 2 weeks.  Tonight the first wave of incoming Crows arrived just minutes after sunset time. This image was taken about 7 minutes after sunset time looking NW from south side of Merrimack River.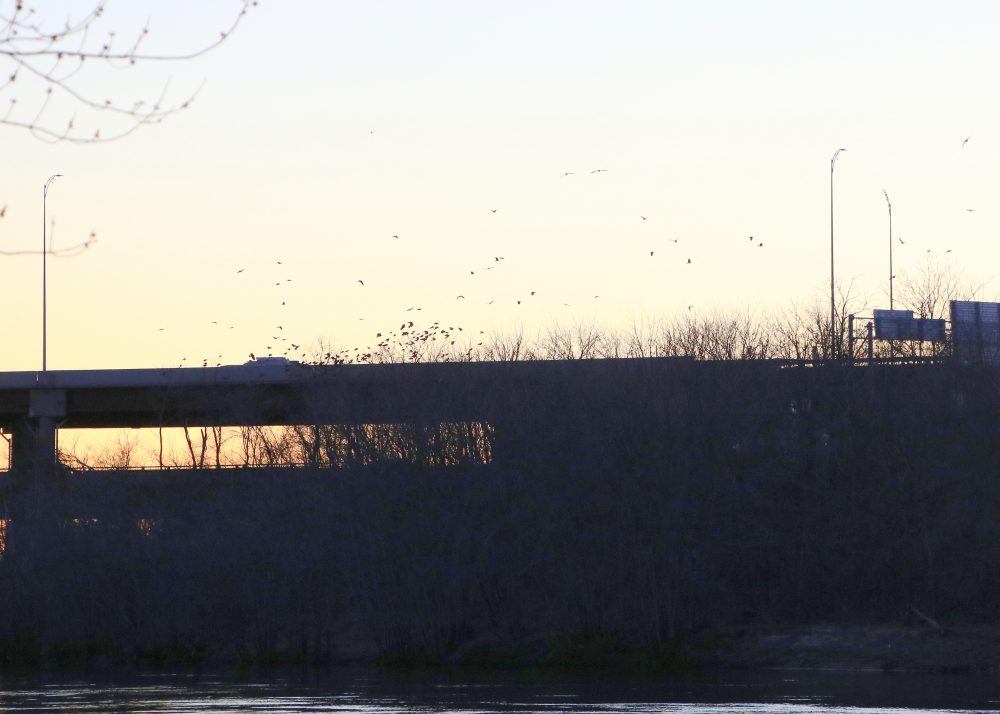 Over the next 5 minutes many more Crows streamed into the general roosting area.  The vast majority of incoming Crows were arriving from the east or downriver direction. This has been the normal pattern over past many weeks as the numbers continue to drop off overall.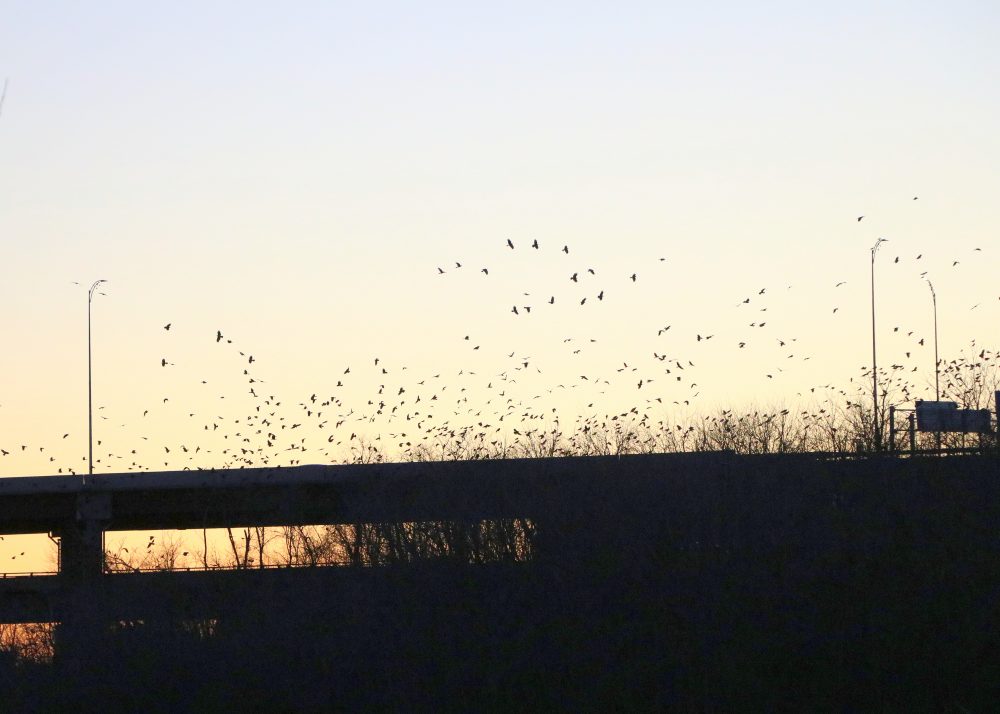 Had a chance to move again to viewing from the north end of the Rt. 495 Bridge, looking downriver and towards the airport. This is an amazing vantage point as the Crows arrive and perch at far end and then fill in closer and closer to the bridge, in both upper and lower trees. This image was taken about 17 minutes after sunset time as the Crows build up bigger numbers in the overnight roost.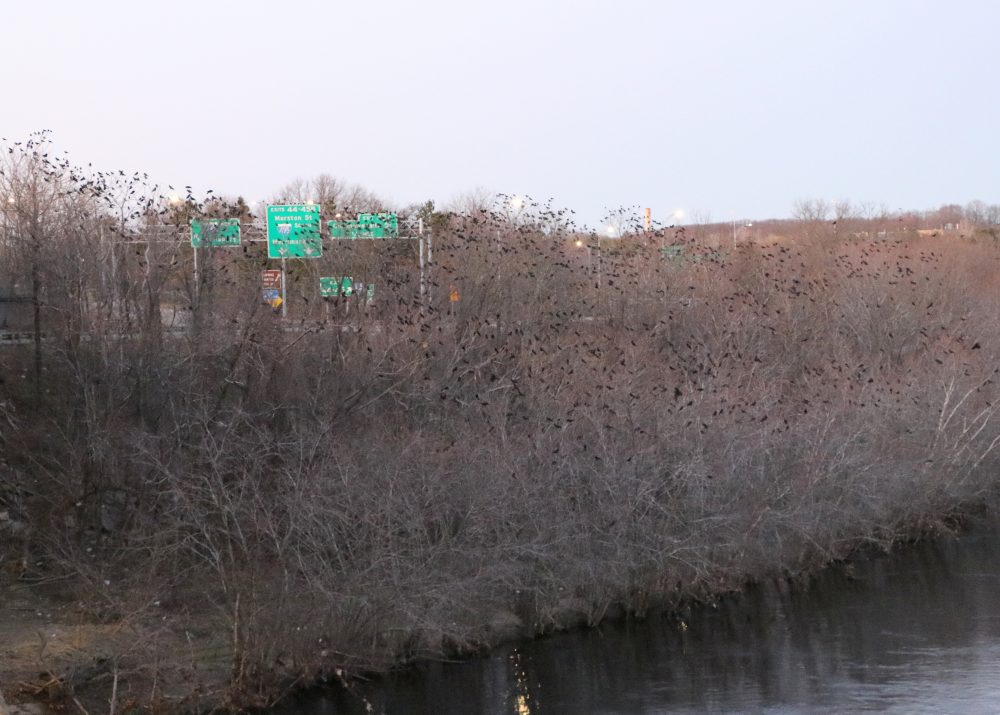 Finally, had a nice opportunity to observe the Crows from yet another angle, after moving forward off the bridge, and just off to the side of the Marston Street off ramp. This image below taken about 20 minutes after sunset time, shows the Crows still moving around and jostling for perch locations in the general overnight roost area. At this point in the process, many Crows gather at the upper levels, away from the river below, and then move down closer to the river for the overnight roost.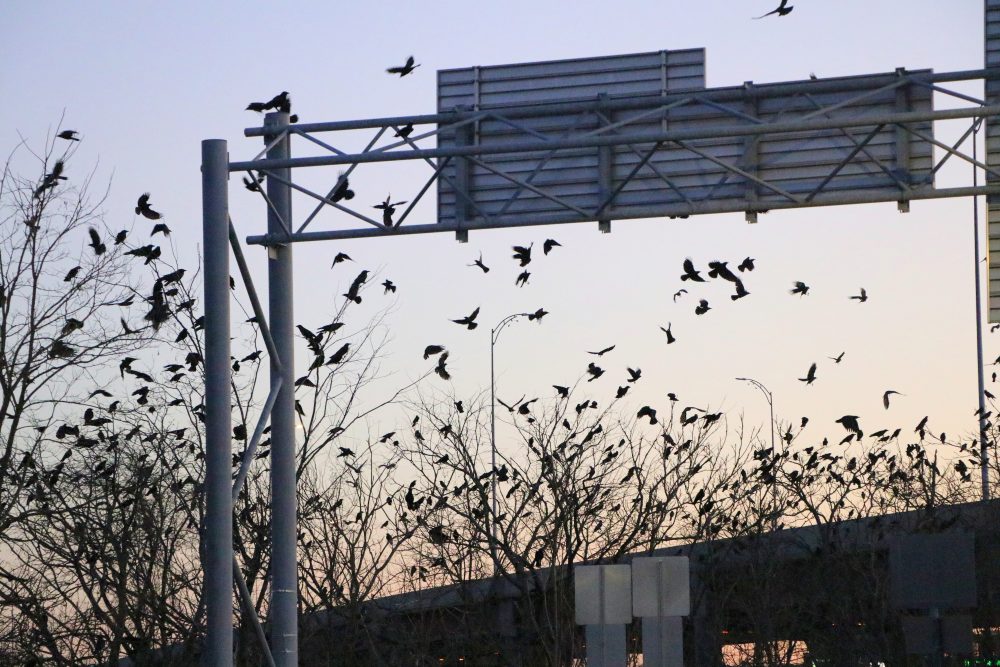 Photo gear used for this outing:
Canon EOS 80D; Lens: Canon EF-S 18-135mm f/3.5-5.6 IS   
Canon 1DX MK II; Lens: Canon EF Telephoto Zoom 100-400mm f/4.5-5.6L IS II USM
ATN BinoX 4K 4-16x Day and Night Smart HD Binoculars with photo and video
Afidus ATL-200 Long-term Time Lapse Camera
Follow us on Instagram: wintercrowroost
Follow us on YouTube: birdsoftheair1
Blog post and photos by Craig Gibson, 2020 Crow Patrol, Lawrence, MA