Conditions: heavy overcast skies, light snow, sleet, fog; wind W at 10MPH, temp at 29F with wind chill making it feel like 20F!
Out on solo Crow Patrol with initial observations along Sutton St. in North Andover. Crows perched in trees along both sides of street from Charles St. up to main entry to Lawrence Municipal Airport. Then, watched the Crows staging along Charles St., and thousands more Crows seen after being invited inside the Sanitation District facility. Over past 3 weeks, the Crows have made Charles Street a very regular stopover point on the way to the overnight roost.  This photo shows them gathering in trees on the left side of Charles St. and with loud vocalizations!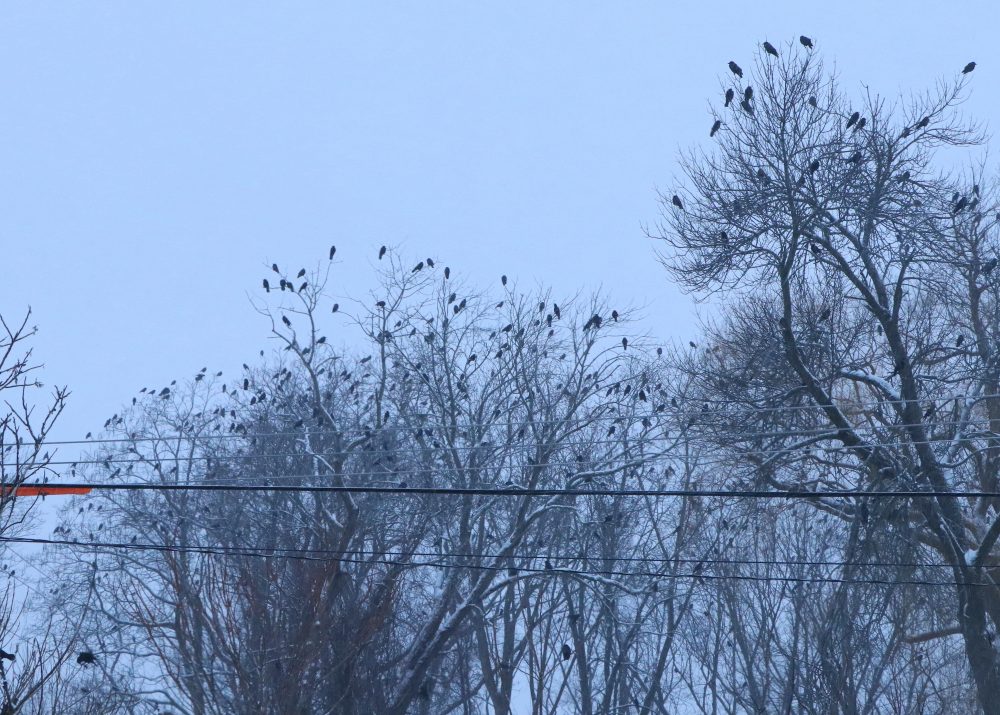 From here, moved on and set up my final observation post at end of North Main St. Due to the snow and sleet, visibility was very limited. In addition, the Merrimack River is very swollen and many former observation locations are temporarily flooded. The vocalizations were loud and raucous and then about 15 minutes after sunset, the noise level jumped higher as the assembled Crows launched forward, over the Merrimack River, and headed towards the overnight roost. This image shows one of the initial waves moving towards the overnight roost on the north side of the river.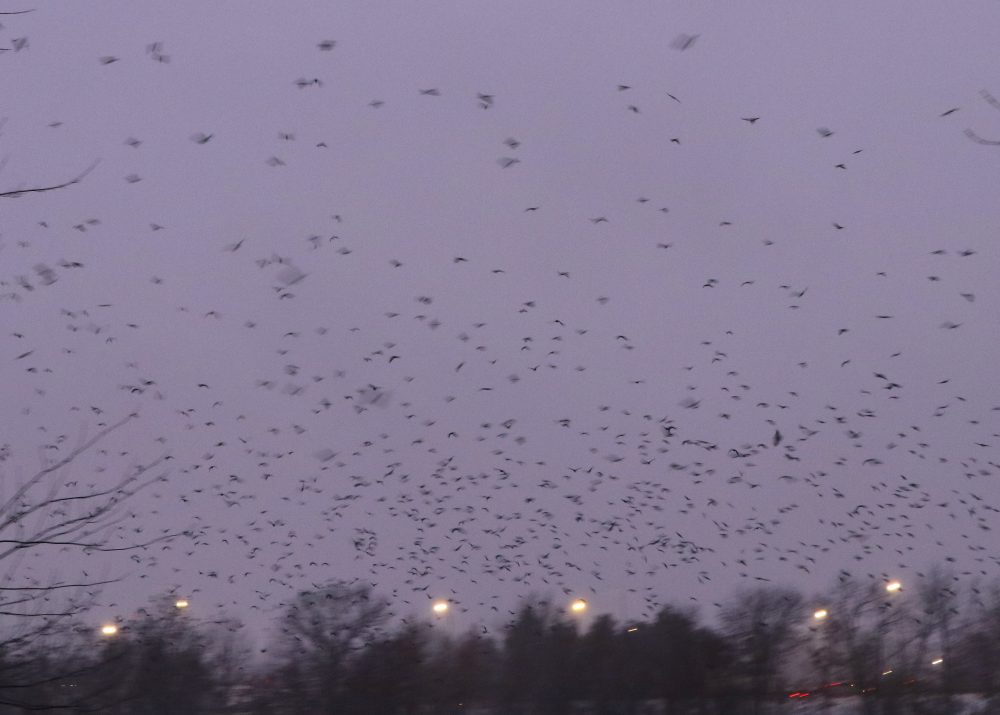 The calls became louder and the size of the swarms seem to  bloom.  Made a look over my left shoulder, and observed a stream of Crows continuing to arrive from the SE over the pump house buildings.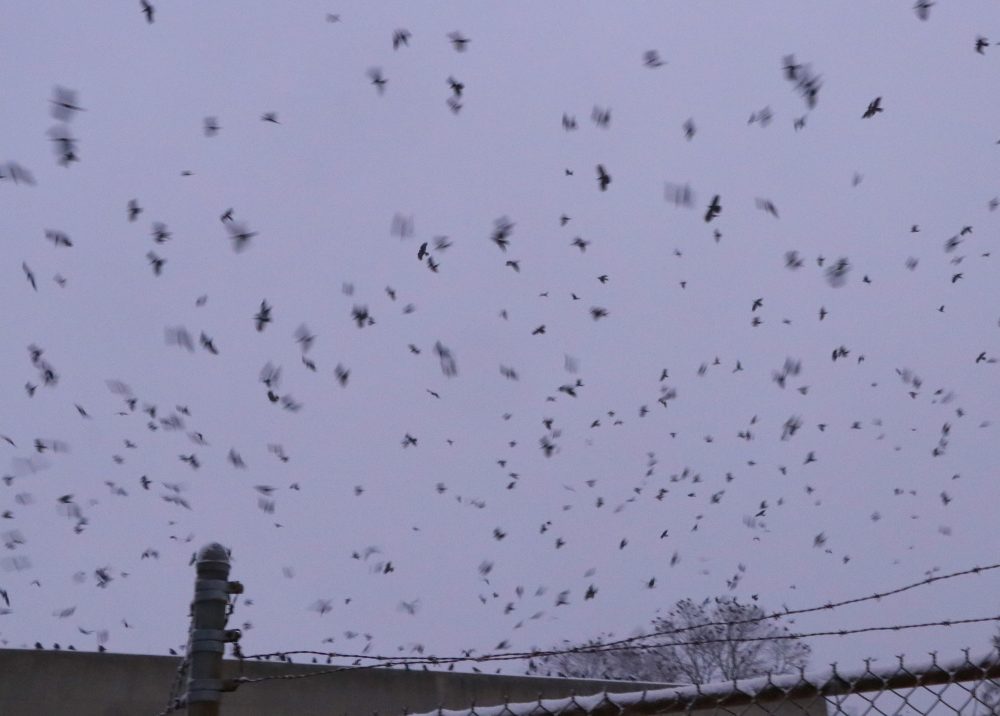 With limited visibility conditions, likely under 2 miles at most, and limited access to observation angles, was at least able to see that the perched Crows, settling into the overnight roost, were quite spread out in trees along the north side of the river. Here is an image showing roosting Crows about 25 minutes after sunset time.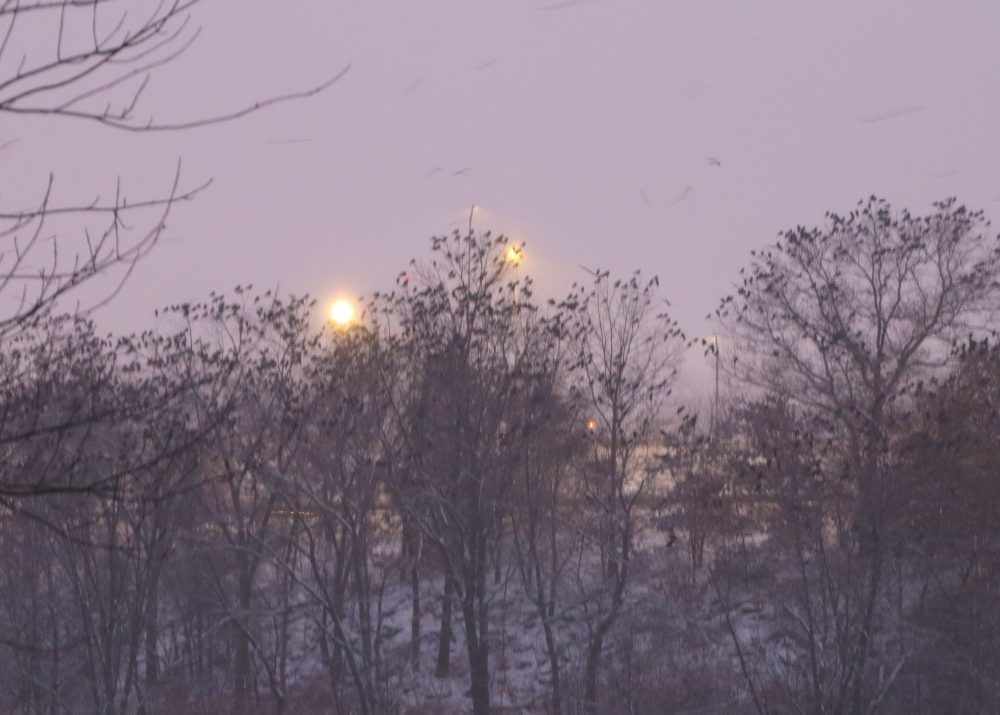 This final image below, taken with night vision optics, provides a sense of density in the roost. They pack in close to one another, and it can be difficult to gauge this depending on what view angle you are working from and the elevation of the observation post!  The image below also has a slight blue tint to help provide just a bit more contrast. By 4:50, almost 40 minutes post sunset, they were well settled into the overnight roost….another dazzling show!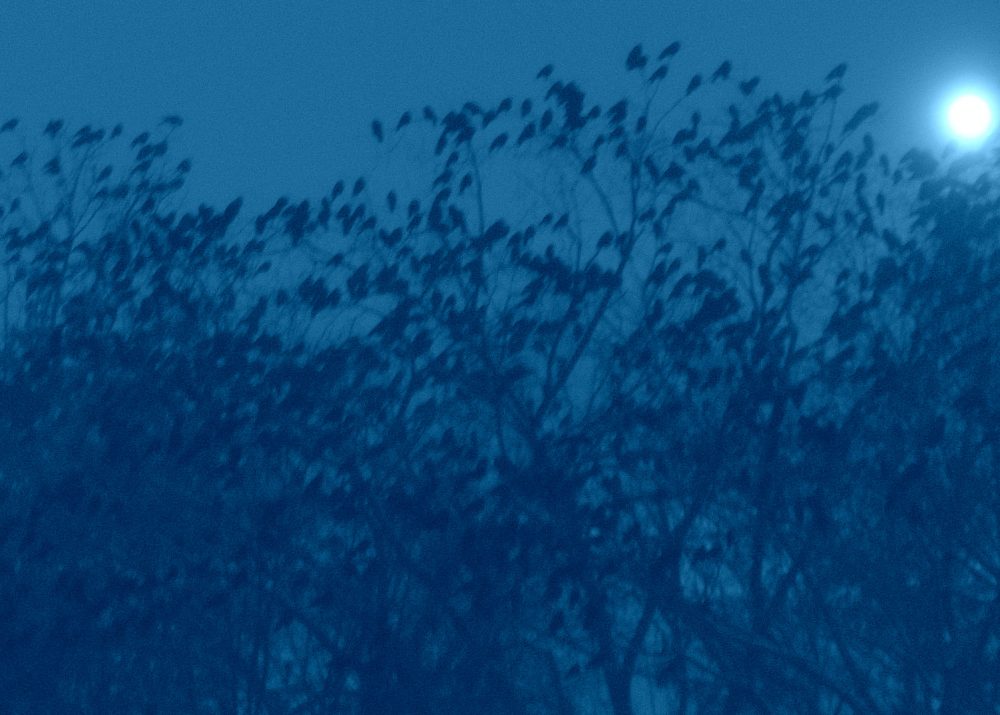 List of photo gear used for this outing:
Canon EOS 80D; Lens: EF-S 18-135mm f/3.5-5.6 IS   
ATN BinoX 4K 4-16x Day and Night Smart HD Binoculars
Blog post and photos by Craig Gibson, 2019 Crow Patrol, Lawrence, MA