Jan 12, 2023 under heavy overcast skies, SE winds 8MPH, and temp 33F; sunrise time 7:32AM
St. Jean sur Richelieu, about 20 miles SE of Montreal is the first stop of the 2023 Canadian Winter Crow Roost tour. Saint Jean is located in the province of Quebec and situated on the West Bank of the Richelieu River. As of December 2019, the population of Saint Jean-sur-Richelieu was 98,036. For many years, this CBC count circle has had among the highest numbers of American Crows in the entire annual CBC count. We've initiated and maintained contact with Gaetan and Micheline,  the count coordinators for over a year. Gaetan and Micheline Dubois graciously offered to help with logistics for this visit. At their kind invitation, had a chance to have coffee and muffins at their home, along with their close birding friend, Mary Lou McDonald (holding the Stokes book). We headed out before dark Thursday afternoon.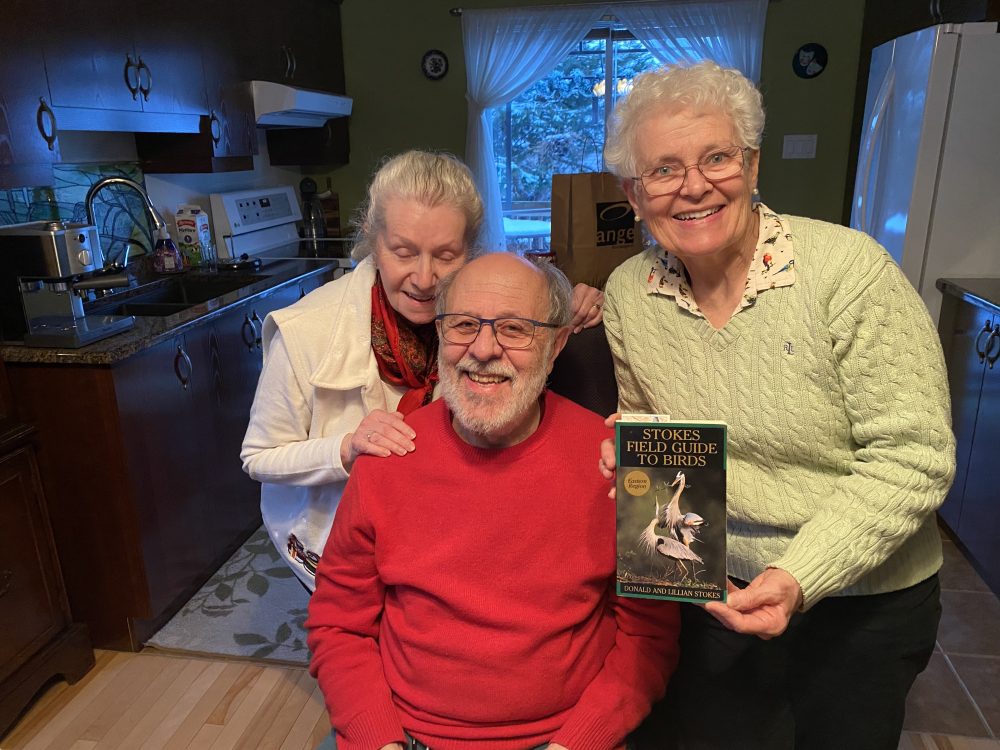 After arriving on later on Wed. night Jan. 11, had a chance to make an initial scouting visit of the primary area that has been home to the overnight winter roost for many years. It is located an area of low elevation industrial/commercial buildings, and alongside railroad tracks. On Thursday morning, arrived in the roost area about 90 minutes before sunrise time under heavy overcast skies and a winter storm warning with heavy snow in the forecast. At first, the Crows remained in place but the wake up murmurings started and grew stronger.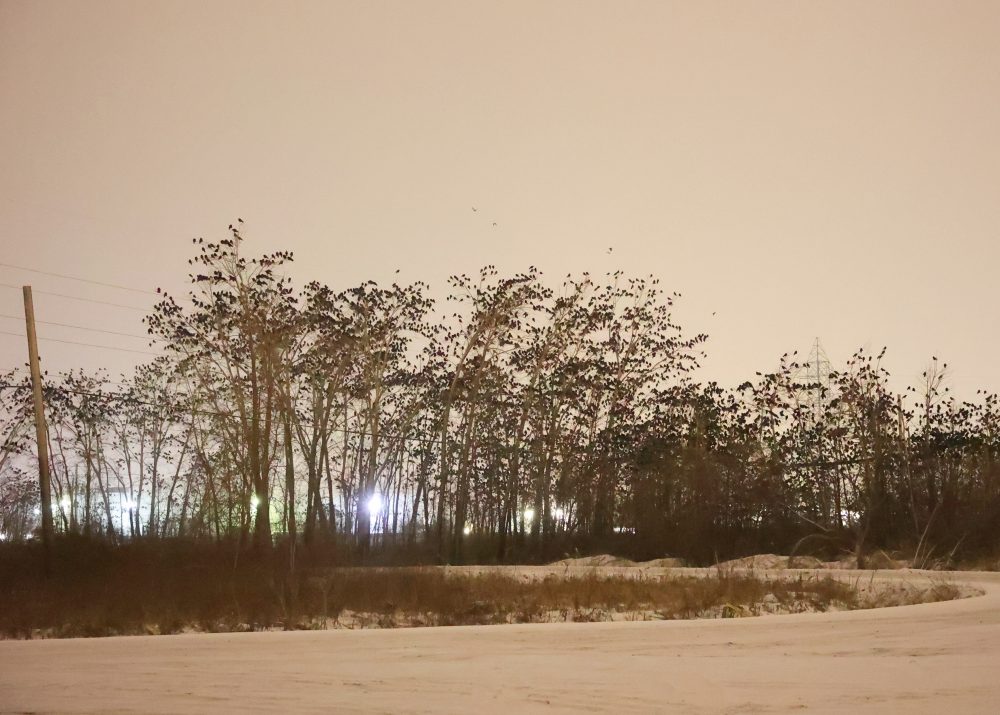 Had a chance to see a number of exciting flight bursts, each one made as a loop with a return to the nearby roost trees. The vocalizations grew louder as the light of day unfolded. This image at 40 minutes before sunrise time.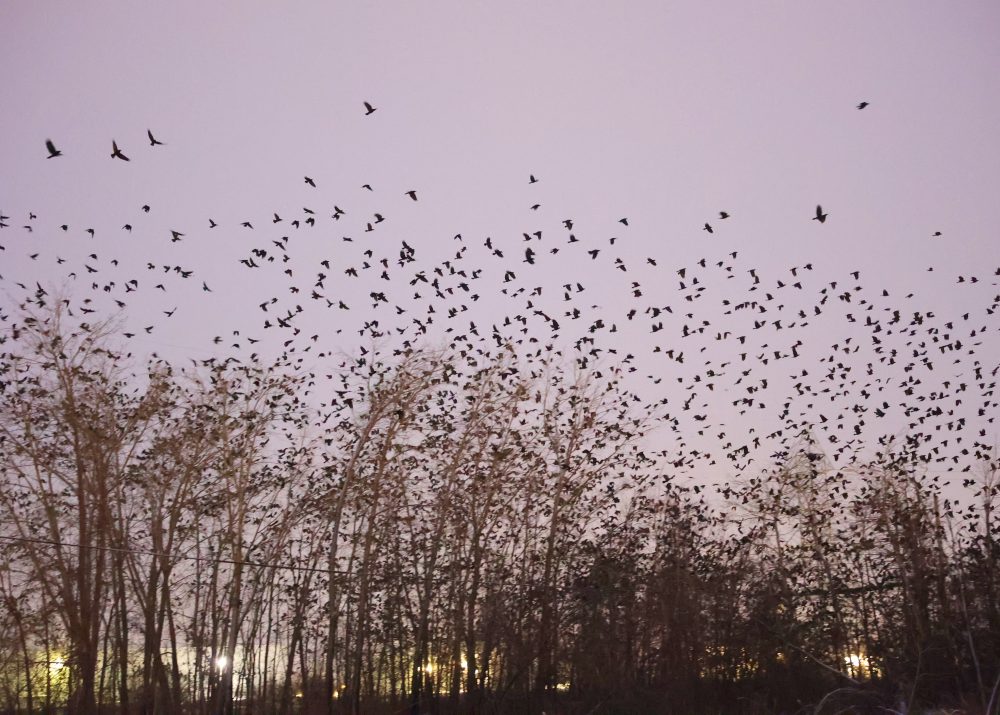 On Thursday afternoon, Gaetan led us to one of their regular vantage points off of Boulevard Industriel, behind the Sunset Converting Corporation complex of buildings. Sunset has a highly automated plant that makes private label tissue products for distribution in North America. We set up in the SE corner of the campus and observed the Crows arriving in major incoming flight stream from both the SW and NW directions. The image below captured minutes before sunset time.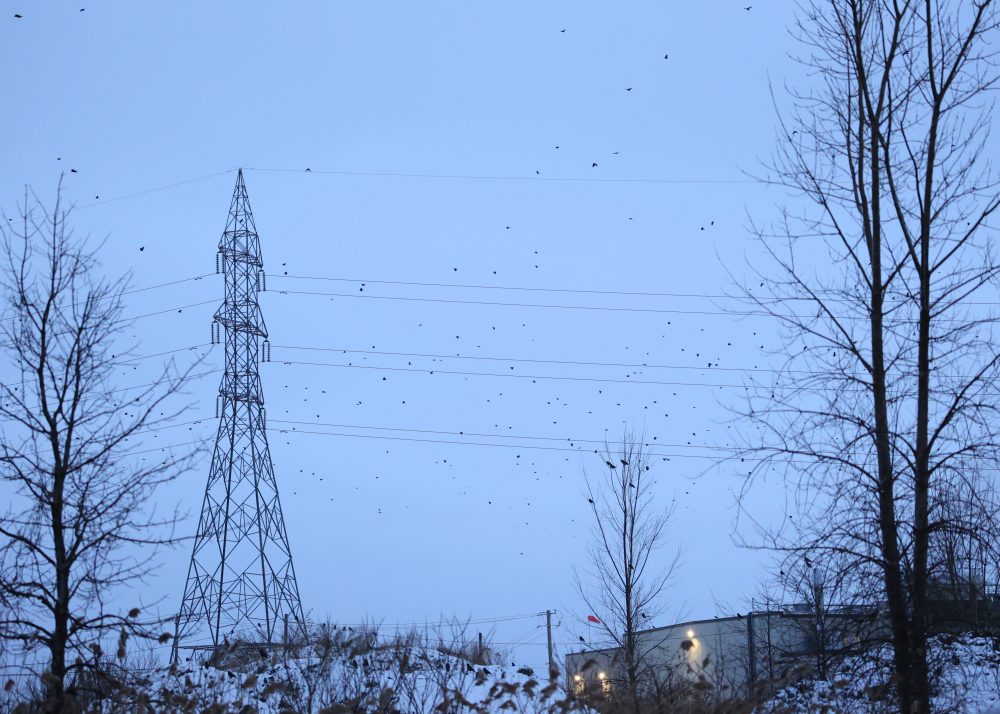 After the wonderful tour and full history of the local roost, my gracious hosts departed for home just after sunset time. With a bit of time before the roost filled up, made a driving loop around the entire area and landed back at the rear lot of the recycling facility with excellent views of the overall roost trees. As the Crows arrived and settled in for the night, they made a number of spectacular flight bursts, looped in a big circle and back to the roost trees, with active vocalizations. This image at almost 60 minutes post sunset time An amazing show!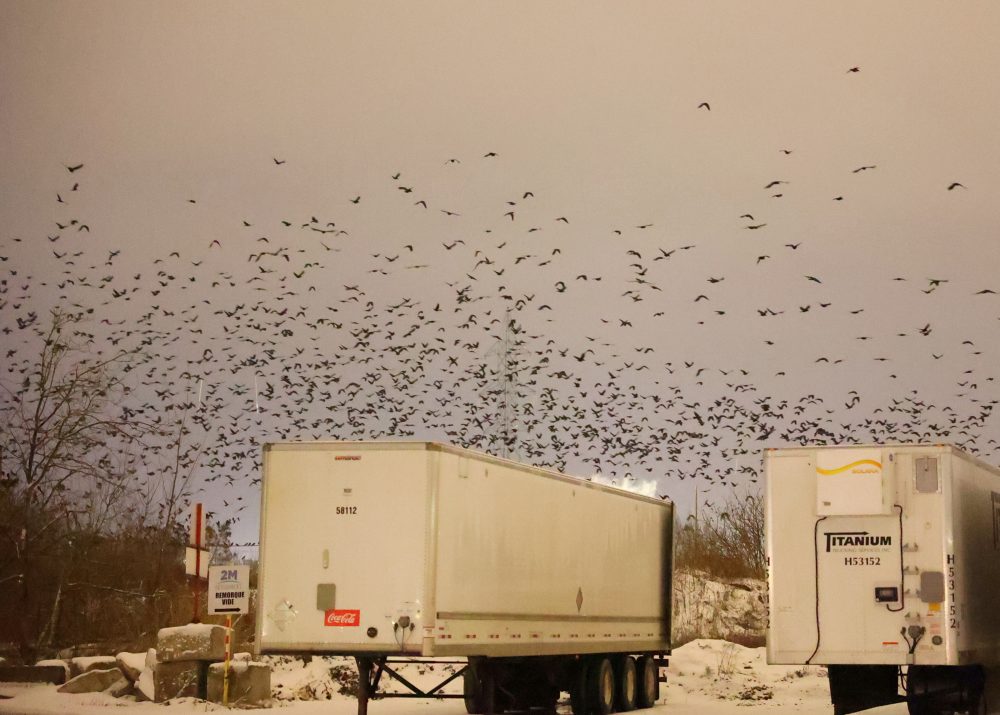 For the 2022 Audubon Christmas Bird Count (CBC) for the Andover Circle, this separate Crow Count was 13,750 Crows. In 2021, the CBC Andover Circle Crow Count was 12,250. Many thanks to Donna Cooper who coordinates and compiles the Andover Circle each year!
Note on counts/estimates: we are now using improved methods for counting the large number of Crows while streaming, staging, and in the roost. For all images, we use both a modified open source counting software program, as well as a hand count approach, while outside next to the roost, to carefully document our observations and to significantly increase reliability and accuracy of the presented numbers. Please refer to our new roost counting guide on main page.
Remember to check out the latest Crow Patrol Podcast with John Macone (Merrimack River Watershed Council): wintercrowroost.com/podcast/
Photo gear used for most outings:
Canon EOS 80D with Canon EF-S 18-135mm f/3.5-5.6 IS 
Canon EOS 80D with Canon EF-S 18-135mm f/3.5-5.6 IS (Infrared)     
Canon EOS R6 Mirrorless with Canon RF 28-70 f/2 L IS USM 
Canon EOS R6 Mirrorless with Canon RF 50 f/1.2 L USM 
Sony AX700 4K HDR Camcorder
Follow us on Instagram: wintercrowroost
Follow us on YouTube: wintercrowroost
Blog post and photos by Craig Gibson, 2023 Crow Patrol