Winter Crow Roost: staging and roosting action on a mostly cloudy night
Conditions: mostly cloudy, wind SW 6MPH, temp at 39F; sunset time 5:11PM
Upon arrival at North Main St., east of Rt. 495 Bridge, at sunset time, Crows seen streaming overhead in flight and heading downriver. Crows were staging in growing numbers almost 1/2 mile downriver. About 20 minutes after sunset time, the first huge wave of incoming Crows were seen and heard in flight while moving towards the general roost area. This image below shows the initial flight surge.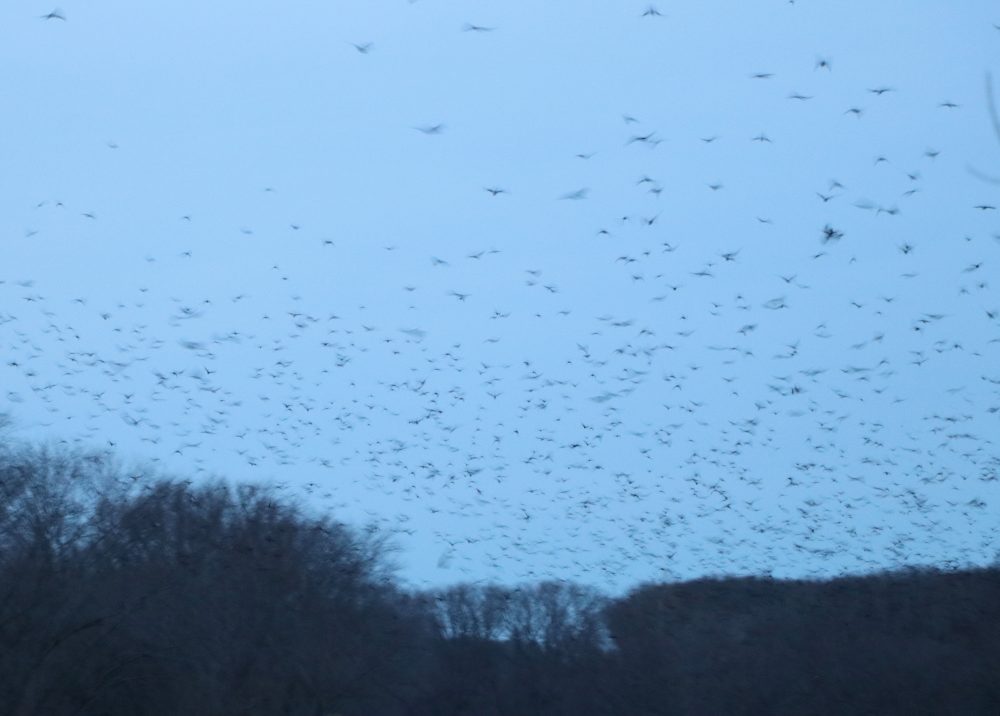 As the Crows made this initial surge, they continued to use a leapfrog strategy and landed in tree tops along both sides of the Merrimack River. Once sufficient numbers assemble in the trees, they tend to lift off and yet again, move closer to the final overnight roost. This image shows a liftoff from Crows perched on the south side of the river.  They join the overall flight stream of Crows working their way towards the overnight roost.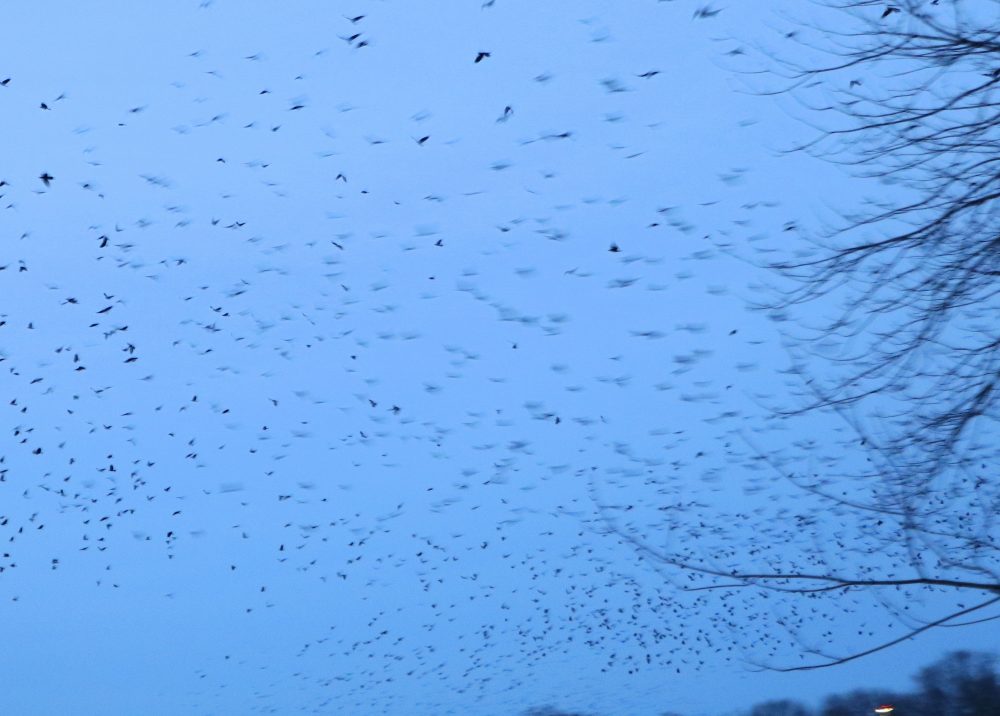 On many nights, we experience a moment where the overhead sky seems to be filled with Crows. These moments happen when the overall movement to the general roost area becomes more pronounced. The image below, taken almost 25 minutes after sunset time, shows one of those special and dramatic moments; often this is yet another WOW moment and a dazzling sight to behold!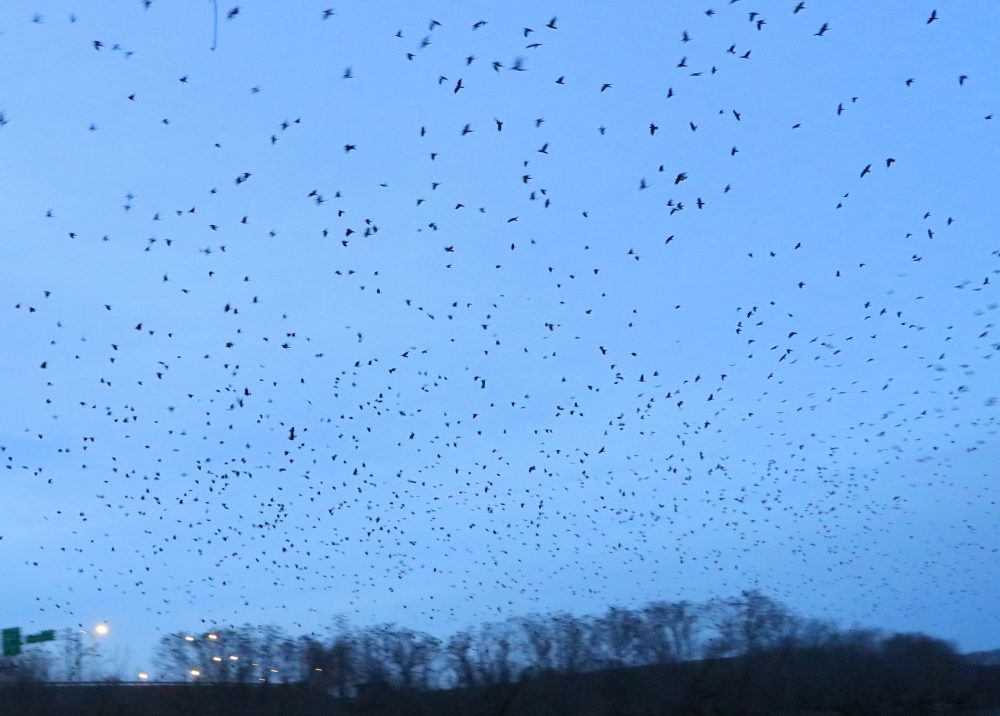 While viewing from the south side of the river, the Crows are seen perching on the tree tops of the trees on the north side. They tend to aggregate in trees alomg the river and near the SE corner of the ball field. The Crows will line these trees and others in an upriver direction.  As the numbers grow, they seem to hit a saturation point, and we see a flight burst, and then some Crows move closer to the overnight roost. This next image, taken about moments later, shows the flight action upriver with perched Crows in the trees behind.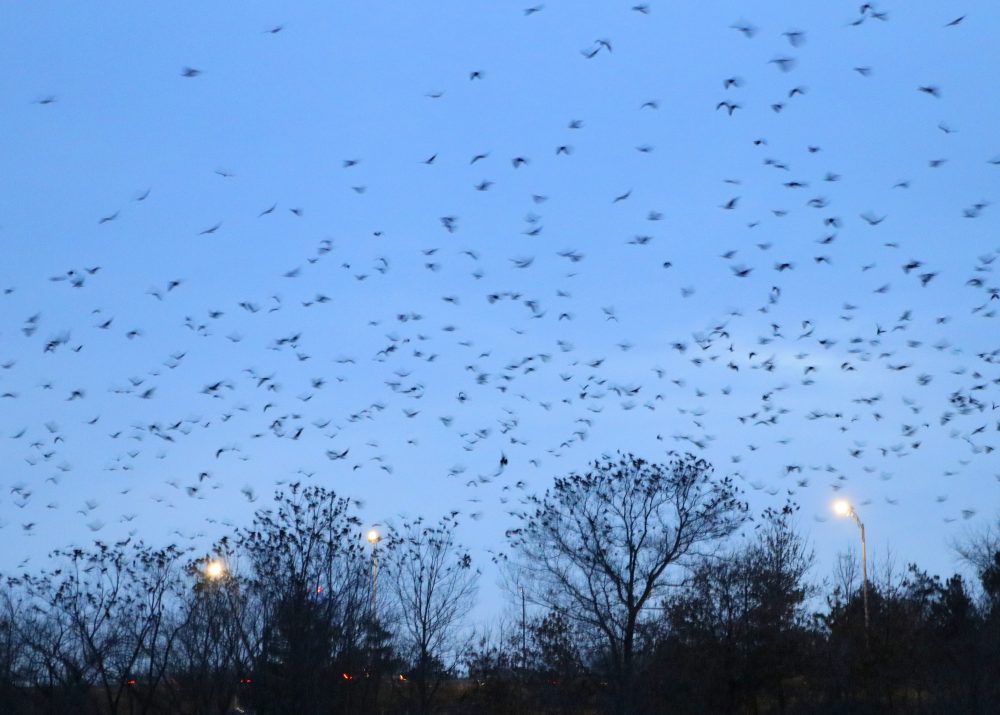 Over next 15 minutes, there are lots of wild flight gyrations, and then the Crows settled in and quieted down in the trees around the overnight roost. Each night, the pattern is a bit different as the Crows settle into the roost. They may do so in an orderly fashion, or they may do so in fits and starts, with large swirling flight burst moments followed by a resettling process. Finally, the wild and noisy vocalizations begin to diminish and the Crows settle in for the night! This last image, taken about 45 minutes after sunset time, and with a long exposure setting, shows the Crows settled into the overnight roost in trees along the north edge of the river. The total roost area measures about 8,000 square meters.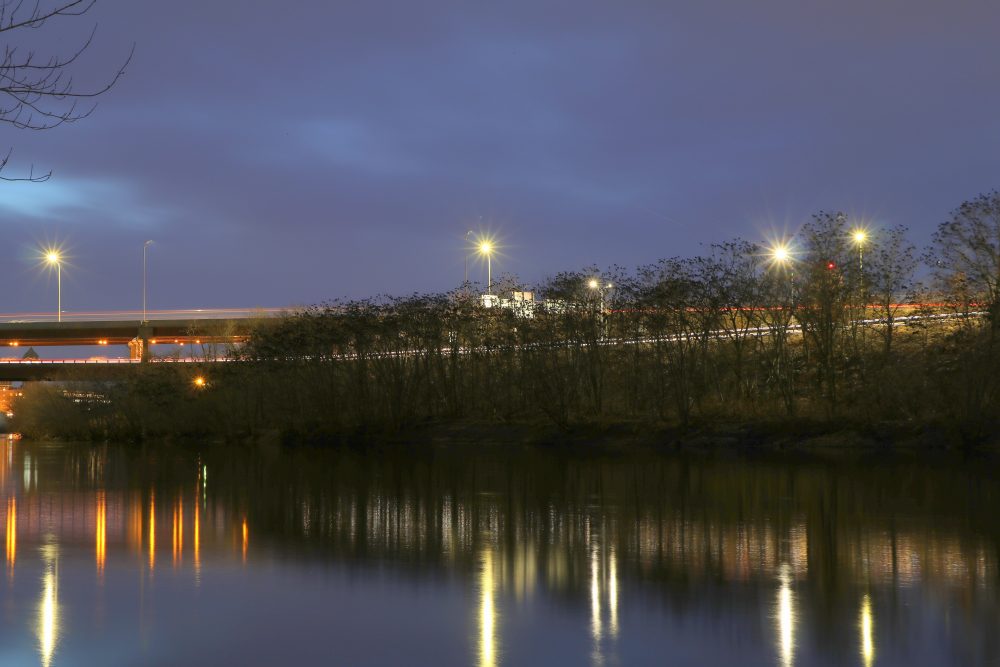 Photo gear used for this outing:
Canon EOS 80D; Lens: Canon EF-S 18-135mm f/3.5-5.6 IS   
Canon 1DX MK II; Lens: Canon EF Telephoto Zoom 100-400mm f/4.5-5.6L IS II USM
ATN BinoX 4K 4-16x Day and Night Smart HD Binoculars with photo and video
Follow us on Instagram: wintercrowroost
Follow us on YouTube: birdsoftheair1
Blog post and photos by Craig Gibson, 2020 Crow Patrol, Lawrence, MA