This video shows staging Crows lifting off in flight!
Conditions: heavy overcast skies, wind S at 13MPH, temp at 71F; sunset time 4:25PM
Out on Crow Patrol with first stop at roof top overlook at McGovern parking garage with a huge buildup of Crows at west end of the B&D Warehousing complex. At the west end of the complex, the roof is mostly off-white and about 54,000 square feet in size! The Crows arrived at this staging area early tonight due to dark overcast skies, with many more streaming in until about 20 minutes after sunset time.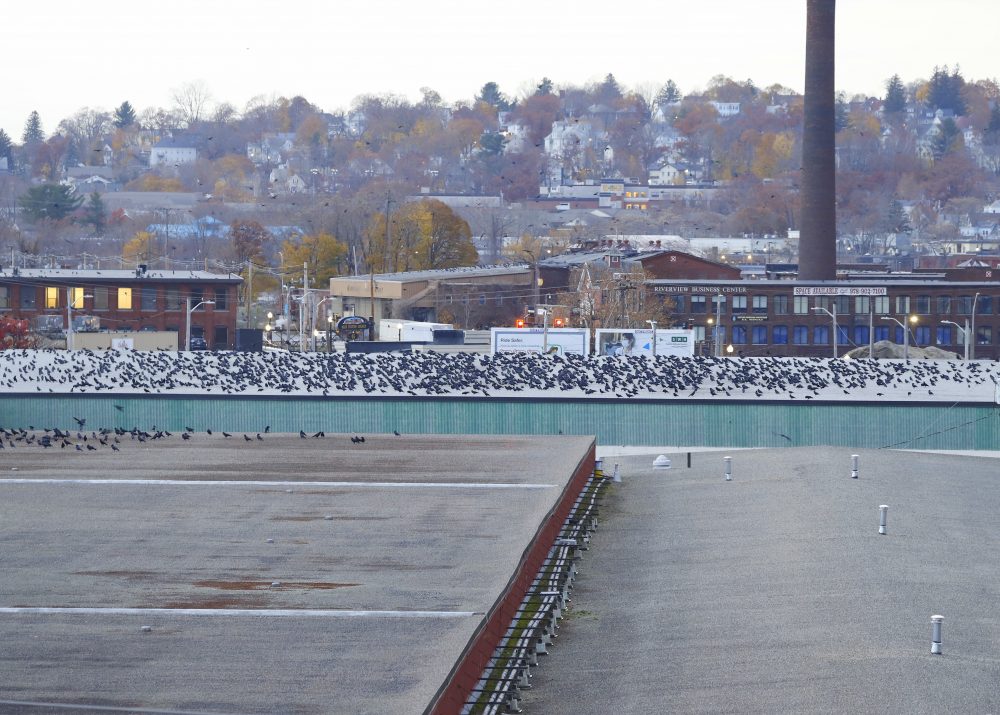 Right on schedule, and consistent with the action over the past number of weeks, the Crows slowly departed for the overnight roost in a steady flight stream. They lift up and off in flight, and make their way across Merrimack and South Canal Street, and then curve around towards the overnight roost. It is an amazing spectacle to watch each time!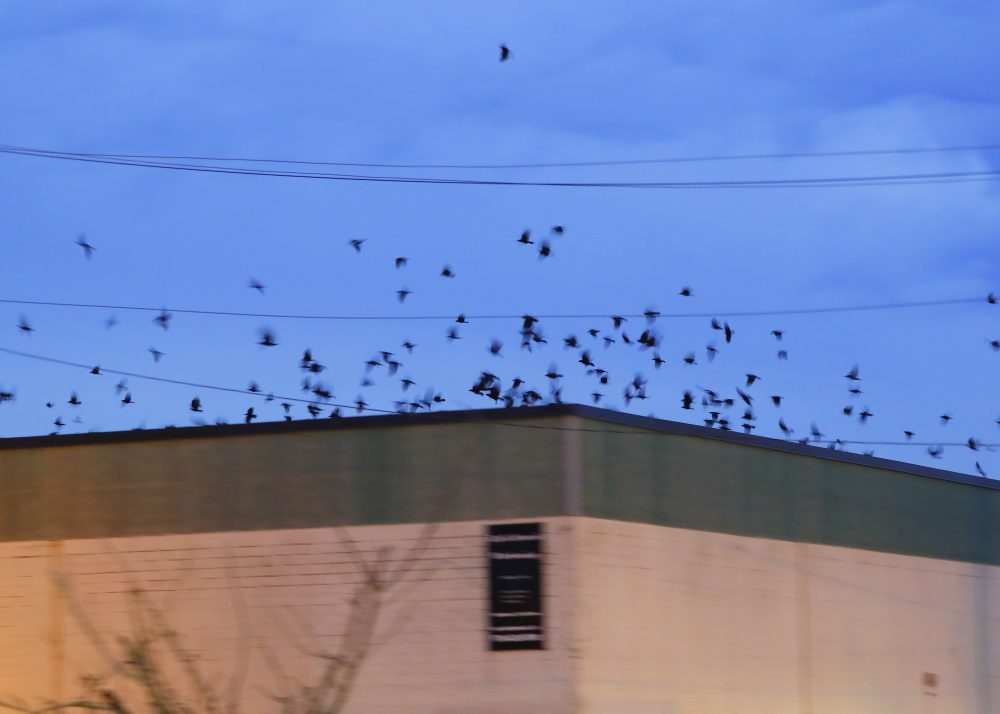 A minute later, the flight stream continues in a stream of flight action. Overall it is very orderly, and yet there are regular outbursts of total chaos among some of the Crows with playful flight antics while heading to the overnight roost.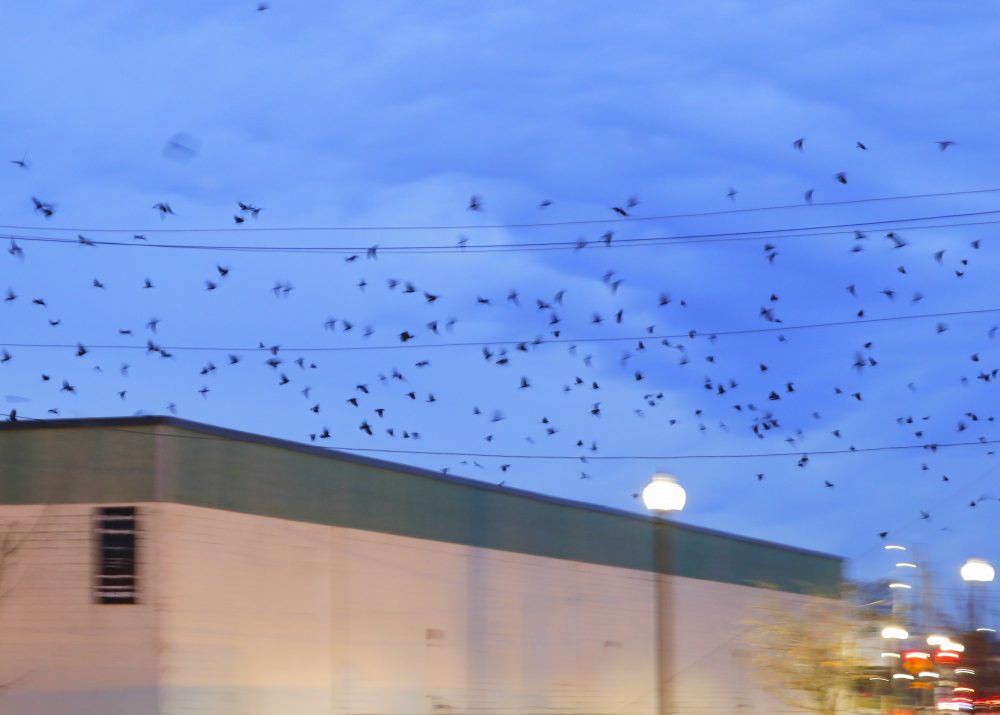 About 15 minutes later, made a visit by the truck depot area on South Canal Street, and it was filled with Crows mulling around on the ground and perched in the trees along the back; another spectacular Crow Show! This image was captured with an infrared camera about 35 minutes after sunset time, and it provides a nice contrast under diminished lighting conditions.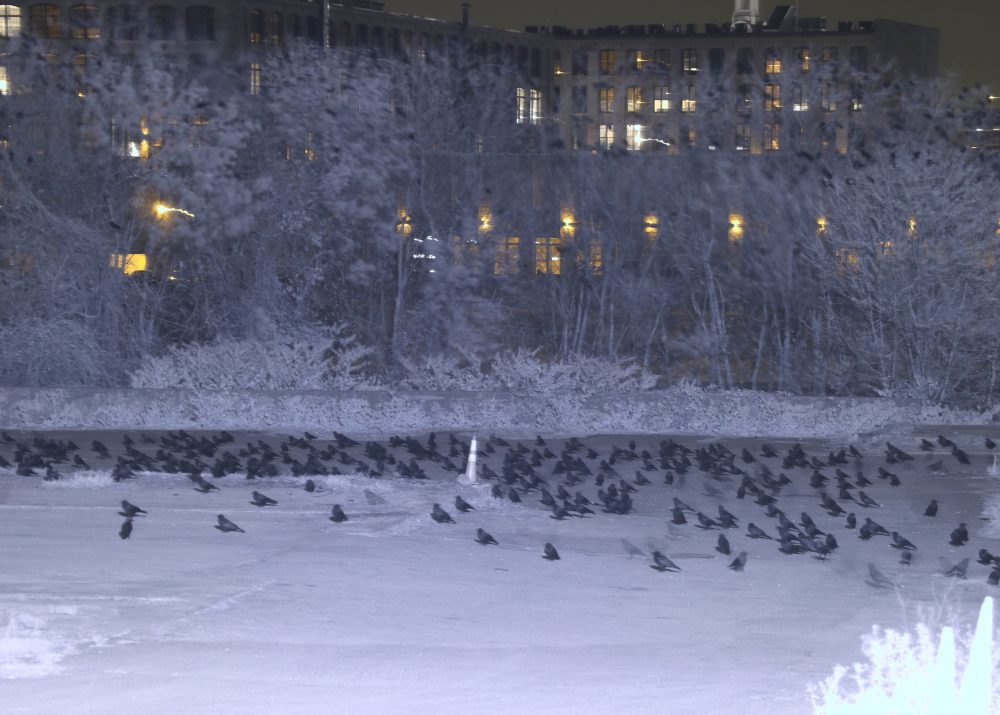 Photo gear used for this outing:
Canon EOS 80D with Canon EF-S 18-135mm f/3.5-5.6 IS 
Canon EOS 80D with Canon EF-S 18-135mm f/3.5-5.6 IS (Infrared)
Canon 1DX MK II with Canon EF Telephoto Zoom 100-400mm f/4.5-5.6L IS II USM
ATN BinoX 4K 4-16x Day and Night Smart HD Binoculars with photo/video
SiOnyx Aurora Pro Digital Color Night Vision Optics
Follow us on Instagram: wintercrowroost
Follow us on YouTube: birdsoftheair1
Blog post and photos by Craig Gibson, 2020 Crow Patrol, Lawrence, MA