Conditions: partly sunny, wind W at 18MPH, gusts to 23MPH, 35F, wind chill 26F; sunset time 5:31PM
Out on Crow Patrol with initial visit to areas around Lawrence Municipal Airport. Crows seen staging on grassy areas around runways in middle of airport. Moved over to Incinerator Road about 15 minutes before sunset. Over 3,000 Crows mulling around on the ground atop the baseball field. Many more came streaming in from the airport area minutes after sunset time. Two images below shows the Crows lifting off in nervous flight for a few moments, minutes after sunset time, and then second image shows them resettling in trees on downslope towards the Merrimack River.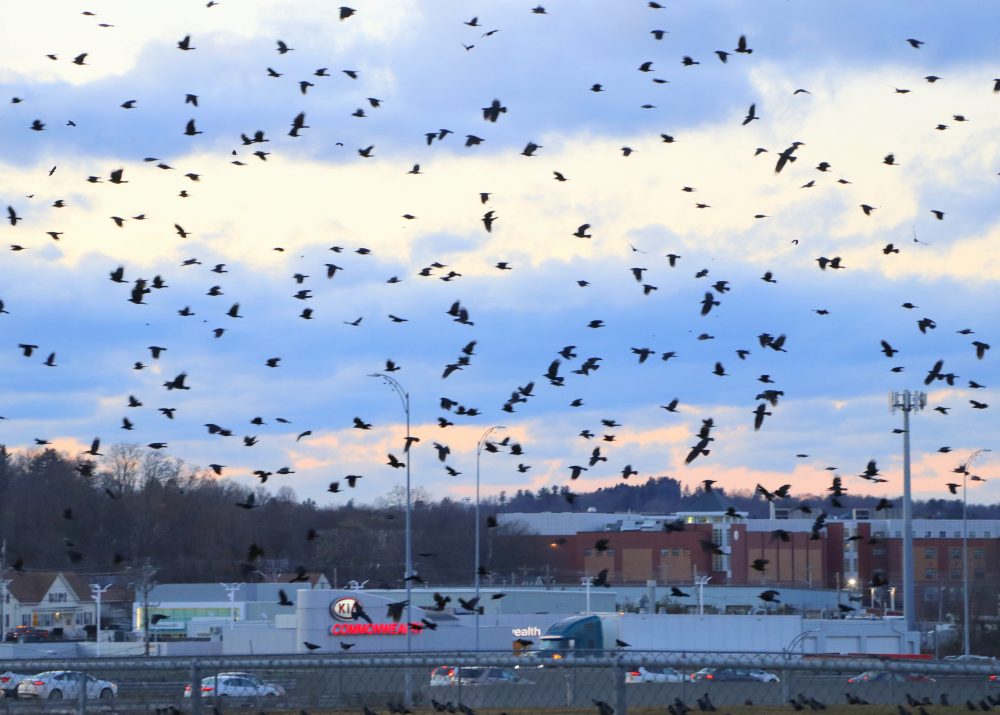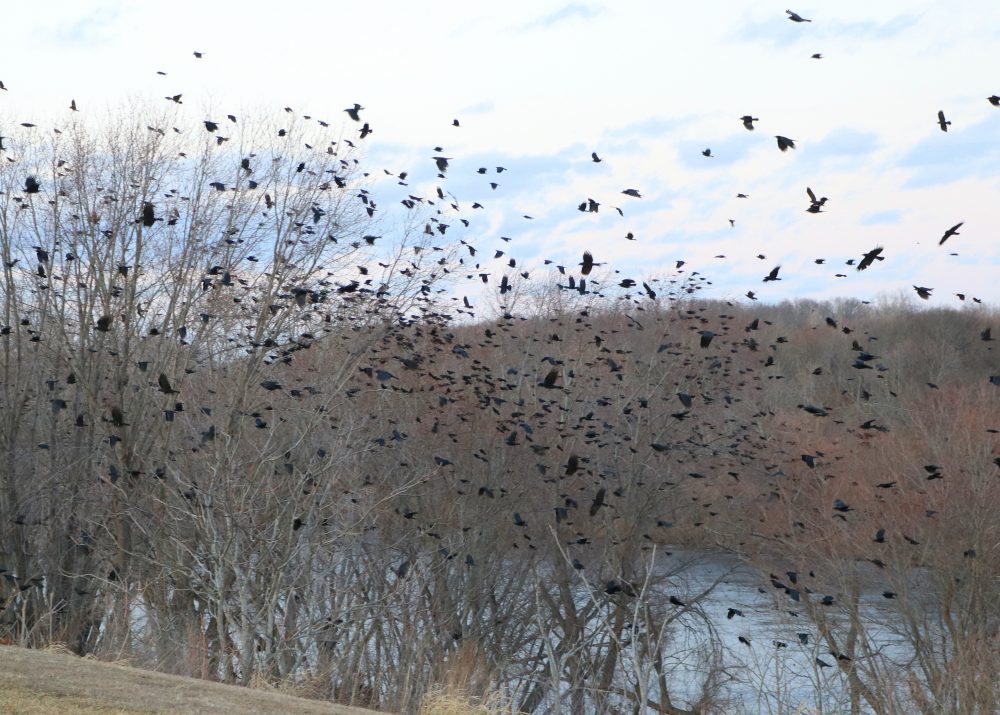 Next, moved to south side of Merrimack River near the end of North Main Street. Wind was blowing very strong off the water creating quite a chill. Crows started to stream in and converge into the roost about 15 minutes after sunset time. As always, the vocalization level increased substantially and the streams of Crows just kept coming from the east and downriver. It is always a beautiful sight against the fading dusk sky background. This image below, looking NNW from south side of river, shows the Crows in flight towards the roost.
The Crows converged into the roost earlier than normal tonight with the initial wave of Crows, the early scouts, coming in about 15 minutes after sunset time. Likely that the big wind conditions may prompt a slightly earlier arrival time into the roost. The Crows were well settled in 20+ minutes after sunset time. Lots of loud vocalizing while streaming in and settling into overnight roost! The image below shows the Crows settled in the roost at 22 minutes after sunset time and lingering light in the background sky. Tonight they tucked in close to the Rt. 495 Bridge.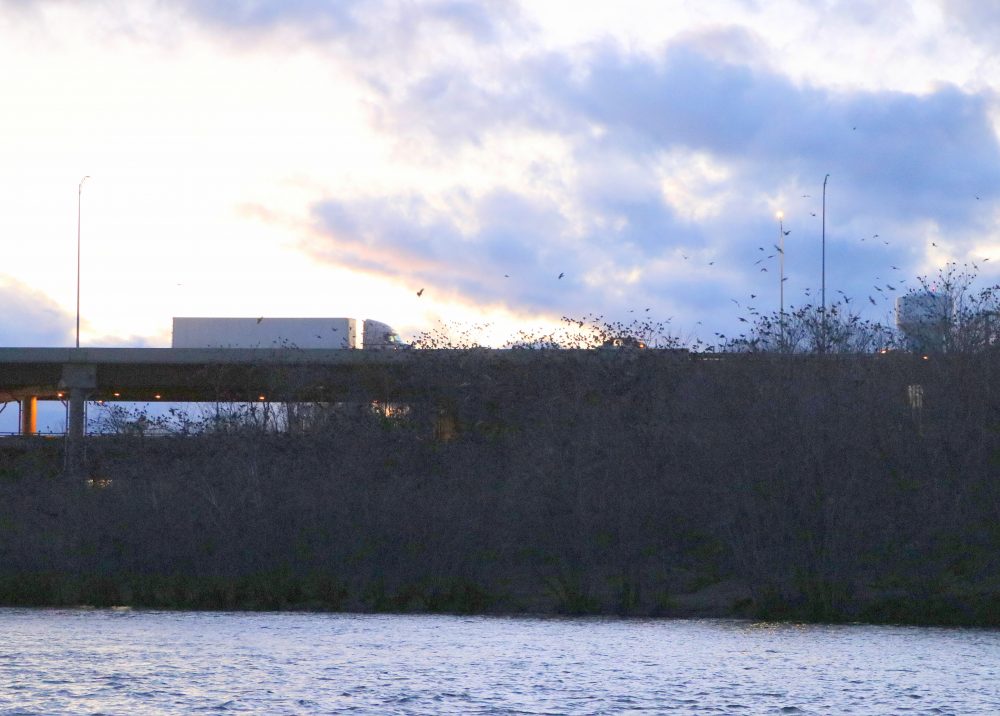 Again, while heading home, had a moment to catch a quick glimpse of the Crows, just off to the east, while driving northbound on the lower deck of the Rt. 495 Bridge. This elevated vantage point provides a sweet view of the tree tops and different sense of the overall roost area. The Crows are tightly packed in and out of the direct wind. The image below was taken almost 30 minutes after sunset time.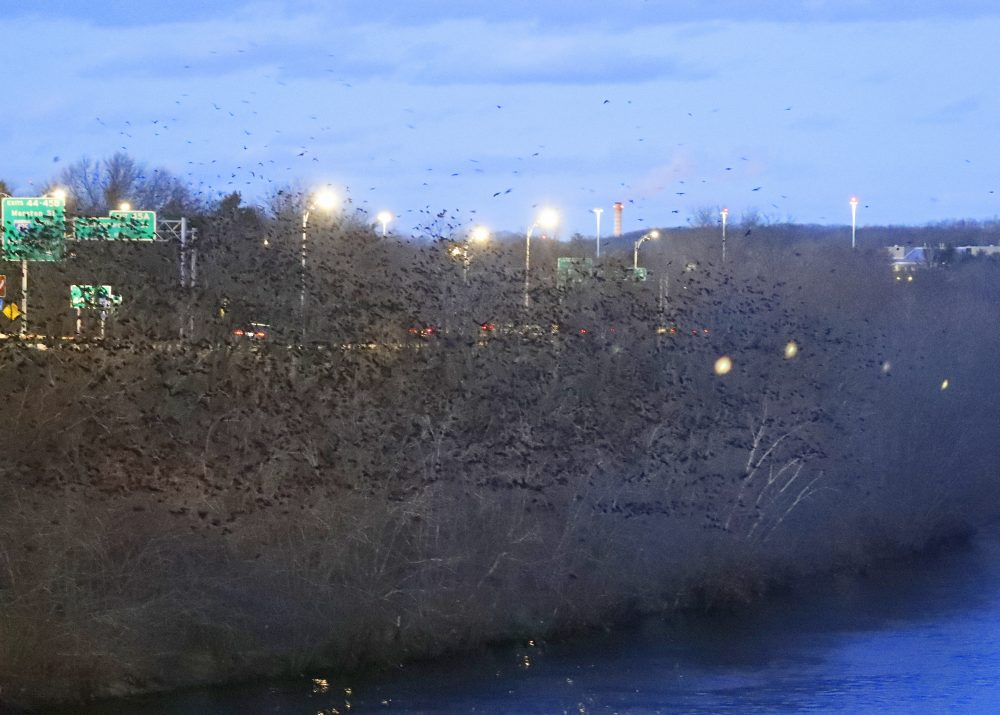 Photo gear used for this outing:
Canon EOS 80D; Lens: Canon EF-S 18-135mm f/3.5-5.6 IS   
Canon 1DX MK II; Lens: Canon EF Telephoto Zoom 100-400mm f/4.5-5.6L IS II USM
ATN BinoX 4K 4-16x Day and Night Smart HD Binoculars with photo and video
Afidus ATL-200 Long-term Time Lapse Camera
Follow us on Instagram: wintercrowroost
Follow us on YouTube: birdsoftheair1
Blog post and photos by Craig Gibson, 2020 Crow Patrol, Lawrence, MA