Conditions: mostly cloudy, wind at 5MPH, 32F: sunset time 4:25PM
Out on Crow Patrol with initial stops along Marston St. with Crows staging in multiple locations between Prospect st. and Rt. 495 Interchange. Crows were gathering in trees, on roofs, and on the ground, around the general area just on the east side of the Marston Medical building, and on both sides of the street.  Found a large grouping milling around inside the Columbia Gas facility. The image below shows a growing group after streaming in over the Merrimack River with loud vocalizations.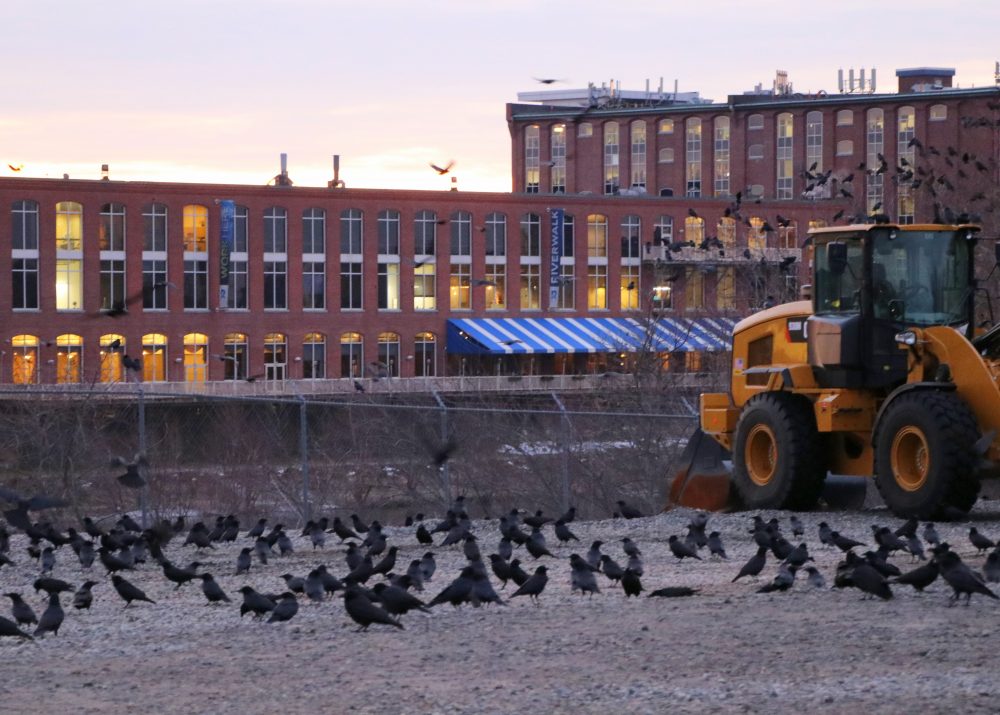 The sky was filling with crows streaming into the extended area from all directions.  While driving from Marston St., then southbound over the Rt. 495 Bridge, and then onto the Merrimack St. off ramp, looked up and endless numbers of Crows streaming in from the south.  This image below is a quick capture through the front windshield as the crows were moving in close to the roost.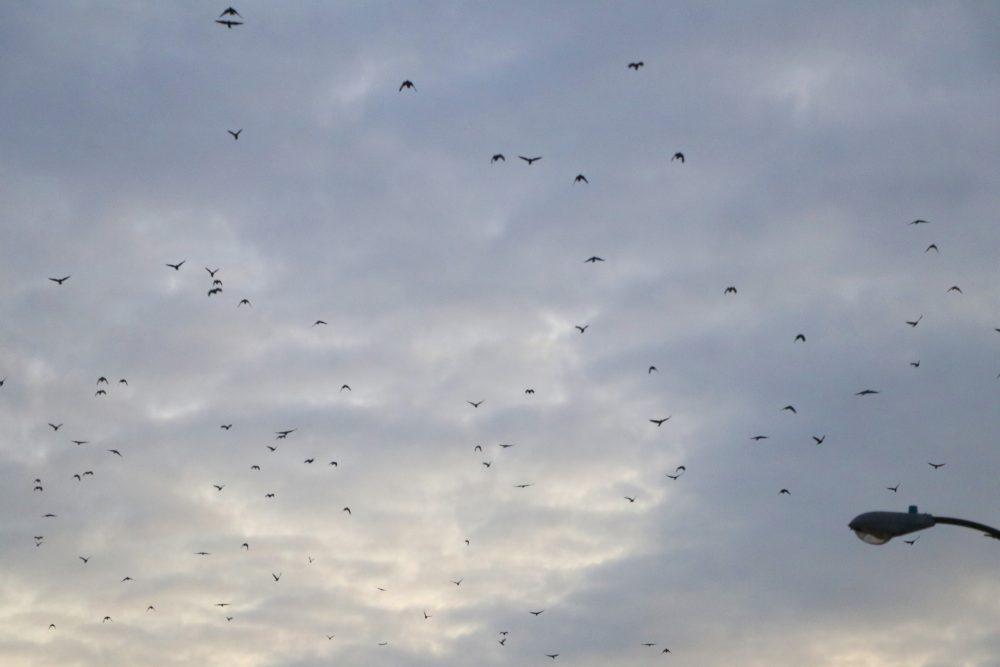 Many Crows streaming in from the south and west, and staging pattern was different with many more Crows initially staging on west side of Rt. 495 Interchange. Moved to south side of Merrimack River and observed thousands of Crows moving in flight from downriver area, and many staging in trees located within Rt. 495 off ramp north of the regular roost location. The Crows moved into the final roost almost 40 minutes after sunset time.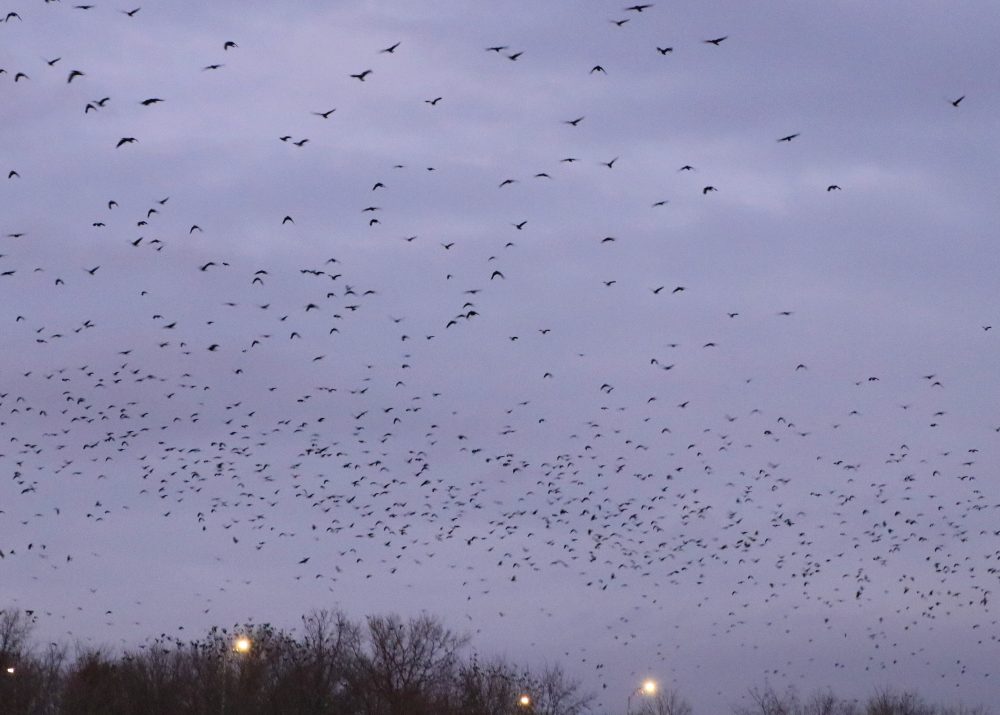 The image below taken with night vision optics shows the Crows still settling in around the extended roost area after dark. The perch on trees and nearby utility poles and street signs until they converge in a tighter formation overnight!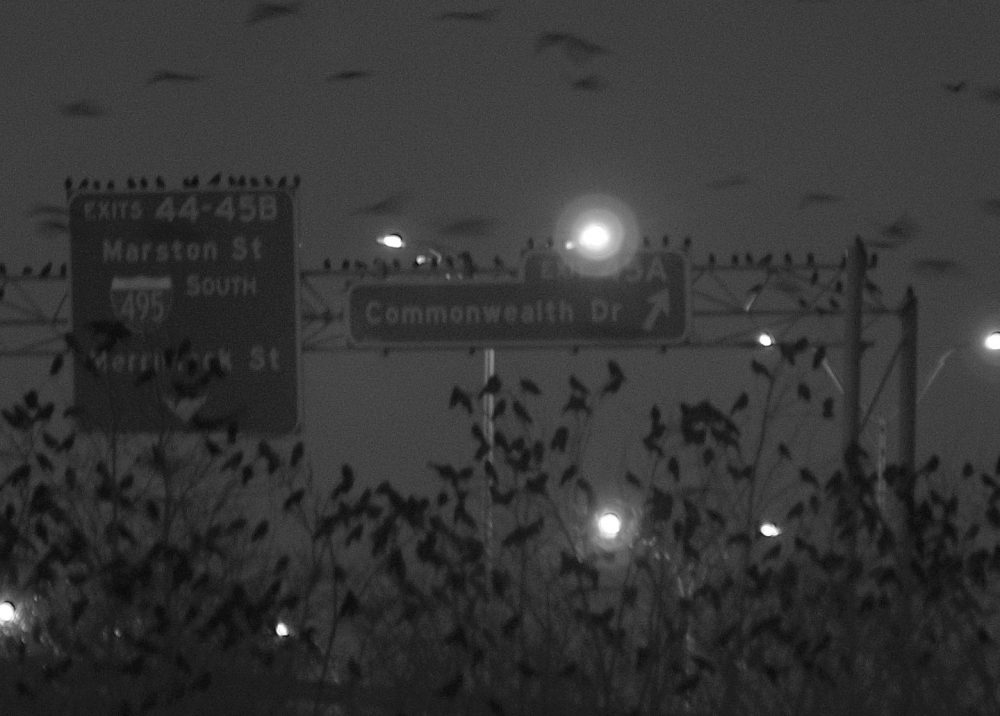 Photo gear used for this outing:
Canon EOS 80D; Lens: EF-S 18-135mm f/3.5-5.6 IS   
ATN BinoX 4K 4-16x Day and Night Smart HD Binoculars with photo and video
Blog post and photos by Craig Gibson, 2020 Crow Patrol, Lawrence, MA