Crow group settling into the roost on lower branches!
Conditions: mostly cloudy, wind S at 8MPH, temp 35F; sunset time 4:20PM
Out on Crow Patrol with Will and with many locals stopping by during our outing. Initial stop along South Canal Street. Most of the staging activity was to our WSW with Crows staging on rooftops, utility wires and poles, and on the ground around the west side of Parker Street. This image below, looking south, taken at sunset time.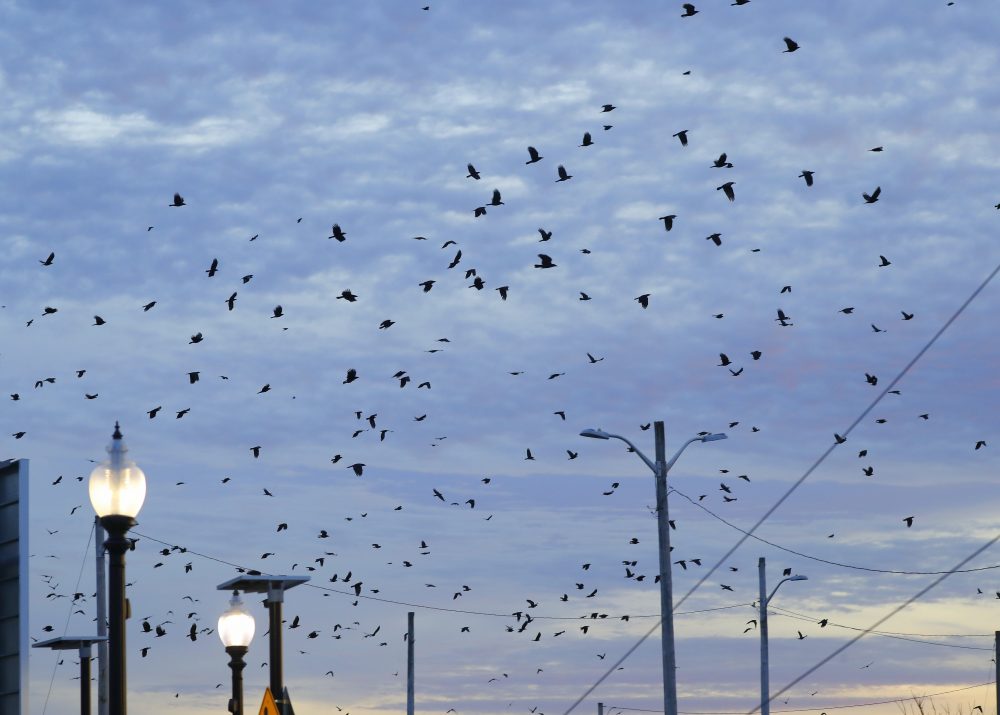 We observed lots of Crows streaming into the final staging area, with many repeated buildups and flight liftoffs from the rooftops of the B&D complex. This image below, is looking west at the glorious sunset sky colors, captured at sunset time.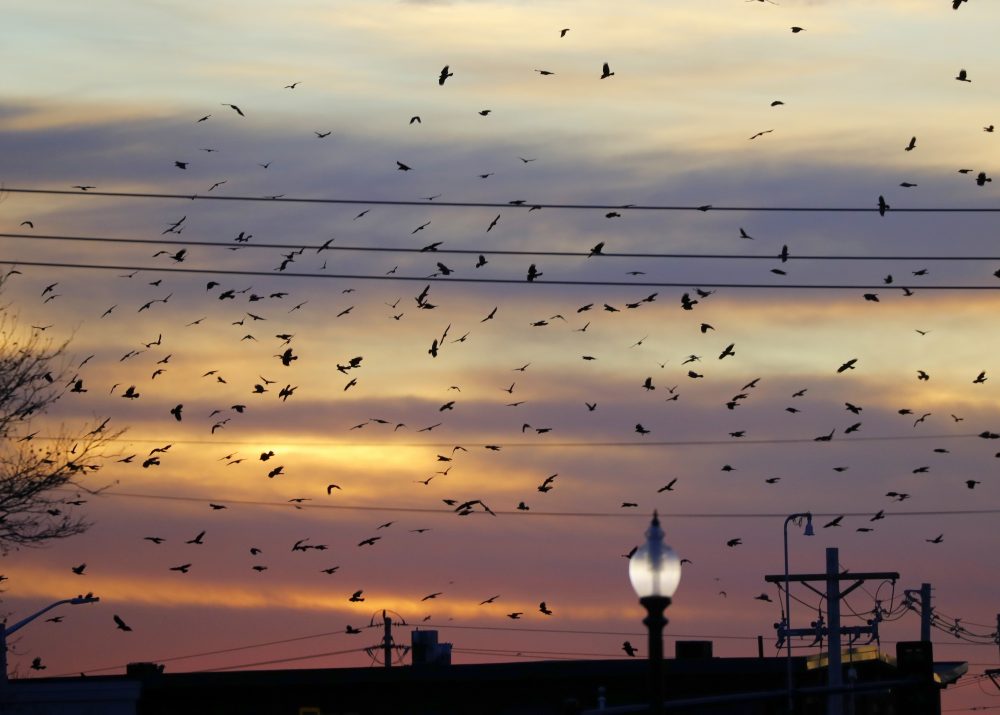 At 35 minutes after sunset time, we shifted our vantage point over the the Duck Bridge. The Crows landed and departed many times from the extended B&D rooftop area. They remained on and around the B&D roof area much longer than normal before starting to drift off in flight to the overnight roost area. Just before heading over to the Duck Bridge, caught a nice look at a number of Crows lined up on the east edge of the B&D roof. The image below was captured about 32  minutes after sunset time.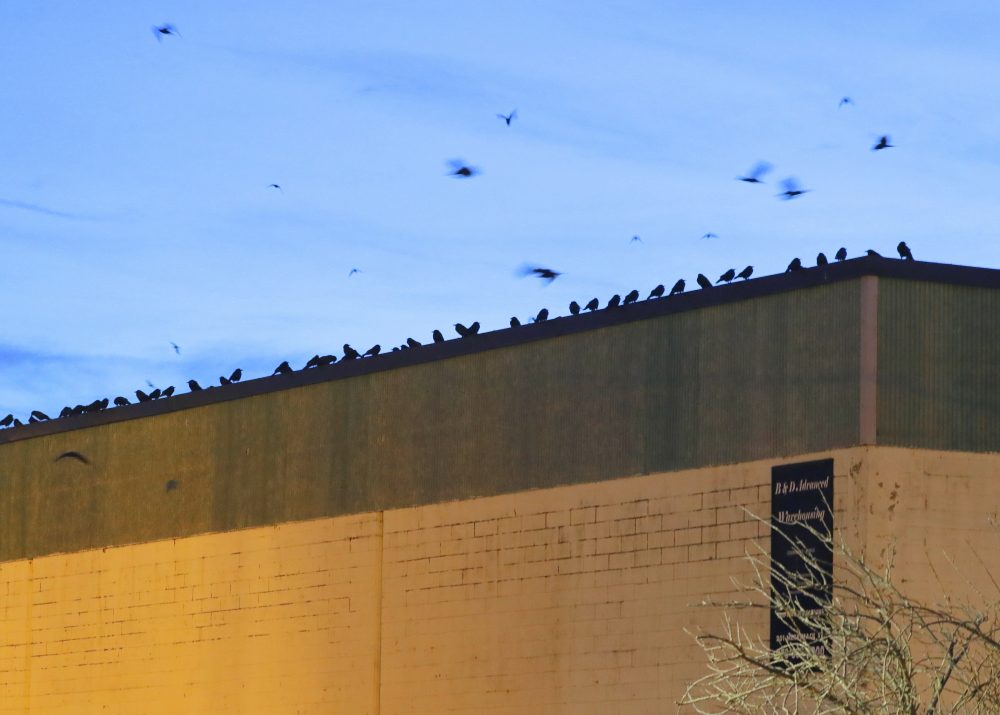 We observed large numbers of Crows converging into the roost from the west and also streaming in from the east and down river. Again, the  vocalizations were loud and intense and then subsided about one hour after sunset time. This image below, from the Duck Bridge, looking down the line of trees that make up the overnight roost, shows the Crows well settled in about 60 minutes after sunset time. Again, a remarkable spectacle of a nature!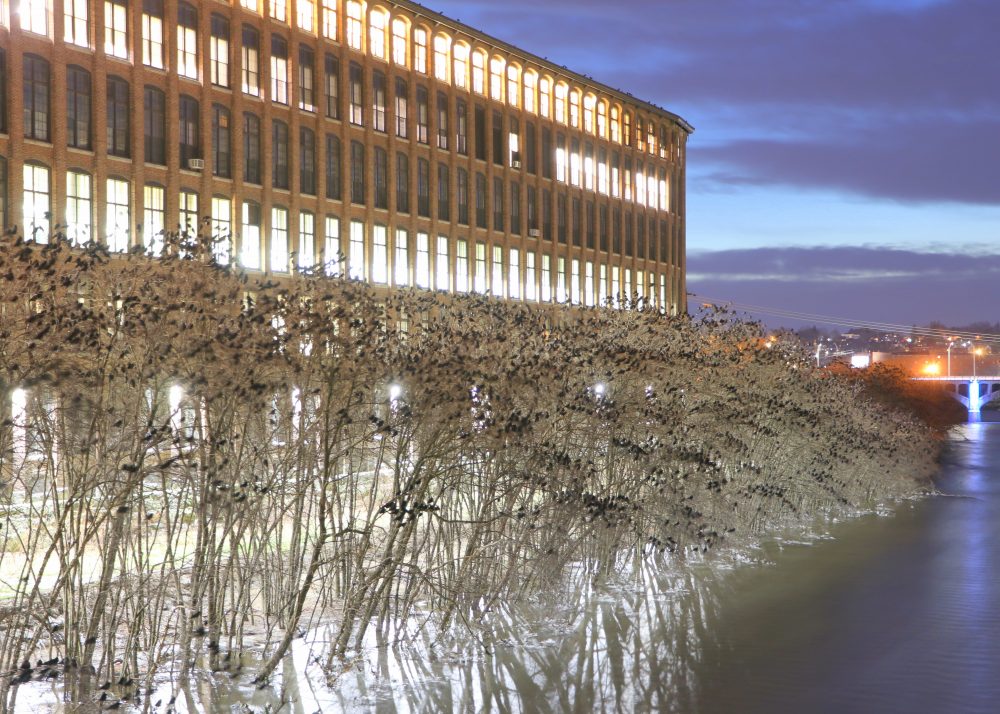 Check out the newly launched Crow Patrol Podcast: wintercrowroost.com/podcast/
Photo gear used for this outing:
Canon EOS 80D with Canon EF-S 18-135mm f/3.5-5.6 IS 
Canon EOS 80D with Canon EF-S 18-135mm f/3.5-5.6 IS (Infrared)
Canon 1DX MK II with Canon EF Telephoto Zoom 100-400mm f/4.5-5.6L IS II USM
ATN BinoX 4K 4-16x Day and Night Smart HD Binoculars with photo/video
SiOnyx Aurora Pro Digital Color Night Vision Optics
Follow us on Instagram: wintercrowroost
Follow us on YouTube: birdsoftheair1
Blog post and photos by Craig Gibson, 2020 Crow Patrol, Lawrence, MA