This video shows the staging crows lifting off in flight!
Conditions: partly cloudy, wind SE 3MPH, 64F; sunset time 5:53PM
Observations: first vantage point again at south end of Casey Bridge with Crows streaming in; landing and perching on rooftops and utility wires as well as mulling around on the ground. While surveying the Crows in the staging area, looked up from my car to see if this Fish Crow, perched on the edge of the roof at Roberto's "Cheap Prices" Furniture store with a piece of bread locked into the grip of its bill.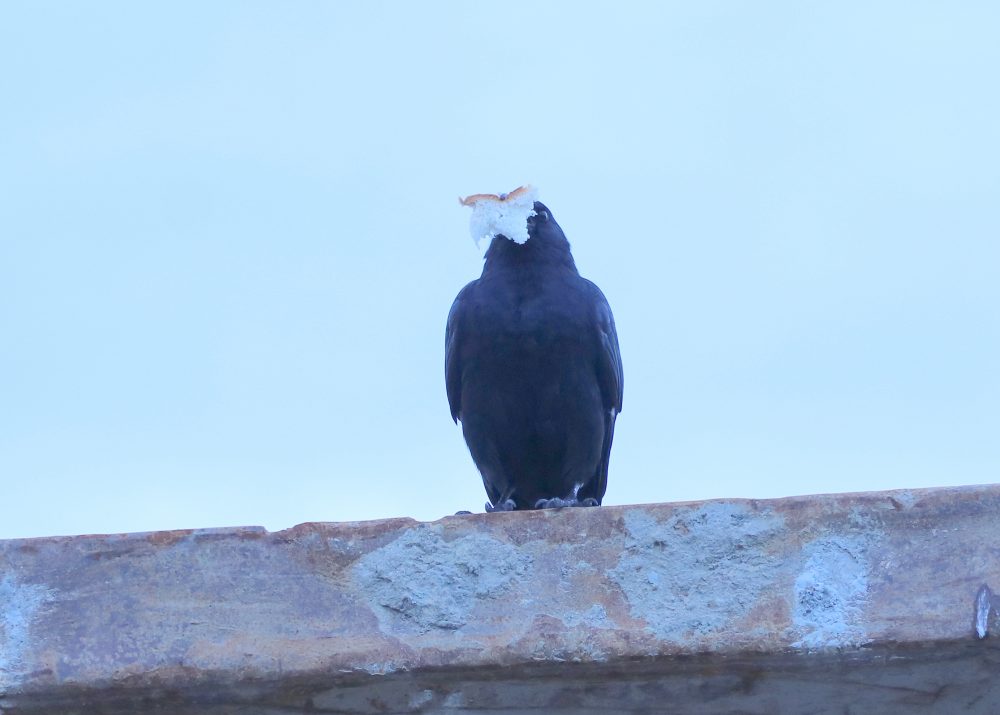 Just before sunset time, moved over to open air roof area of the McGovern Transportation Center parking garage. With views looking west, observed a grwoing accumulation of staging Crows at the far end of B&D Advanced Warehousing roof like we saw many a night last year. If you look closely at the red brick building behind and slightly to the left of the second roof with crows, you'll see a line of perched Crows on the distant utility wires. This image was captured with an infrared camera a few minutes after sunset time.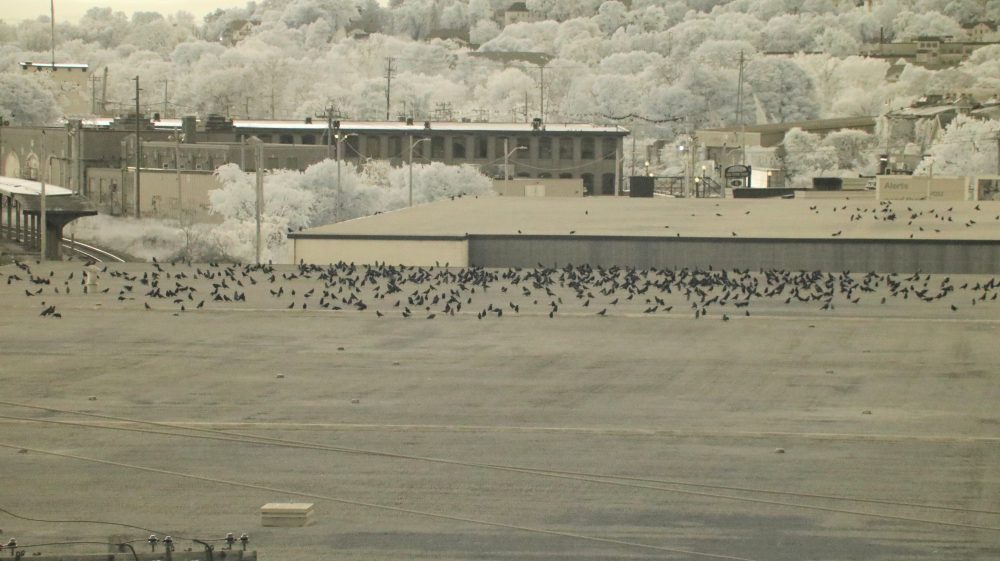 Here's another look a few minutes later with just a bit wider view and showing a few more staging Crows!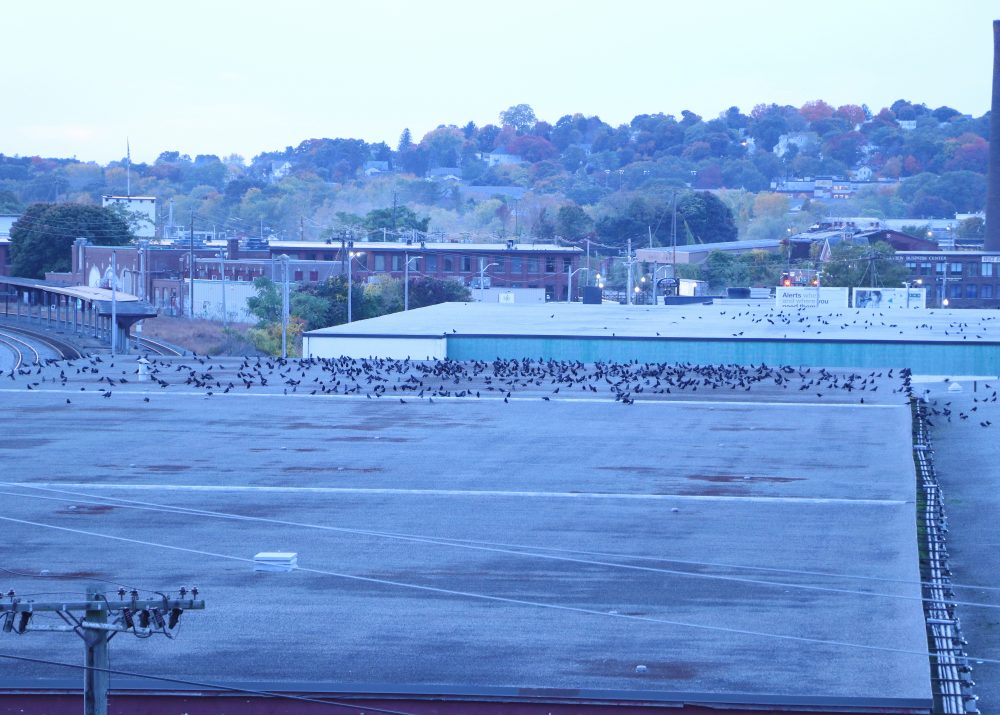 Finally, this image below shows a closer view of the staging Crows before lifting off in flight for overnight roost around the corner!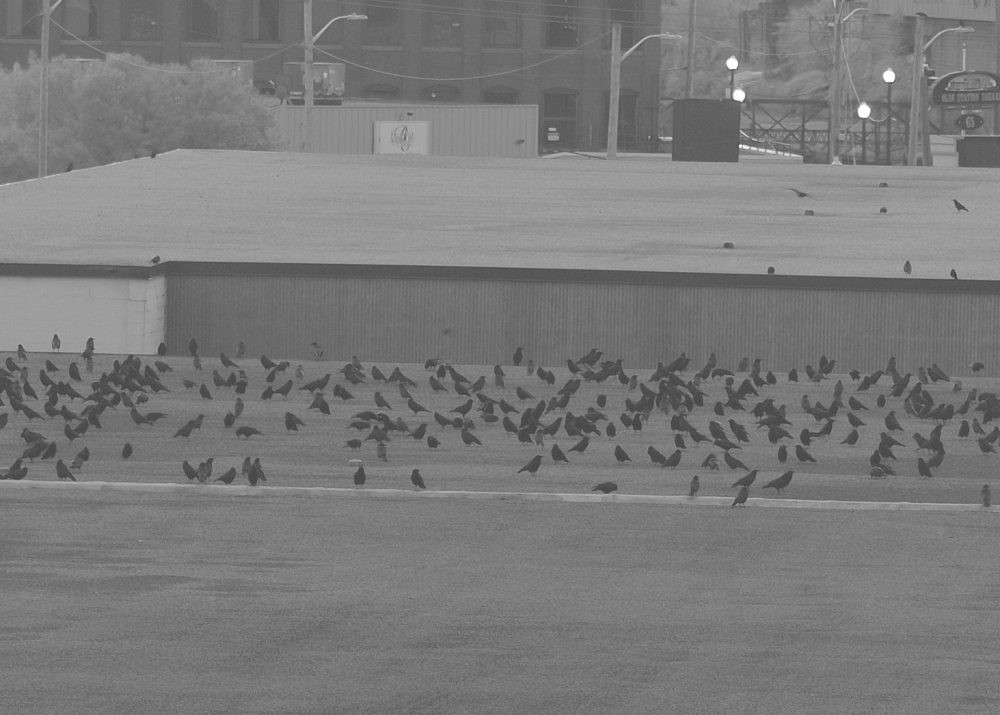 Photo gear used for this outing:
Canon EOS 80D with Canon EF-S 18-135mm f/3.5-5.6 IS 
Canon EOS 80D with Canon EF-S 18-135mm f/3.5-5.6 IS (Infrared)
Canon 1DX MK II with Canon EF Telephoto Zoom 100-400mm f/4.5-5.6L IS II USM
ATN BinoX 4K 4-16x Day and Night Smart HD Binoculars with photo/video
Follow us on Instagram: wintercrowroost
Follow us on YouTube: birdsoftheair1
Blog post and photos by Craig Gibson, 2020 Crow Patrol, Lawrence, MA