Conditions: overcast skies, calm, temp at 34F; sunset time 4:14PM
Out on Crow Patrol minutes after 4PM, for almost 90 minutes, with scouting stops at nearby staging locations. Large numbers of Crows were seen staging again in trees above and below Marston St. near major intersection near the hospital; and around O'Connell South Common as well.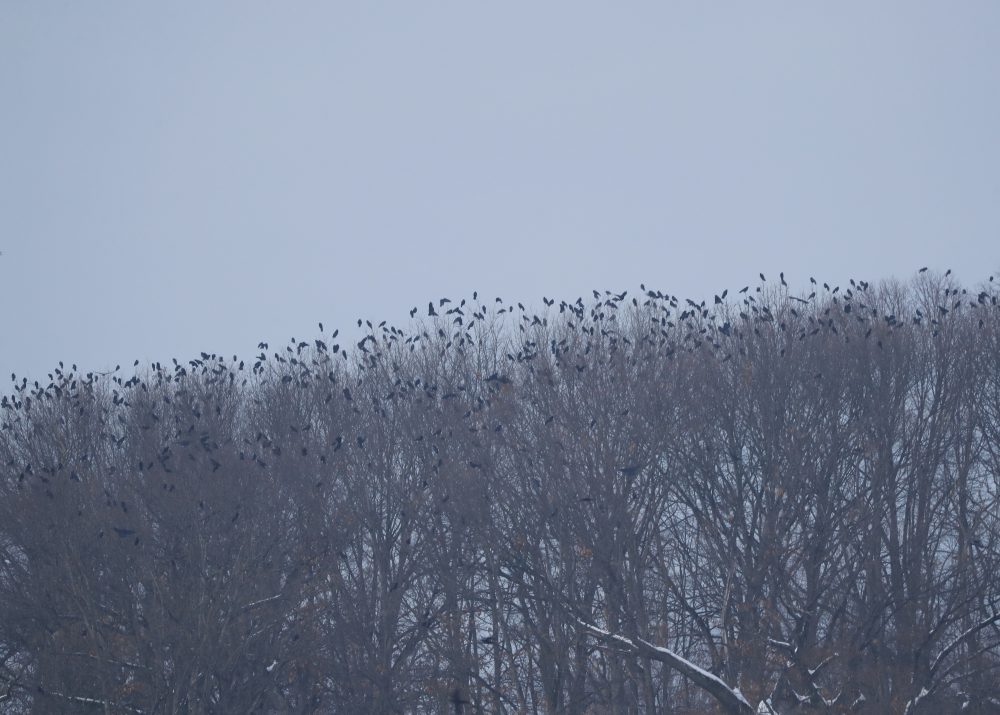 Next stop was out onto the Duck Bridge for wide open views. A small group of Crows had started to concentrate in tree tops, in the normal nightly roost area along the river, just west of New Balance building. The image below was captured about 10 minutes after sunset time.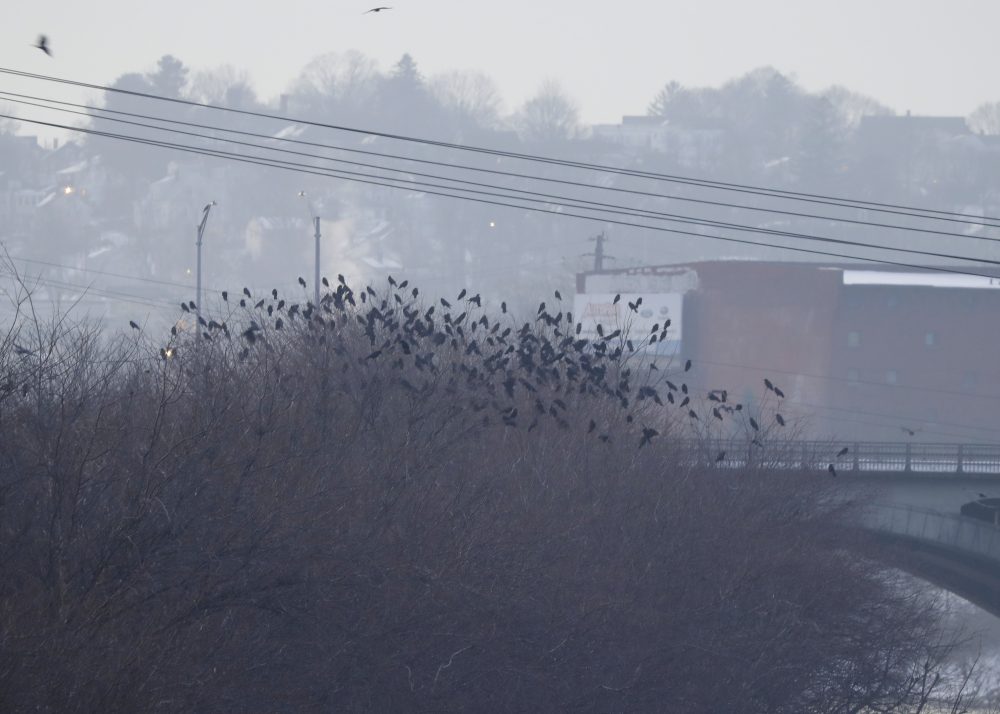 Then off in the distance, a pick up in flight action was observed to the south, and it strongly suggested that the Crows might be landing on the B&D roof tops again! By foot, made a quick run to the parking garage and went up to the 5th floor roof deck. Looking west, large numbers of Crows were sprawled out, mulling around on the snow, across the extended roof top areas. This image below was captured about 22 minutes after sunset time.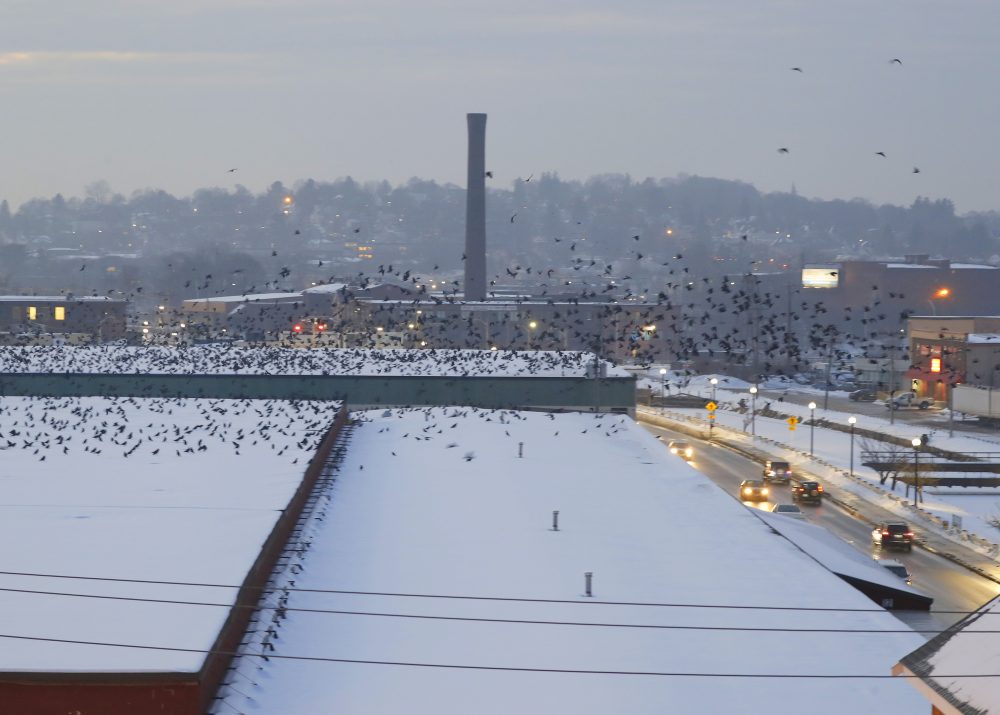 Back down to the middle of the Duck Bridge, on the west side, and observed massive streams of incoming and vocalizing Crows coming from Ferrous Park area and downriver. Large numbers also seen converging into roost from the west and coming around the corner at west end of the New Balance building. This view is from the Duck Bridge and looking ENE at Ferrous Park and Prospect hill in the distant background. This image was captured about 30 minutes after sunset.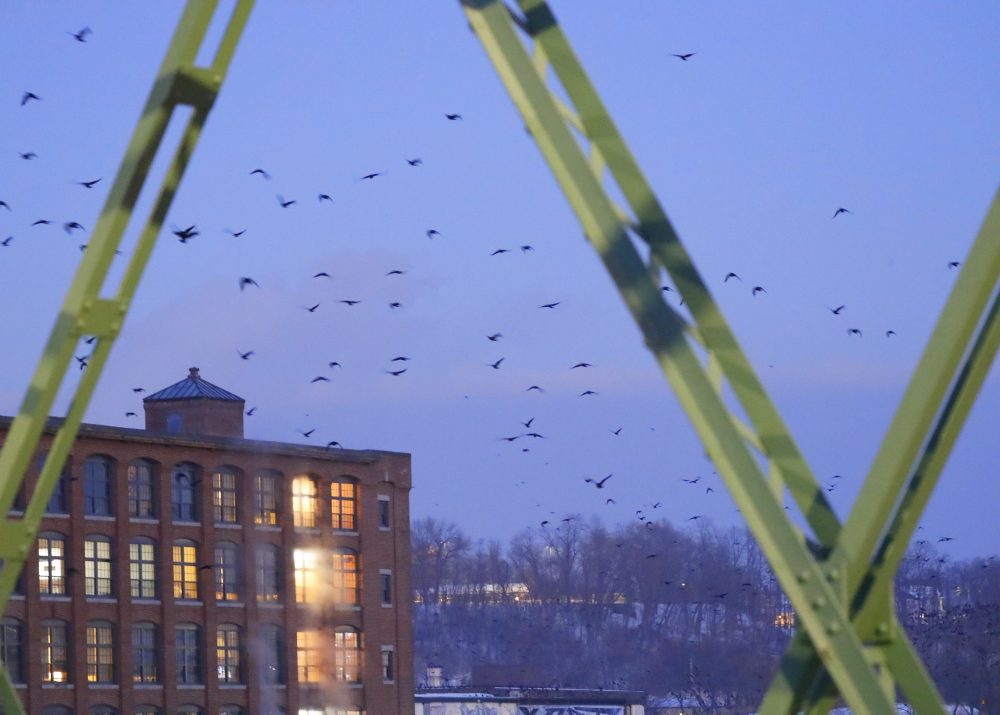 The density of roosting Crows seemed a bit lower along the tree line by New Balance. Last stop was at Mill240 park with terrific views across the river. The Crows stretched out the roost tonight and were seen perched in trees and on roof tops almost down to the Casey Bridge.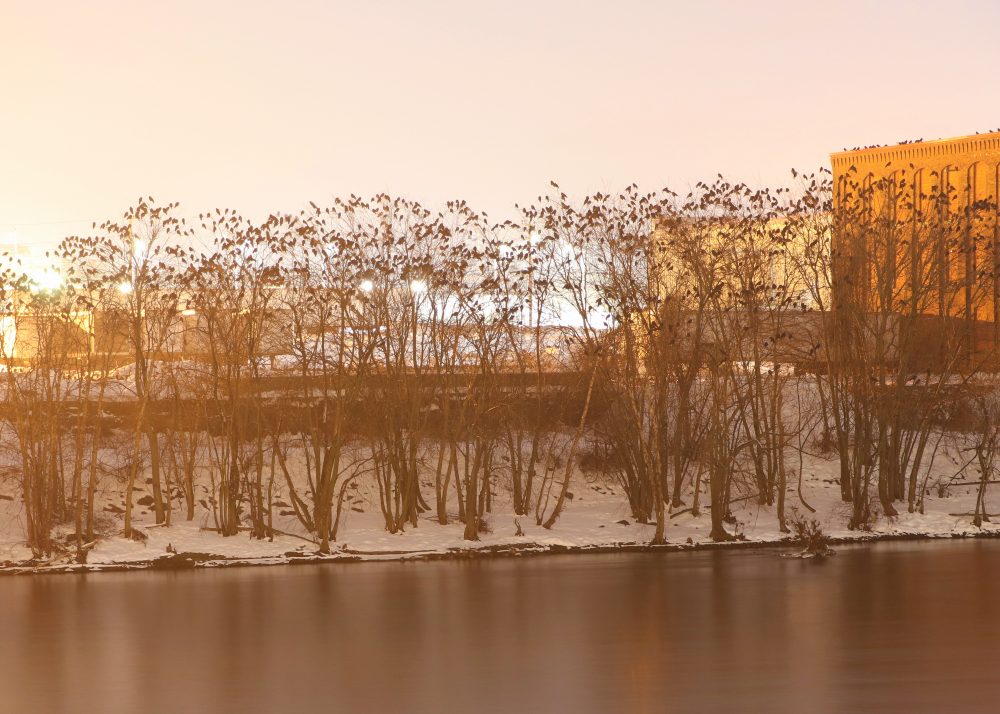 To really catch the action, it is so important to be out of cars and in the wide open! Per eBird guidelines, count numbers are conservative. Another dazzling night!
Check out the newly launched Crow Patrol Podcast: wintercrowroost.com/podcast/
Photo gear used for this outing:
Canon EOS 80D with Canon EF-S 18-135mm f/3.5-5.6 IS 
Canon EOS 80D with Canon EF-S 18-135mm f/3.5-5.6 IS (Infrared)
Canon 1DX MK II with Canon EF Telephoto Zoom 100-400mm f/4.5-5.6L IS II USM
ATN BinoX 4K 4-16x Day and Night Smart HD Binoculars with photo/video
SiOnyx Aurora Pro Digital Color Night Vision Optics
Follow us on Instagram: wintercrowroost
Follow us on YouTube: birdsoftheair1
Blog post and photos by Craig Gibson, 2020 Crow Patrol, Lawrence, MA