Entertaining time lapse!!
Sat. Feb. 26, 2022: clear skies, wind SW 6MPH, temp 29F; sunset time 5:30PM
Out on Crow Patrol with first stop up and around Prospect Hill, Ferrous Park, and then along Marston Street under stunning clear skies. The Crows have been staging atop the east end of the Riverwalk complex, and were gathering there, and on the roof of the NXStage building more than 30 minutes before sunset time.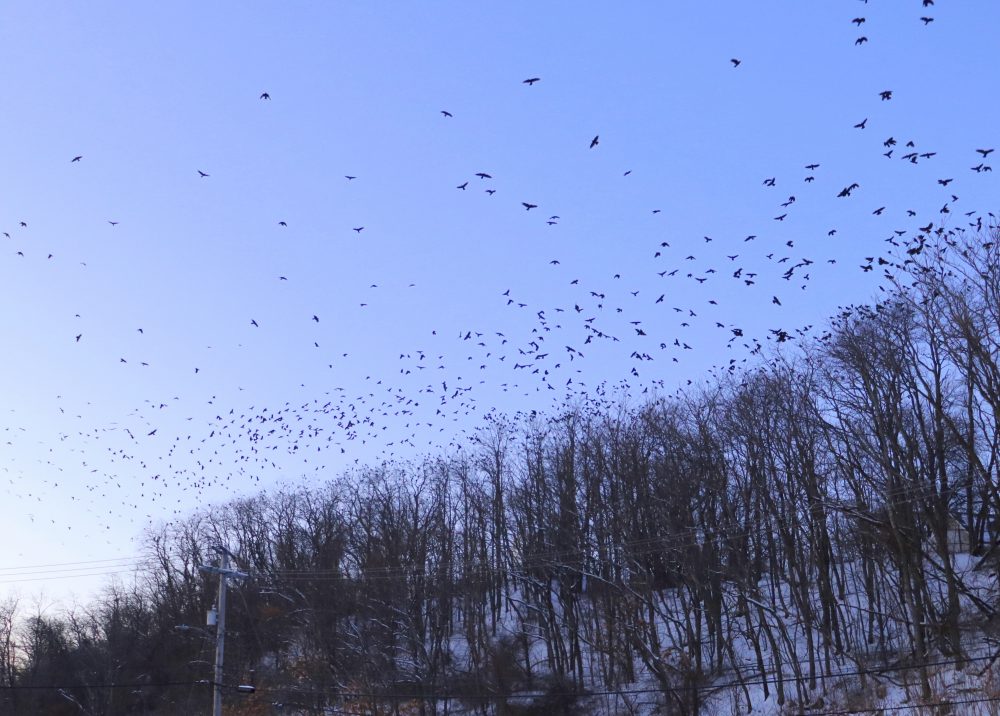 After a few early arrival to the roost trees along Marston Street, larger numbers began to stream in about 15 minutes after sunset time, with many Crows stopping and perching on rooftops by Marston Medical and the machine shop next door. This image below was captured about 19 minutes after sunset time.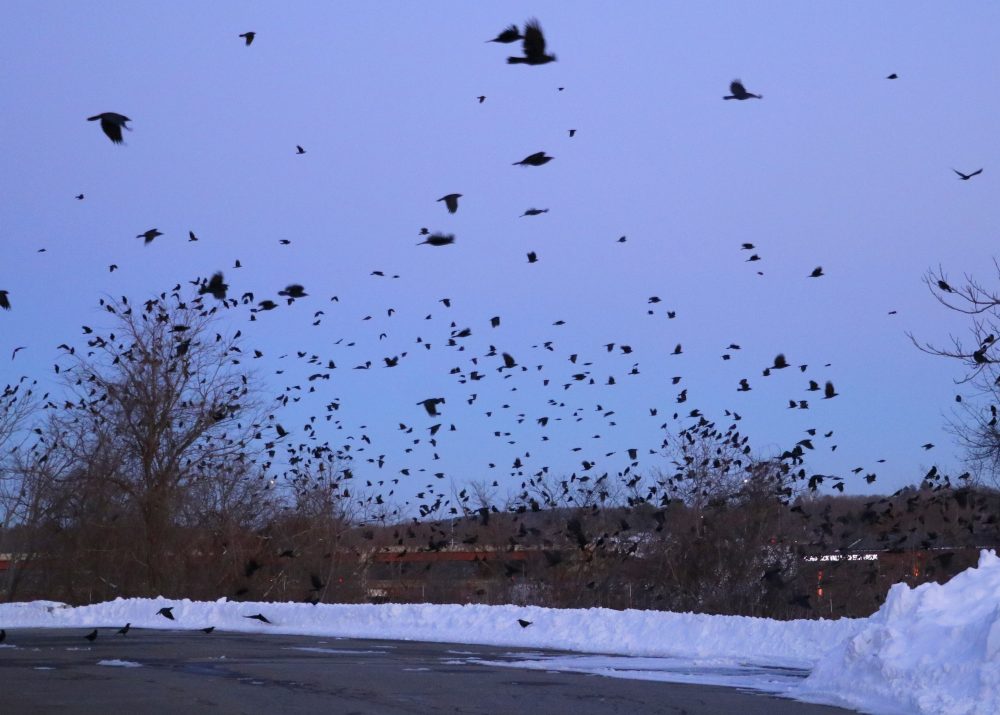 As the gorgeous sunset colors filled the sky to the west, the Crows engaged in massive flight swirls, just to the west, over the Spicket River and Canal Street area with brawling and spirited vocalizations. It was a quite a sight. This image below almost 40 minutes after sunset time.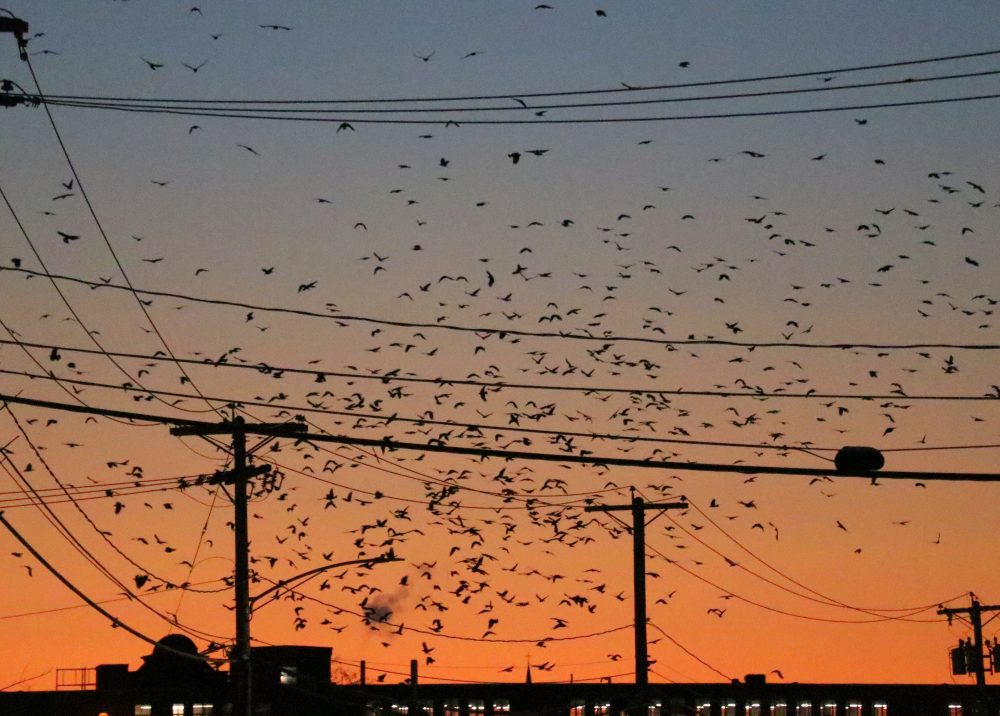 As darkness settled about an hour after sunset time, there was a beautiful moment to pause and look off to the SW at the Ayer Mill Clock Tower, an iconic symbol in the City of Lawrence.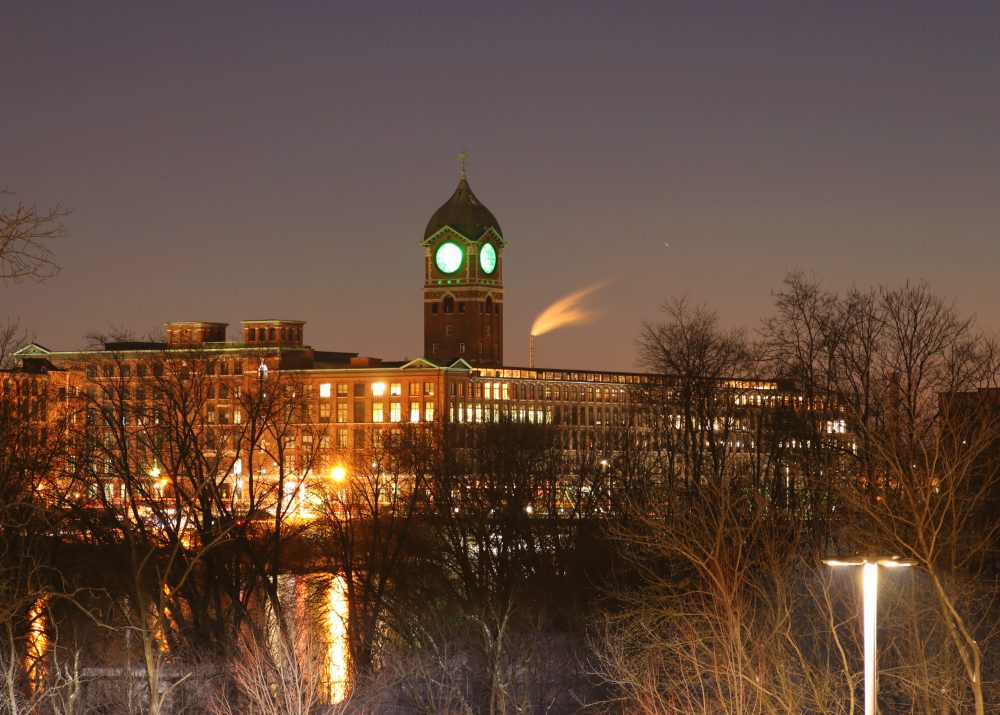 Before heading home for the night, had a nice final opportunity to observe the Crows after they had fully settled in for the night. Again, with the camera on a tripod, prepared for a nice long exposure image with pleasing results. Another amazing Crow Show!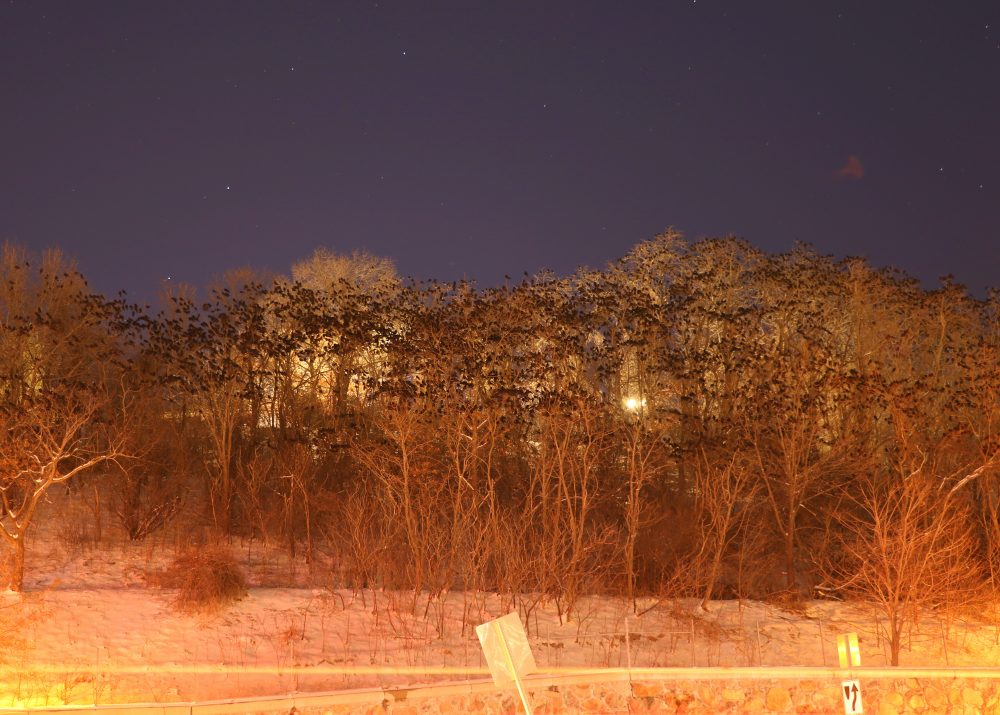 The 2021 Audubon Christmas Bird Count (CBC) for the Andover Circle, for this separate Crow Count was 12,250 Crows. Last year, the 2020 CBC Andover Circle Crow Count was 15,200. Many thanks to Donna Cooper who coordinates and compiles the Andover Circle each year!
Note on counts/estimates: we are now using improved methods for counting the large number of Crows while streaming, staging, and in the roost. For all images, we use both a modified open source counting software program, as well as a hand count approach to carefully document our observations and to increase reliability and accuracy of the presented numbers. 
Remember to check out the latest Crow Patrol Podcast with Prof. John Kricher: wintercrowroost.com/podcast/
Photo gear used for this outing:
Canon EOS 80D with Canon EF-S 18-135mm f/3.5-5.6 IS 
Canon EOS 80D with Canon EF-S 18-135mm f/3.5-5.6 IS (Infrared)     
Canon 1DX MK II with Canon EF Telephoto Zoom 100-400mm f/4.5-5.6L IS II USM
Sony AX700 4K HDR Camcorder
ATN BinoX 4K Smart HD Binoculars with photo/video
Follow us on Instagram: wintercrowroost
Follow us on YouTube: birdsoftheair1
Blog post and photos by Craig Gibson, 2022 Crow Patrol