This time lapse video shows the Crows converging into the roost!
Conditions: clear sunset skies, wind W 6MPH, 49F: sunset time 5:39PM
Out on Crow Patrol with first stop at baseball field on Incinerator Road. Crows observed streaming over Merrimack River, in downward direction and towards staging area located in far corner of the Greater Lawrence Sanitation District Treatment Plant. Over next 25 minutes, watched the Crows stream in from all over and assemble in trees, across the river, to the NE, and in trees near the NW end of runway #14 at the airport. This image below shows just a bit of the flight action and was taken about minutes before sunset time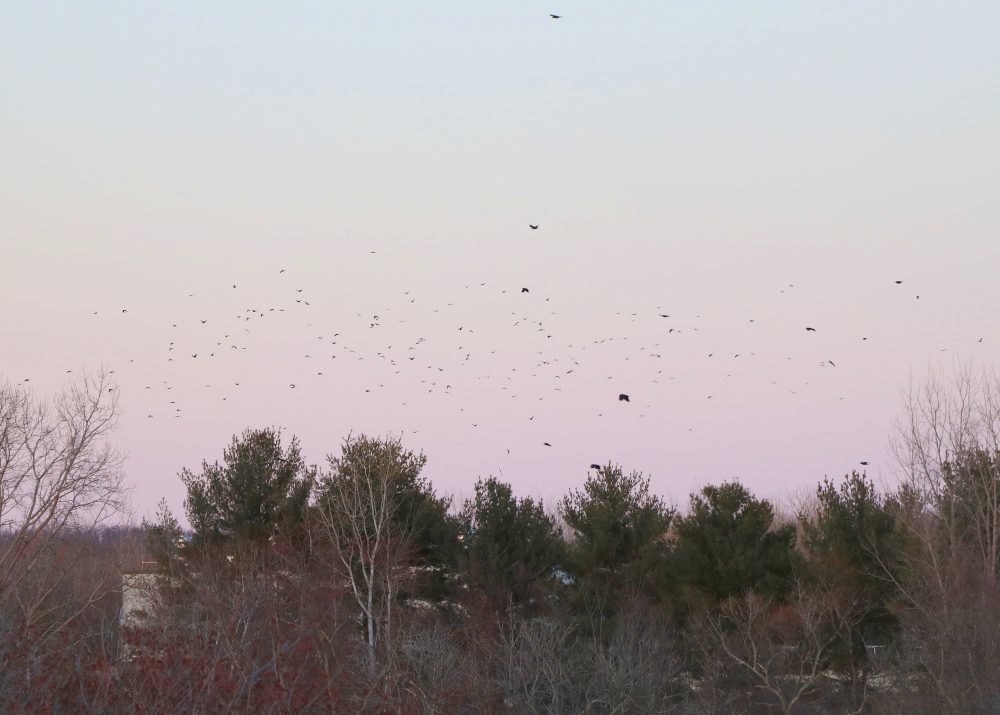 Departed about 5:50, and headed over to regular vantage point along south side of the river at end of North Main Street. Crows started to stream by in flight, in upriver direction, landing in some trees, but mostly starting to converge into the overnight roost area in the trees next to the Rt. 495 Bridge. The image below shows the incoming flight stream, which also included a lot of vocalizations at same time!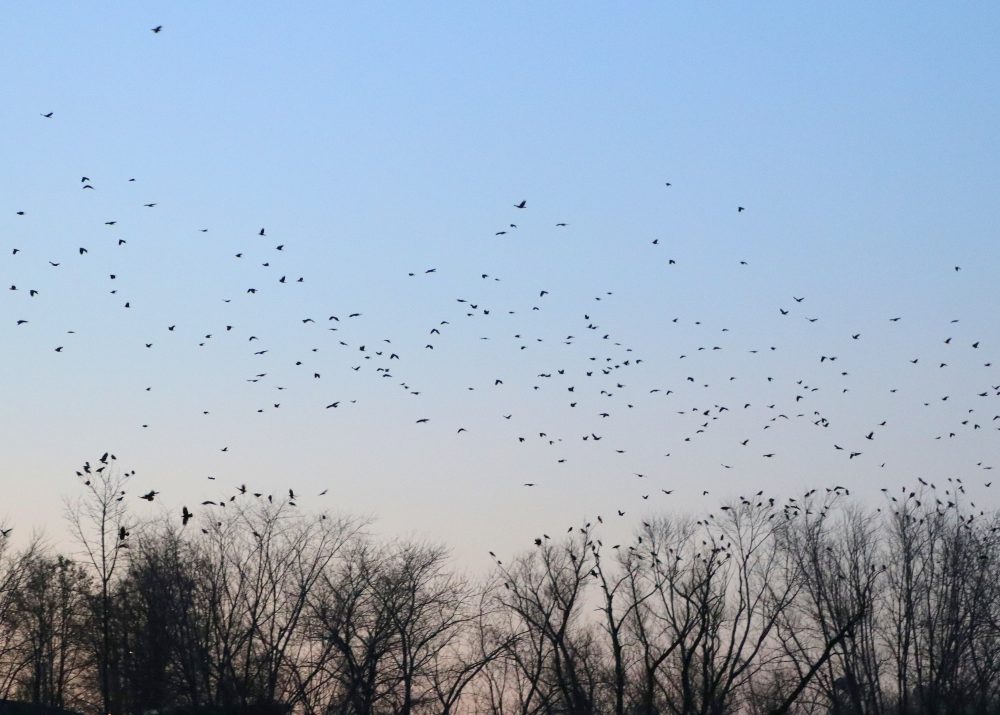 The incoming flight action continued until and a bit after 6PM when the incoming group of Crows tapered off and the vocalizations subsided. This image below looking NW from the south side of the Merrimack River, shows the Crows settling into the overnight roost, loud vocalizations, and numbers building up in each tree, with many more flying in and looking for landing and perch locations.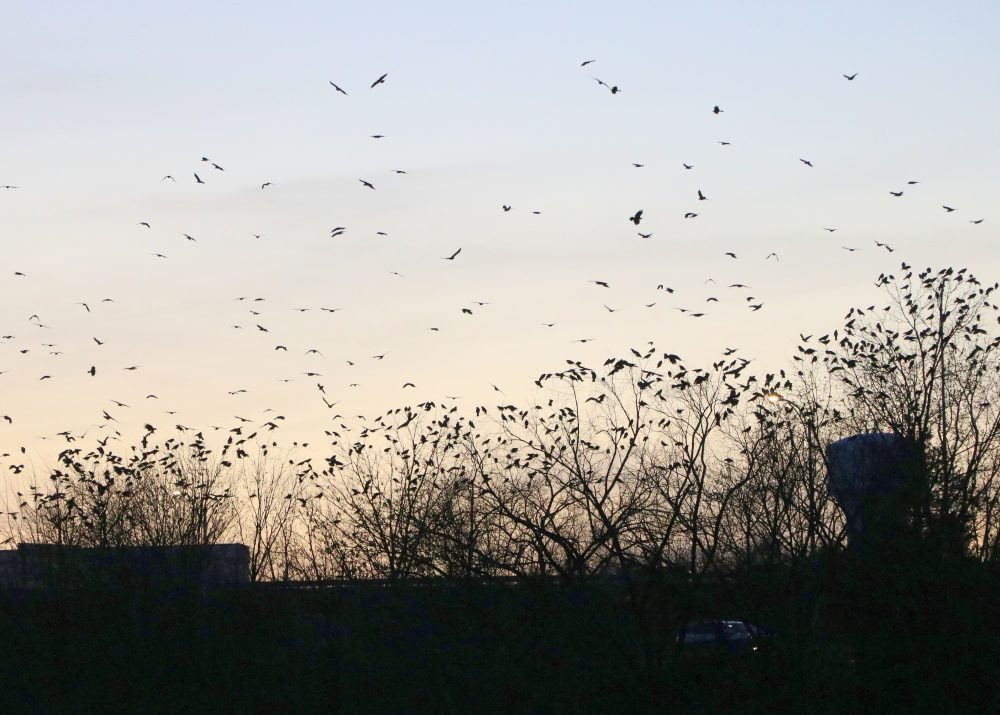 It was quite a night! I was joined by two females from Ipswich, Sandy and Sadie, along with two local parents and their 4 enthusiastic children! Lots of questions and sharing about the Crows and the overnight roost. The final image below shows the Crows well settled into the overnight roost.  The image was taken about 37 minutes after sunset time, and things had quieted down considerably!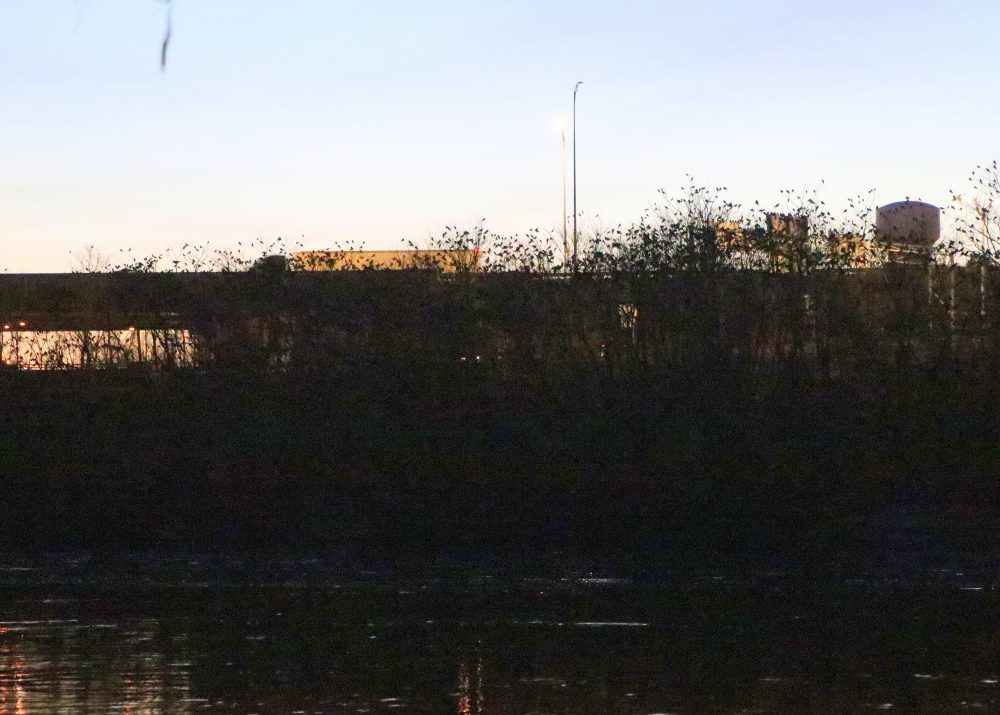 Photo gear used for this outing:
Canon EOS 80D; Lens: Canon EF-S 18-135mm f/3.5-5.6 IS   
Canon 1DX MK II; Lens: Canon EF Telephoto Zoom 100-400mm f/4.5-5.6L IS II USM
ATN BinoX 4K 4-16x Day and Night Smart HD Binoculars with photo and video
Afidus ATL-200 Long-term Time Lapse Camera
Follow us on Instagram: wintercrowroost
Follow us on YouTube: birdsoftheair1
Blog post and photos by Craig Gibson, 2020 Crow Patrol, Lawrence, MA