Conditions: clear skies, wind W 3MPH, 31F, sunset time 4:10PM
Out on solo Crow Patrol with first stop along south side of Merrimack River just east of Rt. 495 Bridge. The Crows began appearing and perching in tall trees downriver, on the south side as part of final staging process. They had likely been gathering and staging around the extended Lawrence Municipal Airport area.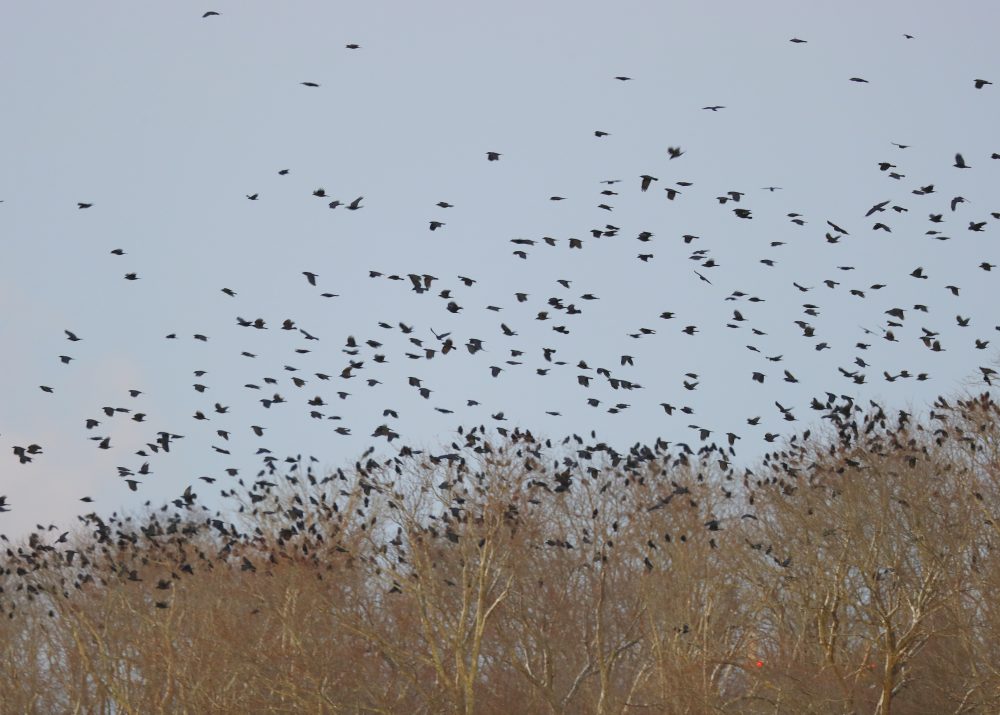 It was amazing to observe wave after wave of Crows as they moving over the river towards the north side about 10 minutes after sunset. The Crows just seem to fill that part of the sky in overwhelming numbers. One one hand it appears loud and full of chaos, and yet, each time, there is also this sense of orderliness to how they move in such large numbers. Unlike starlings in flight, there is no sign of intricately coordinated flight patterns, but it is awe inspiring just the same!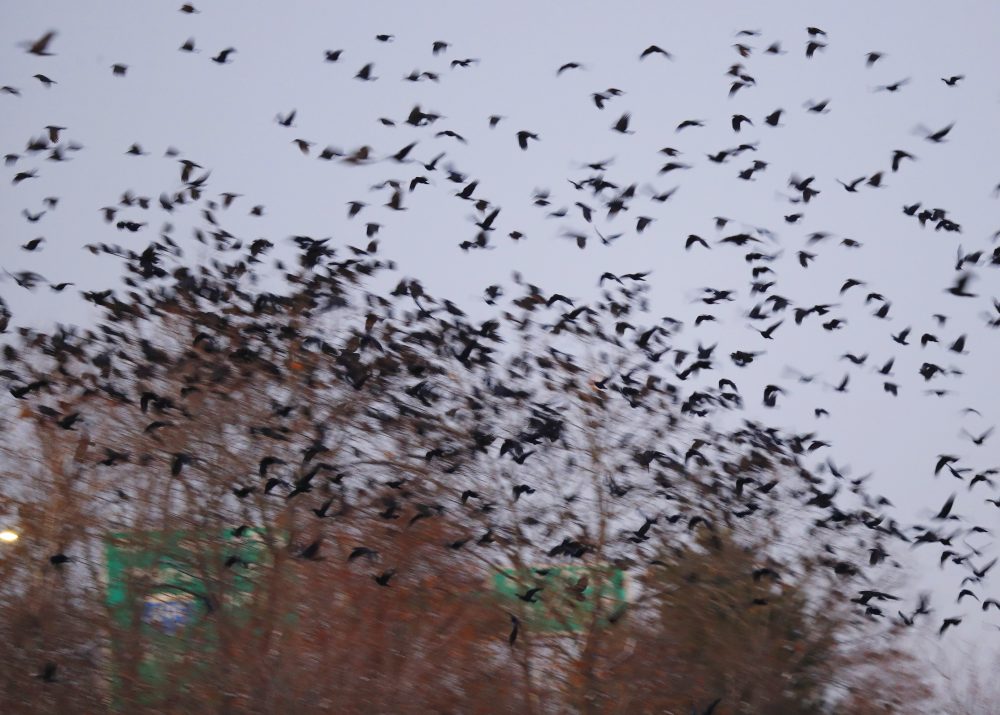 The swarming waves continued to move over the river towards, and into the roost for the next 30 minutes with loud vocalizations and moments of total chaos. Here the Crows are seen approaching the trees on the north side shore line. They tended to land and perch for a while before picking up and moving just a bit to the west into tighter formations and the final overnight communal roost.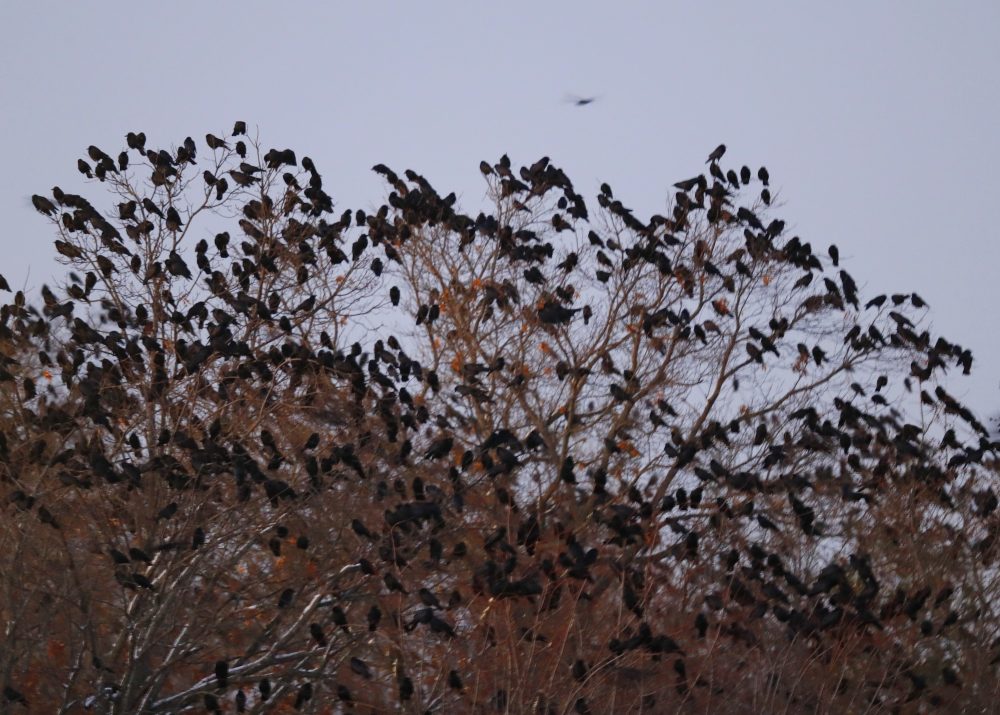 This image above shows the Crows in a denser, overnight roost, perch zone in one of the overnight roost trees.  Most Crows will stay put, while others will come to this trees and perch as well! Again, a certain orderliness to landing and spacing out in the roost.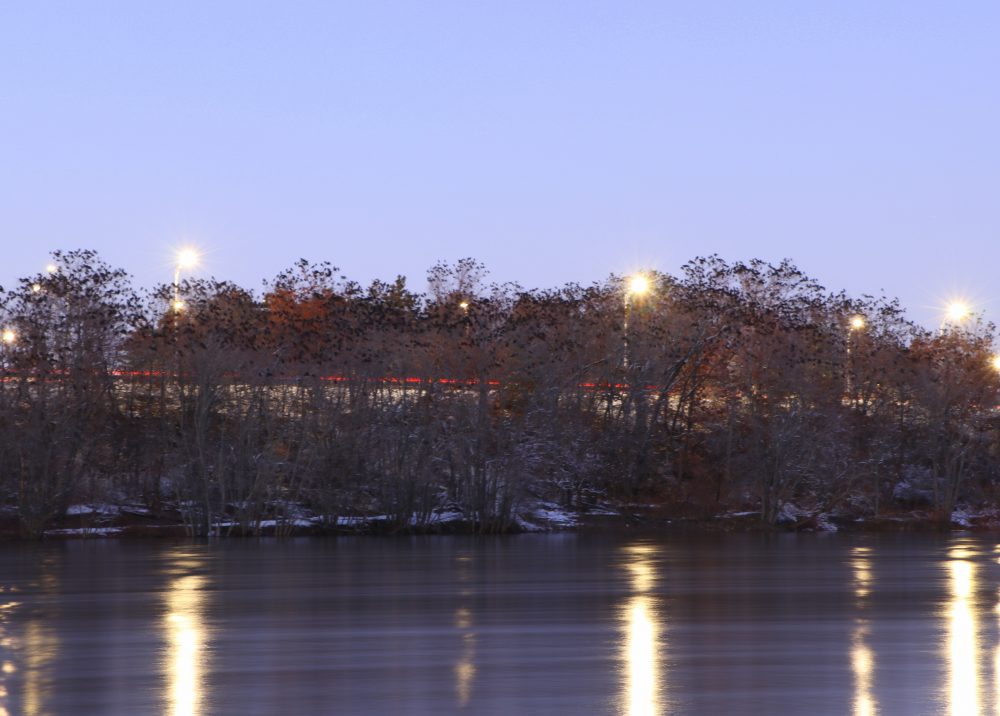 Once again, here is a long exposure image at distance of about 175 yards.  It was captured 36 minutes after sunset time on a clear night. Using a 2 second timer in the camera, the camera was set in aperture priority, f/8, ISO 100, and single shot mode, on a tripod. It shows a tranquil setting with the Merrimack River moving by with a silky surface and highway lights reflecting gently off the water surface. In the middle level of the image are the vertical trees with roosting Crows.  Through the trees, the streaking red tails lights are barely visible, and the highway lights sparkle with a starburst radiance. In this season, and at this moment, all is calm and all is still bright!
List of photo equipment used for this outing:
Canon EOS 80D; Lens: EF-S 18-135mm f/3.5-5.6 IS   
ATN BinoX 4K 4-16x Day and Night Smart HD Binoculars
Blog post and photos by Craig Gibson, 2019 Crow Patrol, Lawrence, MA