Conditions: overcast skies with fog, calm, 34F: sunset time 4:45PM
Out on Crow Patrol for just over two hours, and initially observed Crows streaming towards NE corner of Green Island. Large numbers assembled in trees and then later arriving Crows redirected themselves in SSE direction, about 1.25 miles, well below the Hudson River Lock & Dam area. Departed and went over Hudson River on Ontario Street, and tracked Crows southbound while driving on River St./Rt.4. This image was captured about 36 minutes after sunset time, at the trees along the river, behind the parking lot behind at the Marriott Courtyard Waterfront just on south side of the bridge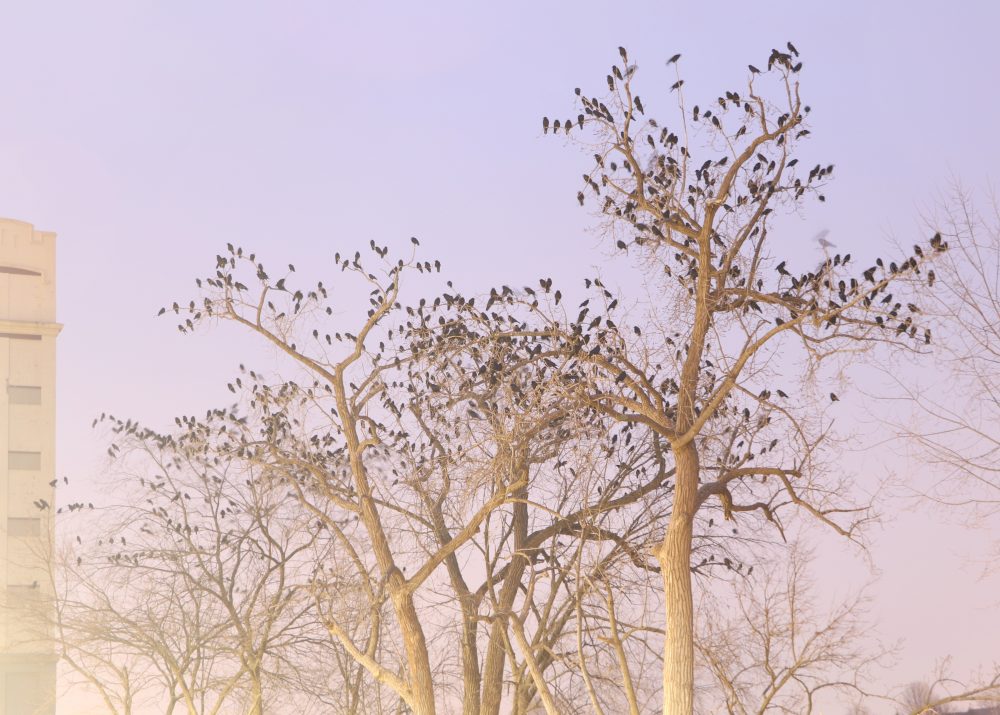 Observed growing numbers of Crows still arriving into area and perching on trees along east side of Hudson River from the boat launch area down to Rt. 7 and just beyond. This image below of the Crows tightly packed together in the trees at the south end of Adams Island was captured almost 50 minutes after sunset time, from the rear of 599 River Street, looking SW across the Hudson River. All of these photos were long exposure method with both manual exposure and manual focus settings under extremely low light conditions.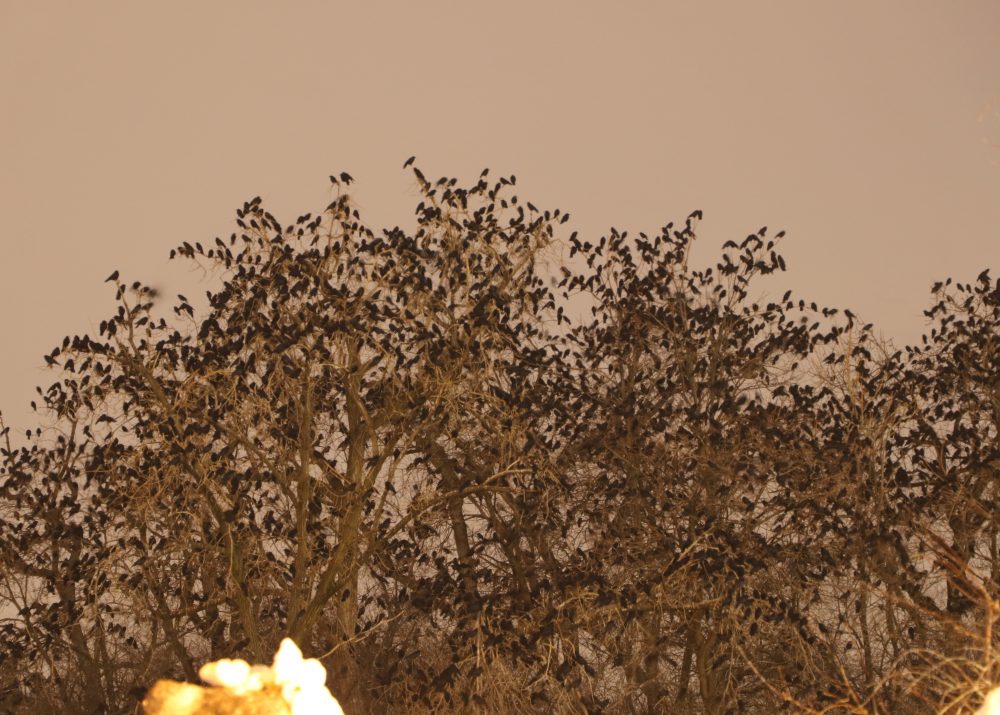 One of best vantage points for the overnight roost was under the bridge, and from the parking lot on the north side of the building at 547 River Street. The heaviest concentration of Crows was in the trees along the south end of Adams Island. This image below was captured 1:10 after sunset time, looking SW from the mainland. It is fascinating to see how many Crows are in the roost at such low elevations, and just above the water level.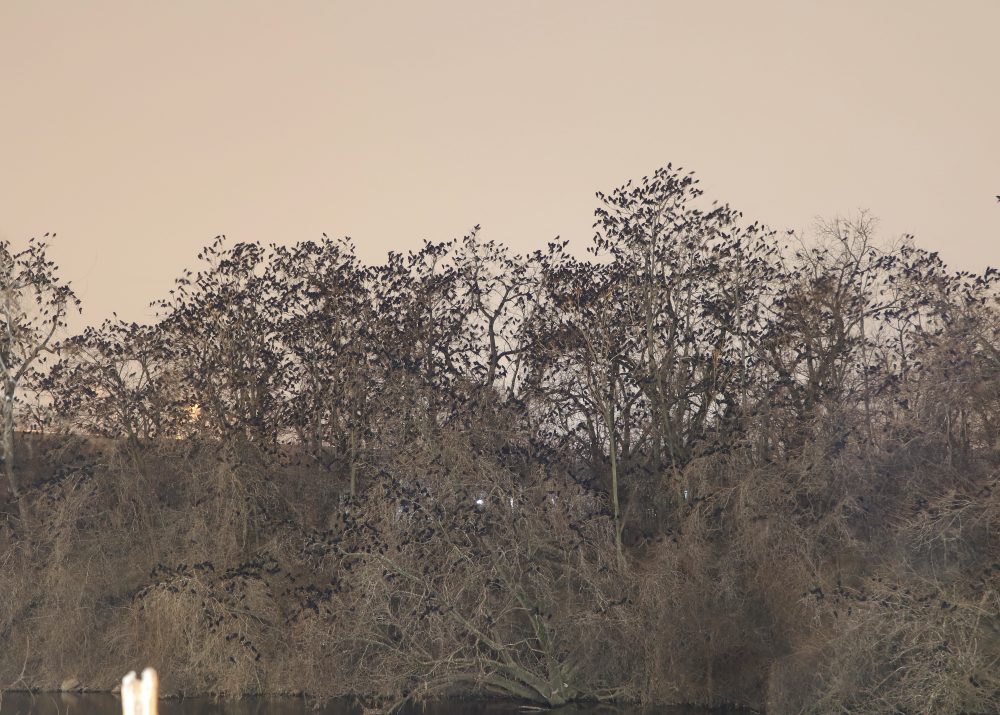 The Crows are very densely packed together in close proximity to one another. The extended roost took up the south end of Adams Island as well as trees mostly on between River Street and the Hudson River. Once they settled into the roost, the loud vocalizations calmed down to a quiet level. This image was captured about 1.5 hours after sunset time.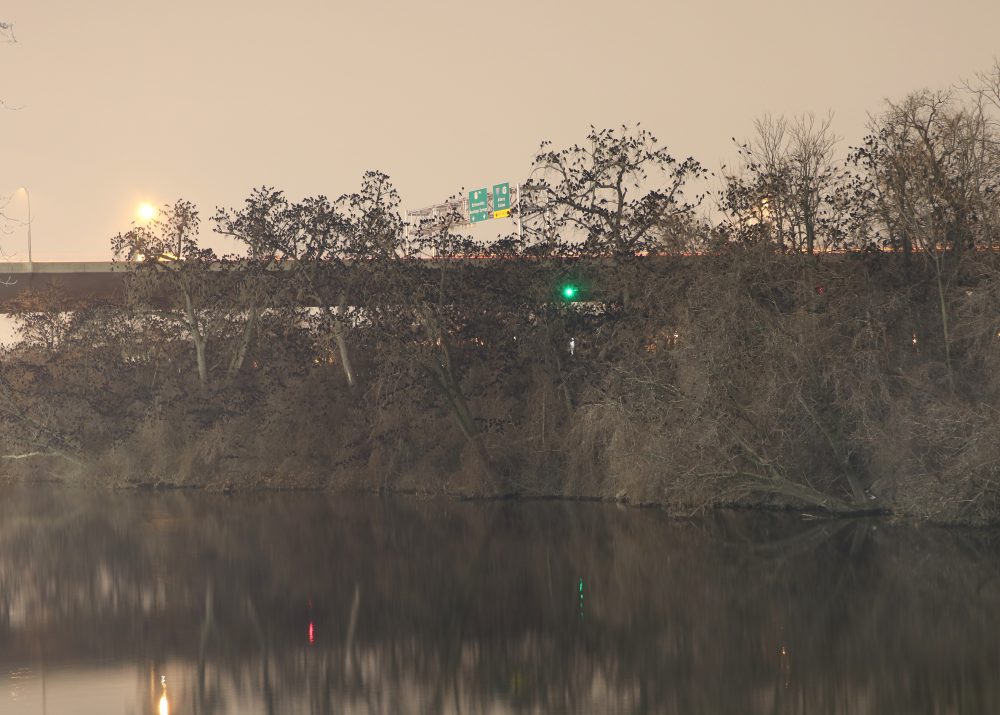 Had a nice opportunity to rise early and visit the Crows before sunrise. Upon arrival in the general roost area, the early morning calling was well under way and getting louder. The Crows often time reshuffle the deck overnight and it is common to notice more even spacing between Crows after a night together! This image was captured about 34 minutes before sunrise time.
Another amazing Crow show!
Check out the newly launched Crow Patrol Podcast: wintercrowroost.com/podcast/
Photo gear used for this outing:
Canon EOS 80D with Canon EF-S 18-135mm f/3.5-5.6 IS 
Canon EOS 80D with Canon EF-S 18-135mm f/3.5-5.6 IS (Infrared)
Canon 1DX MK II with Canon EF Telephoto Zoom 100-400mm f/4.5-5.6L IS II USM
ATN BinoX 4K 4-16x Day and Night Smart HD Binoculars with photo/video
SiOnyx Aurora Pro Digital Color Night Vision Optics
Follow us on Instagram: wintercrowroost
Follow us on YouTube: birdsoftheair1
Blog post and photos by Craig Gibson, 2020 Crow Patrol, Lawrence, MA