Conditions; mostly clear skies, wind NW 7MPH, temp at 26F, sunset time 5:10PM
Out on Crow Patrol with first stop at north end of Rt. 28/O'Leary Bridge, observing Crows starting to gather on the ice and in tree tops along southern shore line near the Experiment Station with lots of growing vocalizations as more Crows began streaming in. At sunset time, both smaller and larger groupings started to peel off in flight, heading to the east and downriver. This image captured at sunset time.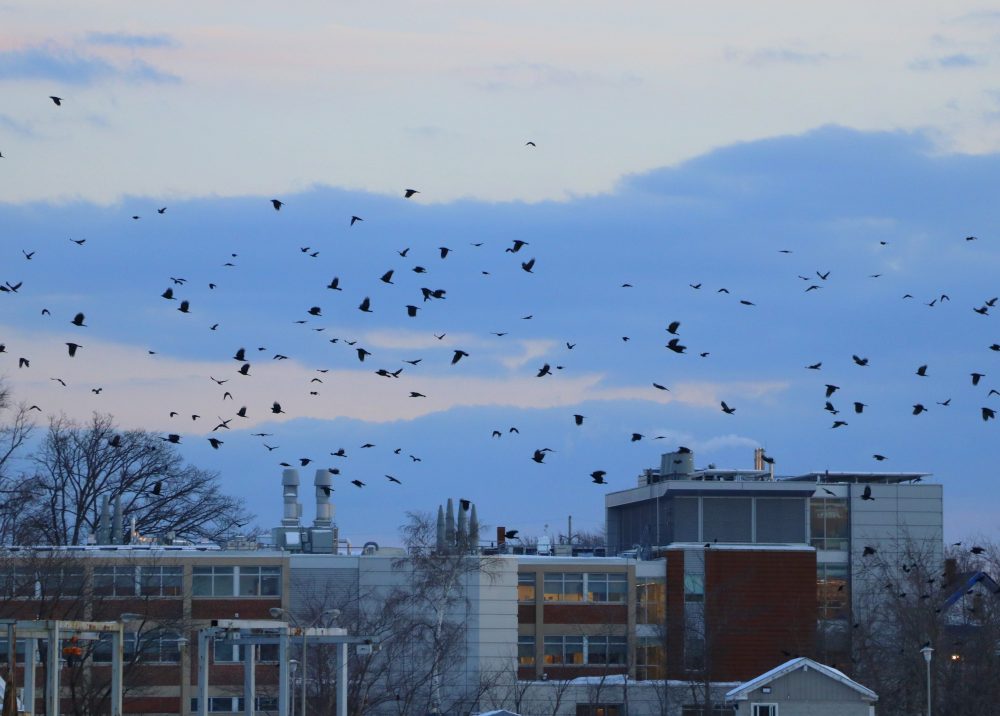 The numbers heading off started to prompt a number of questions as it was very unusual. With diminishing light, departed is search of the break away group, and checked all possible locations. Found the Crows in big numbers just east of the Rt. 495 Bridge staging in trees on both sides of the Merrimack River, around the overnight roost location from last year. This was one of many moments with massive swirls of Crows in flight over the Merrimack River, about 30 minutes after sunset time!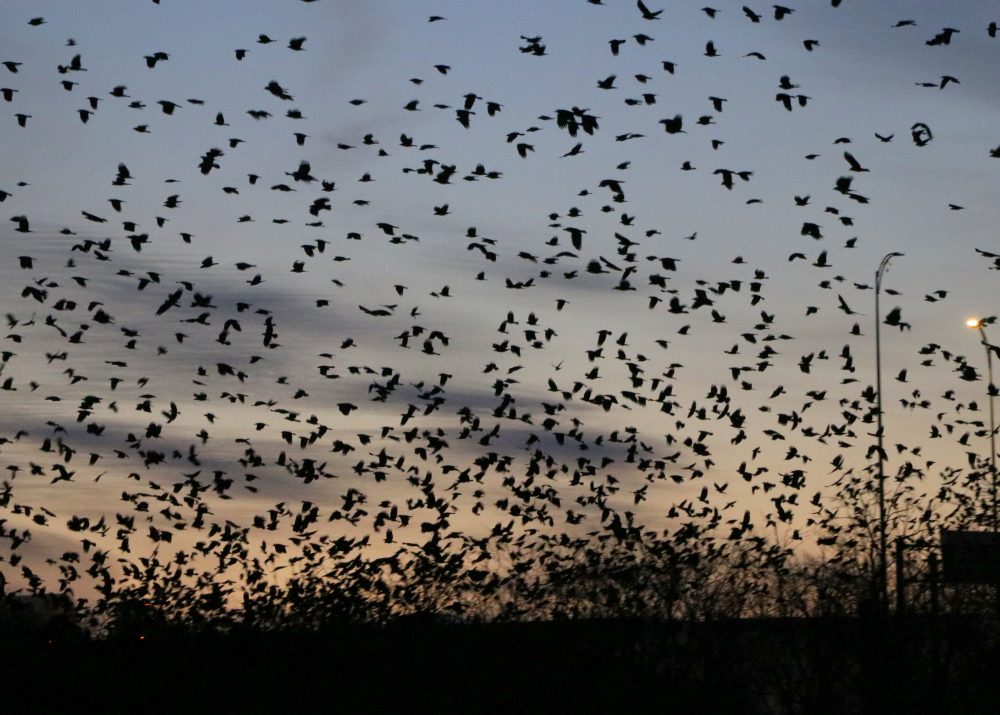 Here is yet another massive swirl of Crows in flight. After the Crows left New Balance last fall in early November, they moved around to number of nearby roost locations and then finally settled in just east of the Rt. 495 bridge the third week of November.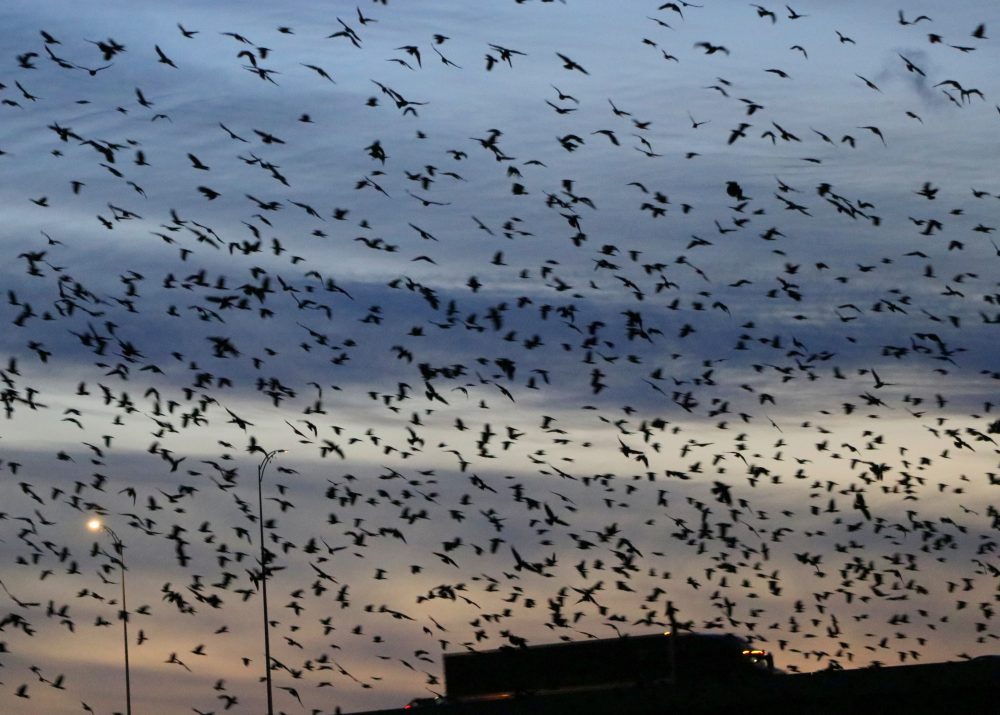 After a number of massive flight swirls with very loud vocalizations, they finally settled into the overnight roost in the trees next to the Rt.495 Bridge at the north end. The image below, captured over an hour after sunset time, using specialized long exposure settings, shows the Crows quiet and settled for the night. Another extraordinary night on Crow Patrol!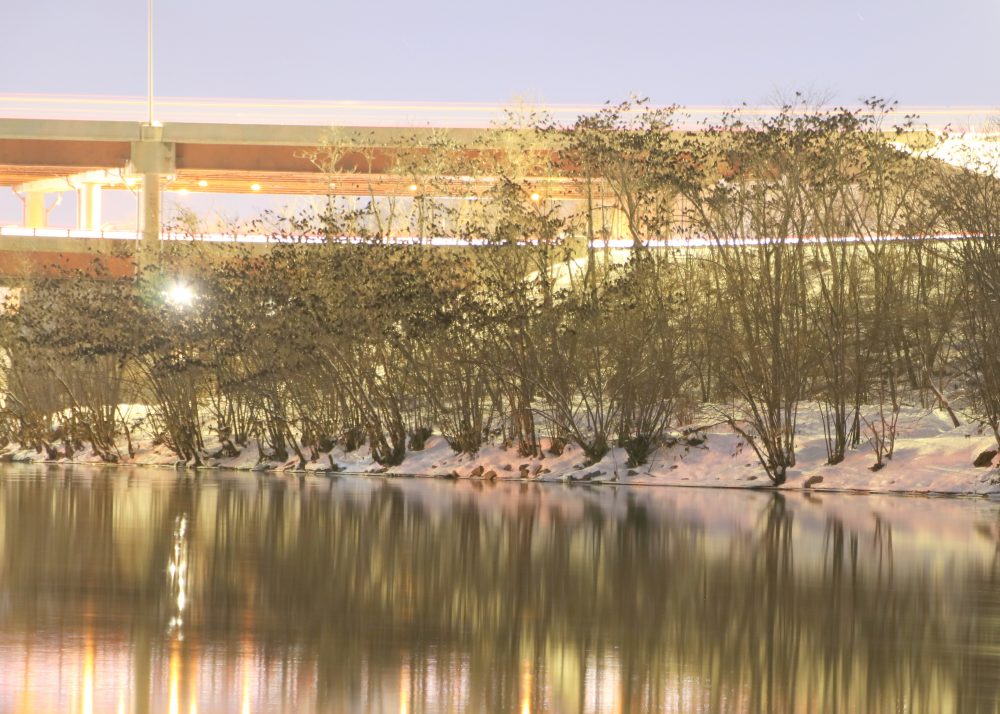 Check out the newly launched Crow Patrol Podcast: wintercrowroost.com/podcast/
Photo gear used for this outing:
Canon EOS 80D with Canon EF-S 18-135mm f/3.5-5.6 IS 
Canon EOS 80D with Canon EF-S 18-135mm f/3.5-5.6 IS (Infrared)
Canon 1DX MK II with Canon EF Telephoto Zoom 100-400mm f/4.5-5.6L IS II USM
ATN BinoX 4K 4-16x Day and Night Smart HD Binoculars with photo/video
SiOnyx Aurora Pro Digital Color Night Vision Optics
Follow us on Instagram: wintercrowroost
Follow us on YouTube: birdsoftheair1
Blog post and photos by Craig Gibson, 2020 Crow Patrol, Lawrence, MA